Elham Ahmed: Co-chair of the Syria Democratic Council (SDC)
 Video
AL-TABQA-The Co-chair of the Syria Democratic Council (SDC) Elham Ahmed linked success of any Syrian settlement to the absence of any foreign forces, pointing out that the international society which admired the experience lived in the areas liberated by the Syrian Democratic Forces and co-existence between the Arabic and Kurdish peoples.
This statements have come during a meeting held in al-Tabqa city where the Co-chairs of the Legislative Council of al-Tabqa city and large number of clans' notables and elders in the region, Ahamd reviewed latest developments on the Syrian arena.
"The war in Syria is coming to an end," she said, while doubting a near solution to end the war that has been raging for nearly 7 consecutive years".
She recalled the failure of previous international conferences held to claim a final solution to the conflict in Syria.
Ahmed said of those conferences "they proved to be a failure because there is no real opinion of the Syrian people in it."
A few days ago, the eighth round of the Geneva negotiations ended with nothing new about the Syrian conflict.
The Co-chair of the Syria Democratic Council held the parties involved in the negotiations responsible for their failure. "Both sides present the regime and the opposition itself by failing to do so by insisting on the opposition to Bashar's departure as a precondition before engaging in any negotiations, as well as intransigence of the regime and its insistence not to address this, in addition to the rest of his policies that brought the country to this tragic situation. "
In the context of her speech, Elham referred to the paper submitted by the UN Special Envoy to delegations of the Syrian regime and the so-called opposition in Geneva, which included the term "Democratic Republic of Syria", acceptance of local governments and rejection by a section of the opposition.
Geneva ended with De-Mistura's apology to the Syrian people for the failure of the round of negotiations (Geneva 8).
"The conference of Sochi, which was scheduled to be held in March after being postponed several times, was called "the Conference of the Peoples of Syria" and represented a full Syria, but the intervention of Turkey led to a change to the Syrian National Dialogue Conference ".
"If the constitution and the electoral process are discussed seriously," said the Co-chair of the Syria Democratic Council (SDC) of Elham Ahmed, the possibility of the conference being successful.
Ahmed spoke about the success of the experiment in the liberated areas of the Syrian Democratic Forces (SDF) and that "Syria is a federation to keep Syria united through the establishment of local administrations that manage its areas to provide them with welfare and security. These administrations are linked to the center (Damascus) in some ways so."
Ahmed spoke about the success of the experiment in the liberated areas of the Syrian Democratic Forces "Syria should be a federation to keep Syria united through the establishment of local administrations that manage its areas to provide them with welfare and security. These administrations are linked to the center (Damascus) in some ways so, and the SDF is interested in this".
"Some of the people of Syria are dependent on the strength of the coalition, and otherwise it would not work," he said. "We won the first war against "Daesh" in Serê Kaniyê and many other areas without interference from the coalition forces."
Ahmed pointed to the proximity of Syrian Democratic Forces from the liberation of the eastern countryside of Deir –ez –Zor and the formation of administrations there immediately after liberation.
In the context of her talk about the need to defend the people of the liberated areas, IS gangs example ended in areas to emerge again in another like Idlib."
Elham spoke of the international society's admiration for the democratic experience in the liberated areas, and "lack of any fighting between the Kurds with the Arabs, contrary to their expectations as in other parts of the world." "No surprise, we are all Syrians."
Then Hamed Abdulrahman Al-Faraj the Co-chair of the Legislative Council confirmed some of the points that Ahmed referred to, such as the importance of defending al- Tabqa in light of the proximity of the foreign regime-backed militias from it.
(T/S)
ANHA
_____________________________________________________________
PKK's Karayılan: Turkish army can't fight against the YPG
Turkish army has no strength to attack Efrîn and can't fight against the YPG, PKK's Murat Karayılan said.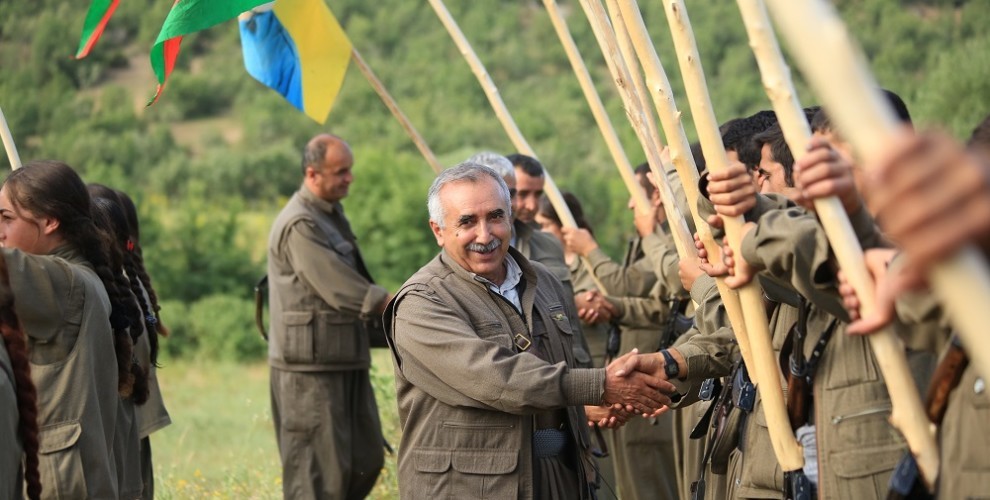 In an interview with Radio Dengê Welat, PKK Executive Committee member Karayılan said that Turkey has no strength to attack Efrîn citing Turkish army's operation against 70 YPS fighters which lasted more than 9 months.
"They make it seem like the Turkish state will enter Efrîn in an instant if they attack Efrîn. The whole world should know that the Turkish army doesn't have such strength. There is no such situation. The people of Efrîn and everybody should know that this army couldn't enter Şirnex for 9 months, couldn't enter Nusaybin for 9 months. The Turkish army has come down with Nusaybin syndrome. How could they enter Efrîn immediately? 60-70 YPS guards defended Nusaybin. This army failed to enter Bab, they only could enter with Russian help. They dealt with Bab for 3 months and they couldn't enter. They were left powerless. They make it seem like they could enter Efrîn any time they want. In Efrîn the YPG/YPJ has experience, there is the SDF. There have been such diverse experiences. They defeated ISIS when nobody could go near them. They took the capital of ISIS. The Turkish army can't fight against the YPG. If the people and the YPG are united, they can't handle them. If they come they will lose. They will experience a historic defeat. They will come and see. They have threats, they can come and prove it" Karayılan said.
Here are some excerpts from the interview:
"We believe that the patriotic people of Efrîn will stand with the fighters with their courage, sacrifice and their experience and nobody will be able to handle them. The Turkish army for sure won't be able to take it over. They will be broken. That is apparent. How can a force that couldn't enter Nusaybin for 9 months enter Efrîn? There are such a large group of forces in Efrîn, there are so many patriotic people. There are the Arab people. There is the resistance of peoples. Faced with the resistance of peoples, fascist Tayyip Erdoğan's threats won't prevail. But there is this, they are trying to create a psychology in people, they are engaged in psychological warfare. They make it seem like they are so strong. Now they are at Russia's feet, so Russia will approve their entrance. So they can fight and fly their planes. They are depending completely on Russia. If the Turkish state attacks Efrîn, that will mean that Russia also approves of that. Without approval from Russia and the US, Turkey is nothing. Russia greenlighted Bab to get gangs out of Aleppo. We don't know what Russia will ask for in return if they greenlight the attack on Efrîn. But Turkey could do anything. That could be expected of Tayyip Erdoğan. I said Erdoğan is a salesman. He could do anything to make people forget about his thievery and to prevent his collapse. He could even put his honor up for sale. These people are like this. That is why one should expect anything from them, but should not fear. If they come, they will get their answer."
"EFRIN WON'T BE ALONE!"
"If such a situation does emerge, I believe that all Kurds and all the public will come together around Efrîn. Efrîn won't be alone. There will be a great strength behind it. Like the support behind Kobanê was strong, there will be a great force behind Efrîn. The whole world will support this. History will be made there again. That is our hope and our belief. With this hope and belief, we salute the people of Efrîn. We expect great things from them, and they are candidates for making history. The forces there issue statements that fit this framework. We can see that they will prevail. How do we know? From practice. The practice of Turkey and the Turkish army is known. They can't just go in and take over. They don't have the strength for it. On the other hand, the status of Rojava Kurdistan and the resistance of YPG-YPJ militants are also known. Comparing these, we can say that the Turkish state will experience a great rupture when they go there."
"TURKISH STATE BOMBED XAKURKE OUT OF FEAR"
On midnight December 14, there was an intense bombing by jet fighters on Xakurke. Aerial attacks started first in Geliyê Reş, Kaniya Reş, Evdalkovî and Desta Heyatê. Then there was an invasion attempt against areas under Southern Kurdistan sovereignty officially, known as the Southern Kurdistan territories. Now there are the Siro Hill and Mavan skirts in Deşta Heyatê. They entered those areas, but there are no guerillas there. It's not high ground, it's like a plateau. So it's on the Xakurkê side, but it's not Xakurkê. But the enemy bombed Xakurkê out of fear, and in the meantime they advanced their soldiers on that plain. They are holding the Siro Hill. It was empty in any case. There were no guerilla forces there. That's the deal. It's not clear if this will expand and spread into Xakurkê as an operation. If they turn towards Xakurkê, there will undoubtedly be great resistance. There will be war. It's not that easy, or possible for that matter, to enter Xakurkê. There will be a great war. But now they are close. They passed Geliyê Reş and the Heci Beg river, they arrived and are holding that area. That is a hill in the South. According to rumors among the people, the Southern Kurdistani and Iraqi governments are aware of the situation, and they haven't reacted at all. That might very well be true. Why did they come and hold this hill? This hill is on a triangle. To hold the whole region, all entrances and exits under control over the South line, to control all movement.
"TURKEY IS DEFEATED BY KURDISH STRUGGLE IN THE MIDDLE EAST"
The Turkish state and the AKP-MHP government are at their worst period. Their Rojava policies haven't amounted to anything. Their Middle East policies have collapsed in general. The core of their Middle Eastern policies was anti-Kurdishness. And they failed at that. They had geared their policies towards Kurds not achieving any status in the process of change and transformation in the whole region. They even wanted to clamp on the status in Southern Kurdistan and weaken it. This is not the first time we are talking about this. We have been saying these things for the last 4-5 years. Look, some opportunities came along, the Southern Kurdistan politics had some mistakes, the Turkish state intervened immediately, they went to Iran and Iraq and formed an alliance. They did all that they could to weaken the status of Southern Kurdistan.
"The Turkish state sees their success in the defeat of the Kurds' gains. Despite that, if you go to their feet that doesn't mean anything. There is no place for such acts in politics. As it is known, they employ the same oppositional politics against Rojava as well. As we said before, they employed the same policies in Cizre and Silopi too. Now they employ the same policies everywhere. But they have been defeated. They have lost against Rojava. From the beginning, they used Al-Nusra and the groups who called themselves the "Free Syrian Army". Until 2014. They were defeated. Then they deployed ISIS, which has also been defeated. Now they come out themselves. With gangs under their control. Everybody knows that they don't constitute a will, they are agents, they are mercenaries and paramilitary forces."
"The Turkish state failed in their Middle East policies, in Syria, against Kurds, in the North, in Rojava. Their policies against Kurds and Kurdistan have failed. Now they are attempting to cover up their defeat and their thievery with an operation. Why? See, now there is the Reza Zarrab case in the US. This case is about Tayyip Erdoğan in particular. The crimes and the thievery of Tayyip Erdoğan and his network can be seen clearly. The AKP and Tayyip Erdoğan are deeply afraid of this."
_____________________________________________________________
IS-fighting British man Jac Holmes killed in Syria
A British man who has been fighting so-called Islamic State in Syria has been killed while clearing landmines in Raqqa, the BBC understands.
Jac Holmes had been fighting with Kurdish militia the YPG since 2015.
Kurdish representatives in the UK said they had been told by YPG officials the former IT worker from Bournemouth was killed while he was clearing an area to make it safe for civilians.
His mother, Angie Blannin, said the 24-year-old had been a "hero in my eyes".
She told the BBC: "He loved what he was doing there, he loved being a soldier. He had the courage of his convictions.
"He was just a boy when he left the UK, a little bit lost. He told me he didn't know what he wanted to do with his life. But by going out there, he found something that he was good at and that he loved."
Ms Blannin said she had not seen Jac for over a year, but that they regularly kept in touch online and had been making plans for him coming home.
"He stuck by his convictions because he wanted to be there and he wanted to see the end of Raqqa and to see the end of the caliphate. That was a moment in history, and he wanted to be part of it."
"We thought with any luck he'd be home for Christmas. It had been so tough since he had been away but I was always 100% behind him."
"After all this, he had said he might go into politics, or perhaps into close protection security. He'd seen so much for a boy of his age."
Ozkan Ozdil, who also fought with Mr Holmes in Syria, told the BBC his friend had become well-known and respected among Kurdish fighting units.
He said: "Everybody knew Jac. By his third tour out there his Kurdish was fluent. We had a bit of a laugh that he was my Kurdish translator.
"He spoke so fondly about Rojava [the name given to the Kurdish region of north east Syria]. He was the reason that made me want to go."
Mr Holmes also was known by his Kurdish nom de guerre Sores Amanos – "sores" meaning "revolution".
He was one of a number of British volunteers who travelled out to fight against IS with the Kurds during the Syrian conflict.
As a former IT worker, Mr Holmes had no prior military training, but he became one of the longest-serving foreign volunteers in the conflict.
Since 2015, he had travelled to fight with the Kurds three times, and spent more than a year there on his third trip.
"He loved being out there, he loved the people around him. He had a purpose and he was happy," said Mr Ozdil.
Mr Holmes fought in operations to push IS out of key towns and villages including Tel Hamis, Manbij, Tabqa and Raqqa.
He always knew he could face arrest from UK authorities for fighting abroad, but had previously told the BBC "you just have to hope that our justice system works in the correct way".
During the battle for the IS stronghold of Raqqa, he became part of a four-man sniper unit made up of international fighters who, like him, had joined the conflict voluntarily.
In the "223 YPG Sniper Unit" Mr Holmes fought alongside three others from Spain, the US and Germany.
As the fighting for Raqqa intensified, the unit had some narrow escapes.
He described on Facebook how they had survived coming close to IS car bombs and being ambushed by jihadist fighters.
On Sunday, Mr Holmes posted video of himself on Facebook walking into Raqqa's central sports stadium for the first time since the battle for the city ended.
He wrote: "We spent weeks seeing this place from hundreds of metres away. It was strange walking the streets and finally going inside."
During his time in Syria, he conducted many interviews with various media outlets, even appearing on Kurdish television outlets giving interviews in Kurdish.
Through his media appearances and the amount of interest in the exploits of this young man from Bournemouth, Mr Holmes drew wider attention to the role the Kurds were playing in the conflict.
Another friend from London, Alan Sahin, told the BBC: "We could see how much he grew up while he was out there. He found his purpose there. He turned from a young lad into a man."
'Respect, admiration'
He described how a close circle had had the news of his death relayed to them from Syria just as they were attending Parliament on Monday evening for a Kurdish event.
"It's gut-wrenching, as Raqqa had just finished," said Mr Sahin. "Jac would have gone on to do good things."
The Home Office has warned against all travel to Syria.
Other former British YPG fighters, along with others who knew Mr Holmes, gathered at the Kurdish Community Centre on Monday evening to pay tribute to their friend and comrade.
Mr Sahrin said "At his age, to go into a war zone with no experience, ask anyone else in Britain and they'd say you're insane. But there he was, he went out there and was doing it. Even though he knew the danger, you couldn't help but feel he was brave. I had respect for him, admiration even."
________________________________________________________________________________________
The honourable child of his country, Martyr Fîraz Dağ
"The system that oppresses us is global. The system that oppresses us is united and in solidarity with each other. So we need to be in solidarity with each other against the same system that oppresses us", said Fîraz, calling for greater solidarity.
YPG Press Office released the following statement announcing the martyrdom of Fîraz Dağ (Mehmet Aksoy), founder and editor-in-chief of Kurdish Question, in YPG ranks.
The martyr is the reason for a rose to blossom in the midst of vineyards made from ashes. The martyr is a bright dawn to the skies of thirsty and exhausted geography; so that rain falls, so that life will blossom again. This is the story of Kurdistan and its martyrs. The martyrs are the greatest living thing of a people who turned from the gloomy sleep and stepped into the struggle for freedom. The martyr is the hope of awakening, struggle, self-sacrifice and success. The Kurdish people, who were on the way to dying out with the attacks of the invading barbarians, found their hope of life and freedom in the personality of the martyrs.
Fîraz Dağ (Mehmet Aksoy) was from the Elbistan district of Northern Kurdistan in Maraş province. He grew up London after his family's migration to Europe. Since the early years of his youth, he has never been separated from the path of anti-capitalist, democracy and human rights struggle as part of the rightful struggle of the Kurdish people. Especially after the Şengal massacre on August 3, 2014, he ceaselessly carried out work and gave all his effort to inform and organize the Kurdish community and many others.
He is the founder and editor-in-chief of Kurdish Question, which examines the problems of the Kurdish people and other ethnic groups, and has managed the virtual platform for a long time. He completed university education on film making and took his place in many literary organizations. He produced pieces in cinema, literature and other fields of art with a series of short films, poems, and poetry. He wrote evaluations and managed the internet platform Kurdish Question, where he gave a lot of space to explain and advocate the Kurdish Freedom Movement, the Rojava revolution and the women's struggle to the international community.
"The system that oppresses us is global. The system that oppresses us is united and in solidarity with each other. So we need to be in solidarity with each other against the same system that oppresses us", said Martyr Fîraz, calling for greater solidarity among oppressed nations.
With a heart beating with the passion of freedom for his people, Comrade Fîraz felt the longing for freedom in Kurdistan, and while his patriotism lived at the deepest level, he kept this spirit alive and never let go of his identity. He became the loud and clear voice of his people when they were massacred in Kurdistan, because he wanted the whole world to find out about these atrocities. When Kobanê was attacked by Daesh gangs in 2014, he led the Kurdish people in London's streets and train stations with great determination and willpower. He believed strongly that the YPJ and the free women of Rojava was a beacon and model to the Middle East, and told, through his words, about their revolution.
Comrade Fîraz came to the conclusion that the freedom and hope of a free life were under the philosophy of the Freedom Movement and Leader Apo. He was in search of the free life and found it in Leader Apo's ideas. Although Fîraz grew up in England, one of the centres of the capital system, nothing but revolutionary life could satisfy him. So, on his way to the source of free ideas, he came to his country. Comrade Fîraz, who could not accept for himself a life in the midst of Modern Slavery, headed to Rojava in order to record the Kurdistan Revolution into history with a pen and camera.
He felt the need to show greater action for the social and political revolution in Rojava, the need to respond greatly to the invader and reactionary attacks. Because of this, he could not be satisfied with his studies abroad, he directed his feet to his country. After the air attacks on the mountain of Qereçox on April 25, 2017, by the occupying Turkish state, he became clear on this point and made the decision to go there. YPG press members were martyred in the Qereçox mountain, Fîraz immediately took his place in the YPG press centre in order to take on the role of these friends and become a voice to the people and comrades, in order to tell the world about the injustice. Comrade Fîraz left a picture of a treasure to humanity and the freedom fighters through his military uniform, his weapon and camera on his shoulders, a picture that will remain in the hearts of his comrades at all times.
Comrade Fîraz was carrying out all his work in English in order to introduce the whole world to the truths of the revolution and make the occupation and exploitation of the Kurdish people visible. Comrade Martyr Fîraz worked day and night to record the lives of the fighters from the human, social, democratic, cultural and moral aspects. Finally, in order to watch his comrades in the battle against Daesh reactionism and share it with the whole world, he participated in the operations of Raqqa and Deir Ez-Zor and recorded the struggle moment by moment.
On the morning of September 26, he reached martyrdom in the vicious attack of the Daesh gangs while on duty in Raqqa.
Martyr Fîraz Dağ, by taking on the free press and revolutionary art tradition of Martyr Halil Dağ comrade, successfully represented him in Rojava. In a short time he made places in the hearts of his comrades and became loved by everyone. Under all kinds of harsh conditions, for months he witnessed the emotions, excitement and joys of the fighters in the battle fronts. He was one of those who reflected the new era of the Kurdistan Freedom Movement to the world.
We will adhere to the struggle and life line of our comrades martyred at such a time; we repeat the word that we will walk and fight like them and reach victory. On the way of Comrade Fîraz; we will grow and strengthen our struggle in the free press line. As Kurdistan's freedom fighters, we will undoubtedly triumph in our struggle. Because our life philosophy consists of struggle for the sake of a free life. It is resistance against the persecution of the cruel. As this philosophy continues to live in the minds and hearts, the tyrants will never win!
The ID information of our martyr is as following;
Nom de Guerre: Fîraz Dağ
Name Surname: Mehmet Aksoy
Mother's Name: Zeynep
Father's Name: Kalender
Date and Place of Birth: Malatya, 1985
Date and Place of Martyrdom: 26-09-2017 Raqqa
________________________________________________________________________________________
Interview with an anarchist who fought in Rojava
Comrade Berhadan. an anarchist from Spain, gave an interview about how he had spent a few months fighting against ISIS and why Western anarchists are preparing for the battle that has already happened. This is a translation from the book "Life without a state: The Revolution in Kurdistan" which was published in Russia in 2017. The book's principal contributors are:
Dmitry Okrest – the RBC correspondent, who also works with magazines OpenDemocracy, GQ and New Times. He writes about political radicals, the Caucasus and Middle East.
Dmitry Petrov – a researcher of The Institute for African Studies of the Russian academy of studies, PhD in history.
Maxim Lebsky – a historian, the author of "Kurds. Lost in the Middle East" and "Turkey. On the Fault Line of History" books.
The book's contributors – anthropologists, sociologists, journalists and political activists – talk not only about armed resistance to the hordes of religious fanatics but also about social ideals for which local people abandoned the state and took up arms. More information about book here. Information how to buy — commonplace1959(A)gmail(.)com or heval_rusi(A)riseup(.)net 
"WHEN THEY TRUST YOU — THEY WILL MAKE YOU THEIR BELOVED FRIEND"
Why did you decide to come to Rojava? What inspired you to make that decision?
The Kobane city resistance was the decisive moment for me. Back then we all heard about the people's militia and civilians fighting in the streets of Kobane. They chanted: «Kobane will be the tomb of fascism!», «no pasarán!» and other antifascist slogans referring to the Spanish Civil War. Mass media and military experts had claimed that the Kobane resistance would fall within 4 days, but it did not. Back in those days we were under the influence of what had happened in Ukraine after the Maydan revolt and in Syria after the revolution. Although we knew very little about Kurdish stateless society ideas, some of us decided to take part in it.
What were the main problems you faced there? Was it easy to find mutual understanding with the local people?  
The main problem was the language barrier. Very few people speak English there. You need to spend a few months before you start to understand Kurmanji. At least for me it was the case, maybe others have better language learning skills. The attitude towards international volunteers differs from group to group. In some groups you might feel a bit overprotected while in others there's a feeling of real brotherhood. During the first couple of months you learn how to live amongst them, how to solve problems at the assembly. And when they begin to trust you, when they learn about your revolutionary ideas, when they see you take fighting seriously, you have self-discipline, then they make you their beloved friend. In general Kurdish people are very friendly, they help you a lot from day one.
"THE RESISTANCE WORKS AS A CULTURE SCHOOL"
How many anarchists are there? What organizations or anarchist groups do they represent?
Now is not the same as in the beginning of the Kobane Commune and the Tell Abyad operations. Now there are more people who came there just to fight ISIS rather than represent certain political groups. There I met about a dozen of anarchists from the West. Some of them are connected to certain anarchist organizations, but I don't know if they want me to be public about it. Also, lots of Turkish anarchists were involved in the actions near the border during the Kobane resistance. There were a lot of international volunteers with different ideas, from marxists to the apolitical who just had a sense of social justice. Now we have created the libertarianbrigades.noblogs.org blog to give them a voice, support and opportunity to discuss.
What do the Kurds think about anarchism?
There's a difference between the Kurds who come from the mountains, a.k.a guerrillas, and the ones from Rojava or Bakur (Turkey). The mountain folk, they understand anarchism and accept it, especially young people. Their political knowledge is excellent. The Kurds from Rojava are politically unaware. They grew up during the Syrian regime so they know very little even about Apo's ideas. They are only learning now about culture and politics, at the YPG/YPJ institutions. The resistance works as a culture school.
The Kurds from Turkish towns and the Turks themselves are more into marxist ideas. Although they feel affinity with anarchist ideas too. The PKK ideology was developed as a way to criticize Marxism-Leninism, so now the movement is open to new anti-authoritarian concepts.
Have many of them actually read works of Murray Bookchin, the latest works of Ocalan or do they just believe it is a good thing?
I've met a guerrilla commander who identifies himself as an anarchist, his ideas were based on M. Bookchin and N. Chomsky works. These authors are known among the Kurds, definitely. I have also met a Kurdish fighter who admired Peter Kropotkin's work (a Russian anarchist). He was very interested in anarchist atheism as well. I've met fighters from Georgia, Armenia, Iran, who agree with anarchist ideas too.
It is as in the classical revolutionary concept of anarchism. Although they don't like other types of «anarchism" that they have heard of "Anarchists" like western youths who drink alcohol and have weird haircuts. They know about that and they are prejudiced against that. They stand against this kind of self-expression, individualism and pseudo-radicalism. Another criticism I received was that some of them would say: "Yes, anarchism is a good idea but it is not a real political alternative". They recognize Democratic Confederalism as a real alternative. They believe it lies beyond marxism, anarchism or any -ism.
What kind of solidarity actions for people outside Rojava would be the most useful to take, in your opinion?
I think at the moment the most important action to take would be generating pressure against the Turkish state. Kurdish organizations get a lot of support so, considering our limited resources, maybe it would be better to focus on supporting our comrades fighting there or specific anarchist organizations in Turkey, Iran and all over the Middle East in general. It is important not to focus just on the Kurds. It's a trap created by western mass-media. Social uprisings take place in different states of the Middle East and we must support them.
The only thing our Kurdish friends say we should do in our own countries, is that we must organize revolutionary movements, fight, and develop communal relations. It's a simple way: organize self-rule to take care of our daily necessities in a participative form; organize self-defense to gain strength so that we can defend ourselves and our territories.This can be done on every level, from a small community or collective to a neighborhood, a city or the entire region. So, let's do it!
"AGAINST THE STATE, AGAINST THE AUTHORITY, ONLY ALLAH"
Have you had an opportunity to communicate with Assyrians, Arabs, Armenians and those people who have been recently liberated from ISIS?
I was in contact with some Syrian activists before coming to Rojava, some of them identified themselves as anarchists. They were fighting in the FSA. Then in Rojava I was fighting alongside Burkan al Firat (ex-FSA) freedom fighters and it was a good experience. I understood their simple idea of «against the state, against the authority, only Allah». I've met a few revolutionaries from Armenia but they weren't local. They fought in HPG guerrilla groups for some time.
There are talks of ethnic cleansing as well as an anti-Arabic and anti-Turkmen line of the Kurdish movement. Participation of some Arab people in the movement is sometimes called a cover to hide racism and discrimination. Are these charges based on reality?
Some Kurds may express racism. This happens because they have suffered repressions from Arab states, from their policies of arabization which encouraged Arab colonization in Kurdish areas. The same applies to the Turks and the Turkish state. This issue is about nationalism. Most Arabs in the region are Syrian nationalists, most Turks are Turkish nationalists. Besides that, ISIS attacks contribute to a climate of ethnic hate .
However, the Kurdish movement and their organizations are not involved in this. They do try to create a political system without racism and invite everyone to be involved regardless of their ethnicity or social status. Ideas of KCK-PKK work as a cultural school for the population, they work against racism. This is a genuine attempt, they do make a significant effort to stop ethnic hatred. Even so, it is clearly not the easiest time to find mutual reconciliation.
The Islamic State has support among some of the Arab population, especially amongst the middle-class and landowners. Moreover, in some areas the Arab population suffered the consequences of the war only after the Kurds defeated ISIS. Enemies use this against YPG. Yet a lot of Arabs fight against ISIS and work together with Kurds in order to create a confederal system.
There is no problem for me to talk openly about the fact that we entered houses abandoned by ISIS supporters, we took stuff for the resistance and for poor families. We seized buildings and land for common use. I have not seen any discrimination of the Arab population, only some bad words and shots in the air when civilians tried to enter the battlefield. ISIS suicide bombers naturally made people paranoid. As a result, Arab people got searched more carefully at checkpoints.
I witnessed military mistakes that caused civilian casualties, and I cannot justify it nor lie about it. ISIS tactics are based on using suicidal car bombings, mines and using civilians as human shield. I can honestly say that the YPG are not aggressors who attack civilians, but the war must end. Any kind of war, even defensive or revolutionary war, cause pain and suffering to people.
"THE ECONOMY IS CONTROLLED"
Have you had an opportunity to learn more about the local economic system? The news is very controversial: on the one hand there is cooperative development, on the other hand – private property still exists. Please explain the relationship between "socialism" and "capitalism" in this system. What about exploitation and wage labour?
To be honest I spent very little time in peaceful areas: a few weeks in Kobane after the liberation, the city was devastated after the war, the economy was just reviving. In Jazira canton the economy is doing better because the war didn't affect it that much, there are also different political powers active, not just PKK. I know it's a mixed system with elements of both capitalism and socialism.
This is caused by the low level of political culture. The Rojava system is moderate, PKK/KCK do not want to force elements of communism against people's will. It's rather a system that gives people an opportunity to develop their political culture and be a part of it. Cooperatives keep appearing, some land gets collectivized, the economy is controlled so it's neither liberal capitalism nor communism.
Some comrades do a very good job of analyzing the economic and political aspects. People who want to see just a class revolution would be disappointed. Their minds are imprisoned by obsolete ideas. All of this is the consequence of Syrian and Middle East Arab social revolts. The main idea was freedom and social justice, the war against tyranny and repression. This allowed the creation of space for the Kurds, the opportunity to defend their autonomous territory. The main source of inspiration for the Kurdish people is their ethnic identity which has been threatened for centuries now. Kurds have been fighting for decades against every state in the region, so now they have formed the confederal system that made it possible to ensure genuine civil rights, equality of men and women as well as participatory democracy. That happened in the region where Kurds are forced to live a poor life, are not recognized as an ethnicity, their language is forbidden.
 "EUROCENTRISM IS AUTHORITARIANISM"
The Kurdish movement is often accused of "collaboration with imperialist powers", with the US and at the same time – with Russia and the Assad regime. What are your thoughts on this?
Since the beginning of the Syrian civil war, the Kurdish organizations in north Syria have been making certain pacts with the Syrian regime as a way of retaining the balance of power. As well as this they fought against the Syrian army and took part in demonstrations and blockades.
With the help of those pacts, the Syrian state created a safety zone against Turkey which supports Syrian nationalists and the islamist opposition.  The Assad regime avoids confrontation with well organized Kurdish militias. The Kurds protected their cities from airstrikes using those agreements. Airstrikes were to be focused on civilian buildings using the logic: "Assad or we will burn it all the ground". I acknowledge this as a strategy; we must understand that the Syrian opposition fell under islamist and nationalist control and they do not recognize Kurdish autonomy which made the Kurds a third party from the beginning.
However the Kurdish people and their organizations do not like the Syrian state nor the Assad regime, they always say harsh things about them. The city of Qamishli is divided between the regime zones and the Kurdish zones. A few skirmishes have happened, the situation is very intense.
An alliance with the US was meant to help in fighting against ISIS, which was made possible by growing public pressure in the Western countries. Thanks to this, they survived and we defeated ISIS. This is the truth. Now they are negotiating with Assad and Russian intervenors again. It is difficult for us to support that but they need to survive, it's the only option other than genocide or living like refugees forever. The Kurds will pact with anyone who can help them, but at the same time they will fight fiercely against anyone who attacks them.
Some anarchists are convinced new libertarian ideas of PKK are there to disguise the old authoritarian ideology of this party. Some people insist that anti-authoritarian ideas cannot be brought from "above". Like in the case with PKK, Abdullah Ocalan is the person who changed the movement's ideology on his own. 
It's not an ideological shift. They were expressing those ideas initially, but in their early years there was a significant influence from USSR and national liberation movements. One of the best things about this revolutionary movement is their ability to criticize, including self-criticism. Because of that, they've managed to avoid the mistakes of marxism, marxism-leninism, the national liberation concept, authority, and their early ideas.
These ideas came from «above» because there are people with a higher level of political culture. Kurdish people are poor, they have no access to culture, we can't expect them to do a complex radical political analysis of the history of patriarchy, classical philosophy, the formation of states and different socialist movements. There are no social movements. Only recently the Kurds were able to meet and discuss. The ideas come from the guerrilla, from the resistance. These structures are very interested in creating participatory forms of discussion; they developed a common idea which emphasized the importance of subjectivity and consensus. Therefore, those ideas didn't come from "above", it's a common development.
The ideas are not artificial. They represent Kurdish people's perceptions, including the sense of community and being nature-friendly.
That's if we talk about «pure» PKK-KCK ideas. Not every kurd understands these complex things hence there are different tendencies. We must be accurate when we talk about KCK because it's a name of a real organization. If we criticize PKK party structure, then I don't understand why we continue talking about PKK in the same way the mass media and the Turkish state do. They mention PKK's name to explain the confederal model. KCK and PKK are popular names but when you talk with the commanders, and attend lessons in YPG, they insist KCK should be mentioned in terms of explaining the confederative model. It's not a mask.
Criticism of the western radical left and anarchists can be very destructive. They say: "PKK is authoritarian, we should not support them, and that's all fake". They accuse PKK of libertarian change as a strategy to win the population's sympathy. Bullshit! Being an anarchist is not the best way to come to an agreement with the rest of our modern society! Of course it isn't utopian there. They have a military structure, there are different parties and organizations, but we must support these libertarian tendencies and their evolution.
What are your thoughts on the ideological shift of PKK that you could see for yourself?
Those ideas didn't come from Ocalan alone. The Kurdish revolutionary movement have a method of forming their ideology. It's difficult to explain, but it's not like Ocalan wrote something and the whole KCK accepts it because he is the leader. It's more about communicating, discussing, criticizing and being open to self-criticism. They have formed their own method of common thinking. It'd be fair to say these ideas about confederalism, radical anti-patriarchy, anti-authoritarian views come from KCK and HPG/YJA Star umbrella organizations which consist of guerrilla fighters who have read and studied a lot about philosophy, history, political and economical concepts. Everyone puts their ideas together, then Ocalan and other intellectuals act like guides. In that sense the Kurdish leaders are developing an ideological model based on Kurdish nature, in accordance with pre-capitalist communal society ideas.
These guerrilla "leaders" don't want to be bosses or presidents, they only want to study different philosophical movements, history, politics to bring liberation tools to their people. They want to be close with nature with no material possessions and fight until they die to protect people's freedom. It's really interesting even from an anthropological point of view. It's difficult for us to understand because we are infected with western prejudices. We don't trust in Kurdish revolutionaries because we don't trust in others. This is because we don't trust in those who are different and this is our problem.
We must also speak about other ideological leaders like Sakine Cansiz, a woman, the concept of Jineology or woman liberation sociology, a call to revive living in the rural areas, break the urban way of life and industrial production. The Kurdish movement has a lot of interesting things. Anarchists should support this interpenetration because no one else would. We must promote these tendencies. If we attack them instead, we would be attacking the development of libertarian ideas in other societies.
Eurocentrism is authoritarianism, a lot of so-called revolutionaries and anarchists are bringing it to life. Anarchism and socialism are concepts from European history and culture. In other parts of the world the people have their right to develop their own liberation ideas, not to adapt the Western ideas. I'm talking about examples like Zapatistas, Mapuches, the MEND in Nigeria, and many others.
Now the situation is changing, the «Rojava spring» has finished. There is only war and political pacts left. Of course there are opportunities to develop social projects, but I'm talking about revolutionary intervention, action, it should be rapid. Making this happen we can support libertarian forces and anti-authoritarian sides. Their ideas will be a real power in current event. Freedom and liberation have a lot of enemies, and it is our responsibility to defend them.
We must be prepared for the next situation to support our friends from the beginning, not waiting for years to see what happens. We lost the opportunity to support anti-authoritarian revolutionaries in Syria, we came late to support the Kurdish people in Kobane and we were fighting there without any support. Before that, we hadn't done enough to support anarchists in Ukraine and Egypt during their revolts. Now there is an insurrection in Turkey and there are signs that a global conflict will be growing. So be ready to act in any part of the world!
__________________________________________
We, supporters of Rojava, should be worried about its partnership with the United States.
Thursday May 18, 2017 12:50
by Zaher Baher
Zaarif1 at yahoo dot co dot uk
UK
This article covers the current military situation in Rojava. While the PYD and Syrian Democratic Party are getting closer and closer to UNited States some of the anarchists and anarchist-communists are happy with that . The Article tries to bring the attention of those anarchists that the partnership between them is in the interest of US and its allies in Europe and the region . In the end, Rojava, might lose what it has been achieved so far.
We, supporters of Rojava, should be worried about its partnership with the United States.
By: Zaher Baher
17th May 2017
The political and military balance in Syria is constantly changing. Relations between the Syrian Democratic Forces (SDF), co-founded by People's Protection Units (YPG), and in turn Russia and US constantly ebb and flow. The dynamic behind these changes has very little to do with ISIS. In fact, it all depends on the respective interests of the great powers and their struggle against one another to establish predominant power there.
The past year has seen a steady erosion of the US position in Syria vis-à-vis Russia, who has since overtaken it. Russia's heavy involvement in Syria and becoming a major ally with Turkey has changed many things. The relative inactivity of the USA has given the opportunity to Russia, Turkey and Iran to play a significant role in making decisions there.
Under Trump's new administration this has changed somewhat. He probably has a different approach to Syria. While US still is one of the major powers in the world, it cannot sit and do nothing in the region especially in Syria.
After a long pause, Trump has decided to ally with SDF against ISIS to defeat them in Raqqa regardless of Turkey's position and reaction. Trump has now approved a deal to supply arms including heavy weapons to SDF directly, seeing them as the most effective and reliable force especially after the SDF capture of Tabqa City from ISIS. The US administration is at present more than any other time determined in recapturing Raqqa, the ISIS de facto capital. It is now quite clear that the US administration and SDF and the People's Democratic Party (PYD) are getting very close to one another to the point that SDF strife to achieve what the US wants to achieve, even though this can be at the expenses of what have been achieved so far in Rojava.
We supporters of Rojava should be very worried about the current development in relation to Democratic Self-administration and the Movement of Society (Tev-Dem). We should be concerned because of the following consequences:
First: It is a matter of influence for the US while seeing that Russia almost controlled the situation and managed to take Turkey onto its own side. US wants to be very active before losing its power there. It wants to play the major role and achieve its own goal, this can be only done through SDF and PYD. There is no doubt that the US is more concerned about its own interests rather than Kurdish interests in Rojava.
Second: To contain SDF and PYD, to make them a tool by using them for their own interest. This is the best way to make PYD and SDF lose their credibility in Syria, the region, Europe and elsewhere.
Third: The current attitude of the US towards Rojava and arming SDF directly might be an effort to cut them off from PKK and decrease PKK influence over developments in Rojava.
Fourth: There is no doubt that whatever happens will now make Turkey more furious against both YPG and PKK. This could create a greater backlash from Turkey. It may repeat last month's military operations against YPG or even extend these military operations into Rojava and against YPG & PKK in Shangal, in Iraqi Kurdistan.
Fifth: With Russia's displeasure against the SDF and PYD, Assad could be influenced to change Syria's attitude towards them in the future if not now. If Rojava had chosen the Russian side instead of USA, it could have been much better because Russia is more reliable as an ally than the US. It looks like Assad will stay in power after the defeat of ISIS. Assad normally listens to Russia very diligently. In this case, there was a greater chance under pressure of Russia that Assad would have let Rojava pursue a better future than what US and Western countries may decide for them.
Sixth: Intensifying and prolonging the current war causing Rojava a great deal of dislocation. Continuation of the war costs SDF so many lives and makes them weaker and weaker. The stronger and the bigger the size of SDF in Rojava is, the more it must necessarily be dependent on one of the major power, in the meantime Rojava will be weaker. The more SDF achieves militarily, the more socially and economically can actually be lost in Rojava. The more powerful SDF and PYD become, the less power the local self-administration and Tev-Dem will have. The number of SDF fighters alone is estimated to be 50,000. Just imagine even 10.000 instead of working militarily, working in the fields and cooperatives or building school, hospitals, parks and houses, by now Rojava would have been somewhere else.
Seventh: Often I have mentioned in my articles that a successful Rojava – successful in the way we were hoping – depended on a couple of factors or as a minimum one to preserve the experiment. One was expanding Rojava's movement at least to a couple of more countries in the region. The other factor was international solidarity. However, neither happened. If one thing can now preserve Rojava, it is ISIS and the opposition forces in Syria holding out against the odds. In short only a prolonged anti-ISIS military campaign can preserve Rojava.
In my opinion after defeating ISIS in Kobane's region, YPG should have suspended it military operations except in self-defence of its establish perimeter. After defeating ISIS in Kobane region and the greater intervention of US and Russia, UPG and PYD should have withdrawn from the war. PYD should have dealt with the situation better and withdrawn from power for Tev-Dem and let the rest of the population to make their own decisions about peace and war. Clearly the current nature, direction and the potential course of the present war in Rojava has completely changed. It is a war of the major powers, European governments and the regional governments over securing interests and sharing domination.
The situation at the moment looks very grim. It appears that once ISIS has been defeated in Mosul and Raqqa then more than likely war will start involving Rojava and PKK in Qandil and Shangal. These calculation are being made by Barzani, head of the Kurdistan Regional Government (KRG), Turkey and perhaps also Iran and Iraq with the blessing of the US, Russia and Germany. Such a war may start by the end of August or September after the military defeat of ISIS in Mosul and Reqqa.
Zaherbaher.com
____________________________________________________________________________________________________
WITH AN ABRACADABRA AND HEY PRESTO, DATELINE LONDON BBC'S CURRENT AFFAIRS PROGRAM MAKES ROJAVA, THE YPG, THE YPJ, THE SDF AND THE SDC AND THEIR ALLIES DISAPPEAR INTO A VACUUM.


By Stephen Becker

Dateline London has a strap line 'Foreign correspondents based in London give an outsider's view of events in the UK' but recently the program asked outsiders to discuss Trump, Burma and Syria. It turned out to be a shoddy affair with none of the outsiders having any real idea of the concrete situation in the Middle East. It obscured more than it elucidated.

Simon Leys demonstrated that the BBC obviously did not run to an accurate briefing before he took to the air. After a piece where he referred to the situation in Burma as 'bordering on genocide', the anchor of Dateline London 'turned to a subject which has dropped out of the headlines', Syria and Iraq. Referring to this 'important on-going story' or 'saga', the temporally challenged Leys categorised the 'fightback' against the movement which calls itself the Islamic State as 'going on for more than a year'.

He stated that the Governments of Iraq and Syria were both claiming to have wrested territory from ISIS, before turning to the studio guests to provide expert commentary. In his opening remarks, Leys had asked 'How's the fight really going?'.

Nesrine Malik, a Sudanese journalist, Vincent Magombe, Director of the African Journalists Network and Bronwen Maddox of the think-tank the Institute for Government, have no track record in reporting the Middle East. The fourth journo was Michael Goldfarb. He covered the Iraq War as an independent reporter in Iraqi Kurdistan. You would have thought he would have known a modicum about Syria or Iraq but he too demonstrated an incoherent and sketchy understanding of the current situation.

Leys indicated that ISIS is losing territory and the Governments of Syria and Iraq are reclaiming it. He turns to Malik. 'Nesrine. Its a process you've been watching closely for many months now. How do we know whether its working and at what price is this war being waged?'

Ms Malik informed us among other things that ISIS had lost two big cities in Syria and Iraq. Mosul was one. 'Raqqa is under siege at the moment' she said, and with considerable but non-specific insight announced that there was to be an 'upcoming huge battle in a town in Iraq', the name of which she did not divulge.

She had two points to make. The first was that the end of the Daesh flagship capital meant 'a vacuum is being created now that ISIS has gone' ,

Shaun interjected to emphatically agree that 'Vacuums are dangerous things'.

The second strange point was a bemusing non-sequitor that 'most of these Hinterlands are so ungovernable that ISIS leaving a city or a town does not mean that pockets of them don't exist'. She had spoken about atrocities that ISIS continued to inflict, despite the fact that they were facing defeat.

Nesrine Malik was unafraid of enunciating even sloppier statements. She then went back to a second second point. The new second point – really probably the third point – was that 'There are now three parties. The US, America and Arab League sort of soldiers' (sic) causing casualties.

Whilst accepting that she probably didn't mean to confuse the US and Americans as separate entities, there really is no excuse for the reference to 'Arab League sort of soldiers'. It was an excruciating moment.

A cursory examination of the role of the Arab League demonstrates its marginal importance and real impotence as an organisation, since it in fact has no military capacity.

The Arab League suspended Syrian membership in 2011 because of Assad's killing of demonstrators, and its Peace initiatives floundered the same year. Its monitoring mission in Syria was described as a 'farce' and was suspended in 2012. The Egypt Summit in 2015 agreed in principle that the AL form a military force but to date that has not materialised. In March this year, the AL could do little more than lamely 'urge Arab Governments to do more to resolve the conflict in Syria'.

So there never have been and are currently no Arab League forces in Syria because Arab League troops are only a figment in Ms Malik's imagination and as an entity, were hesitantly plucked out of thin air, as she struggled to identify just who the chief fighting forces in Syria actually were.

It was just a straightforward exposure of ignorance. More rigour, and less blather please Ms Malik.

Later on in the program Bronwen Maddox agreed. 'There is this vacuum'.

Shaun turns to Goldfarb . 'This raises the question, Michael, what the strategy is?'

Michael was not sure if there was a strategy. At the military level he noted that there is the 'degradation of ISIS' and 'at the other end we have…of what we used to call the chaos of the great powers. Russia's involved. America's involved. Turkey which is a NATO ally. This week it was announced they are buying Russian high-tech computers and military equipment. So whose…Where is the organisation at the top. No organisation at the top and at the bottom, there are people, who are, I mean the fighting goes on there as before, except that ISIS is being pushed out and it's just bleeding away into other places and can as Nesrine mentioned it can jump on any pilgrimage site in the Shia heart of Iraq, if it wants to, but can it rule anything, can it make inroads anywhere, can it send forth, they're claiming this idiot bombing yesterday in London…' and at that point Shaun Leys excitedly jumps in to continue a point about ISIS claiming responsibility for bombings which is then echoed by Maddox.

Nobody seemed to have noticed that Michael was blathering and had just gone off-piste. Left for another 30 seconds, he would have been analysing pension plans.

Maddox having joined in with the off-piste party went back to the problem of 'the vacuum', and whether the Shia crescent from Iran to Lebanon will be established. She says that 'there's a bit more space for that kind of thing' (my emphasis). Does 'that kind of thing' inspire confidence and imply any erudition?

Vincent Magombe, having pointed out the mess following the invasion of Iraq and Libya asks, 'Have you heard anybody, whether the UN, America or Britain or others, talking about what they're planning for Syria for after? After mentioning the invasion of Iraq as the cause of the chaos in the region, Vincent wants to know what the post ISIS plan is.

Malik comes back with, 'The problems with a country like Iraq and Syria is that Kurds, Shiites, Sunni, Pershmarga and all these disparate groups, and in Syria as well…with all the different tribes, ethnicities and minorities, Alawites etc, have all been pushed under the surface by long standing dictators and that's how we got into the situation in the first place. We didn't get into this situation because America invaded Iraq. We got in this situation because Saddam Hussein has inflicted an artificial uniformity on Iraq for decades as Bashar Assad is doing now'.

Buried inside is an exoneration of the US. However, the point of a suppressed polyethnicity is valid.

And they continue in this fashion until Vincent says, 'the bottom line is about democracy'…'and if the foundation are to do with the lack of democracy…look at the Russians. While I condemn the West in their approaches…The Russians as well. Let's have this Syrian man. He has to be there. But he's not a democrat. In the first place that's why his people were trying to agitate for some rights. So unless we try and ask these people…we won't get that answer. It's a mess'.

And so, the concluding 'it's a mess', not only applies to the situation in Syria and Iraq, it also summed up the studio conversation. Other points were made by the four experts but the short transcripts indicate the incoherence of thought, the knight's move thinking, the pitiful state of analysis and dreary arguments, bluffing and hazy evasiveness. All of these pointing to lack of grasp of the subject at hand.

The most obvious and glaring omission made in the program was the complete failure to mention the establishment of the Federation of Northern Syria formerly known as Rojava, the fight by the forces of the YPG and YPJ against the Caliphate, and the establishment of the Syrian Democratic Forces and Syrian Democratic Council. These political and military organisation, have combined all the ethnic minorities of the region in a remarkable and tenacious fight against ISIS, whilst creating Confederal stateless grass roots democracies throughout eastern Syria.

The participants in Deadline London either through ignorance or deliberate omission, magicked this momentous political movement into the vacuum.

It is to be acknowledged that the current conflict in the Middle East is complex and thus it was shameful for the BBC not to have assembled real experts, of which there are a considerable number. Commentator who have an in-depth understanding of what actually is going on in Iraq and Syria. Instead they assembled people with a wafer-thin comprehension.

Before going back to 'the vacuum', it is perhaps looking at some of the more illustrious statements made by the panel and add some brief comments.

ISIS is indeed losing ground and its military capacity is being degraded. In 2014, Daesh exploded across Iraq and Syria thanks to the disintegration of the Iraqi Army before a tiny handful of ISIS fighters. Assad aided this by releasing imprisoned Salafists from his gaols. The Caliphate spread quickly into northern Syria and reached the Turkish border before meeting their match in the Kurdish population of Rojava. The forces of Rojava, made up of Kurds and other ethnic minorities and with support of US air power began the fightback three years ago. Not 'just over a year ago'. The major force in the fight against ISIS were the militias of the YPG and YPJ of Rojava. They clawed back territory from the Caliphate whilst Assad was crushing the democratic uprising against his sectarian and despotic rule. And then the forces of the SDF were responsible for chasing ISIS and displace them from Taqba and now Raqqa and Deir ez Zor provinces. And this was done despite the assistance of Turkey for Daesh. Only of late has Assad aided by the Iranian PMU militias, Hezbollah and Russian firepower been able to make advances against Daesh and in doing so is re-establishing his dictatorship over the Syrian people.

When Michael Goldfarb was asked the nonsensical question of what the strategy was, he might have asked Shaun, 'Whose strategy?'. This would have made more sense than his answer.

There are in fact numerous strategies in play depending on the protagonist. The problem is that the strategies are at once conflicting and sometimes tactically contingent and are placed within a complex geopolitics.

To name but a few of the strategies.

America wants an end to ISIS whose spread was a result of its stratospheric and catastrophic failure in invading Iraq. Assad wants the whole of Syria back. Russia's support of Syria seeks to halt the erosion of its geopolitical influence. Turkey wants to continue its genocidal policy towards the Kurds and says it will not tolerate the continued existence of Rojava. The Gulf states want Assad out. The KRG which is in the pocket of Turkey seeks an independent state. Iraq, Turkey, Iran and the US oppose a Kurdish secession from Iraq while Russia remains silent on the issue. The Syrian Kurds and the Syrian National Council seek a non-separatist Confederal solution.

And to answer Vincent's 'Have you heard anybody, whether the UN, America or Britain or others, talking about what they're planning for Syria for after? It was not apparent if he knew about the peace initiatives.

There have been initiatives from the Great Powers to broker a peace. As the various forces battle on the ground, the Geneva and Astana Peace Initiatives are proving to be ineffective. Virtually every player in the Syrian Civil War political and ideological spectrum, whether they have set foot in the country or not have been invited. The Rojavan Kurds, however, have not been asked to either and the SNC, though invited, will not take a seat if the PYD/Northern Democratic Federation is excluded. Rojava and the SDC/SDF have never been afforded political recognition by the US despite their military collaboration and the gigantic sacrifice of the Kurds and their allies. Thus there is a political impasse.

The conflicting strategies, the peace initiative quagmired and no obvious timescale to the complete eradication of Daesh makes for post ISIS planning impossible for most of the sides.

An Endgame of sorts might be approaching in Syria. The Russian/Assad bloc has found second wind. The American/SDF forces who are close to defeating ISIS have taken Raqqa. The two sides now face one another across the Euphrates river. There have already been clashes and warnings issued on either side. The emboldened Assad regime has recently announced its intention to spread its military campaign to include the encircled regime-held enclave in Al-Hassakah. This is a confounding factor. The truth of the stated threat will only be known if it really does materialise in October. It would represent the first regime action to threaten Rojava. It would bring Russia and the US into direct conflict and could force a negotiation.

A prediction is doubly difficult because of the rapidly changing situation and unexpected turns in events. There are players also who have yet to play their hand. There are recently developing events that have yet to unfold.

Finally, the question of the 'vacuum' needs to be examined.

The protagonists brought up the question of democracy, colonial legacy, ungovernability but out of ignorance or omission could not see the elephant in the room – the unspeakable truth of the success and promise of Democratic Federalism in Syria.

Following the First World War, the imperialistic division of territory between Britain and France, sanctified by the Sykes-Picott Agreement, the adjustments enshrined in the Cairo Conference and Treaty of Lausanne, created the modern Middle East. Artificially lumping peoples together into multi-ethnic states ruled by despotic central authorities, accepting genocidal policy and suppressing diversity, expunging the language and culture of minorities to established a bleak norm. These mores were accepted by the post-colonial regimes and formed the basis of racist homogenising policies, discriminatory behaviour and cycles of resistance and repression.

During the course of the Damascus Spring in 2011, Kurdish region of Northern Syria, led by the Democratic Union Party (PYD) embarked upon a Third Way. The Assad regime, was opposed by a popular grass roots democratic movement throughout the country, and central government had lost credibility and was just clinging to power.

The conventional description of a political vacuum refers to the loss of centralised political and state power within a geographical area. Implied within this definition is the idea that it is a bad thing, and there are indeed many negative historical examples.

Within the context of Syria, however, the power vacuum allowed the flourishing of a sensational democratic movement throughout the country. Assad was out and in came widespread political debate in local councils, citizens initiatives, a flourishing independent press, radio stations, artistic expression, women's movements and resistance to the repression of the Ba'ath Party. So this vacuum allowed a progressive democratic movement to explode. The response to the fledgling democracy was brutality. In response to the Assad-regime's repression there followed the phases of militarisation of the conflict, the arming of the Salafists, the spread of ISIS, the entry of the world and regional 'players'. And, tragically, the crushing of a huge progressive movement that had flourished within the vacuum.

The Kurdish Third Way envisaged a different solution. They did not side with either the current regime or an opposition which waived democratic and liberationist principles. The PYD envisioned a decentralised federal structure for Syria and put forward the guiding principle of Democratic Confederalism and Democratic Autonomy as a strategy.

Once again, exploiting the vacuum, left by the retreat of the Ba'athists, the people of Rojava built a polyethnic, direct grassroots democracy which championed women's rights and respected people's of all creeds. The popular militias of the People's Protection Units and the Women's Protection Units launched a formidable counter-offensive against the invasion of Daesh and have been the most effective and successful combatants against it.

Rojava declared its de facto autonomy in 2012. It is not officially recognized as a political entity by the government of Syria or any international state or organization. Nnot even the United States. Within the Syrian opposition, there are attitudes ranging from suspicion to out-and-out hostility up to and including military attacks on its territory.

Nesrine Malik clearly asserted that in the wake of the defeat of ISIS there is nothing to replace it in these 'ungovernable' areas. She klaxoned her ignorance and there were no correctives from anyone else in the studio.

Rojava had spectacular local successes. Rojava had clearly proved that Kurds, Arabs Syriac-Assyrian, Armenians, Circassians, Chechen and Turkmen can co-habit. It has made plain that religions can be respected without sectarianism. It is showing that ordinary people can administer their lives without resort to a dirigist state. And the revolutionary process has demonstrated the leading role that women have taken in forging this new polity.

From the original three Cantons of Jazira, Kobane and Afrin, there has been a gradual accretion of Confederal Democracy throughout northern and eastern Syria. The Manbij and Shabba regions have joined the Rojava experiment, as have the Yazidis.

As the Syrian Democratic Forces chased ISIS from its territories, the Caliphate was replaced by local self-governing communities facilitated by the efforts of the Syrian Democratic Council (SDC).
The SDC has been in active discussion and dialogue for years with sympathetic political organisation, community and tribal leaders, women's organisation, youth groups and the population of villages and town. The SDC political initiatives and the promulgation of the principles of autonomy and confederalism has been successful in bringing rationality and peace to the region formerly under the control of the Salifist Caliphate.

Weeks and months of work went into shaping the post-Isis administration in various towns and localities to ensure everyone was on board. As an example, discussions have been taking place over the future complexion of Raqqa for the past nine months now. Malik was oblivious to this monumental work.

Everywhere the SDF has routed ISIS, there has been the immediate seamless implementation of self-governing civil administrations. The ungovernable are governing themselves. The vacuum is non-existent and in the wake of ISIS has come a flask full to the brim of Democratic Confederalism. It was unfortunate that none of the experts had even a rudimentary grasp of this process.

Being invited onto a current affairs program to just wing it and showing no evidence of even having boned up on the subject is a poor do. The BBC obviously thought it was acceptable to ask these amateurs to the table instead of real experts with real knowledge. Why did we have to suffer a stumbling wafer thin comprehension of the legacy of historical events, current events and an adolescent understanding of the actualities on the ground? Why didn't Shaun Ley do some background? Why was the role of the forces of Rojava and the SDF studiously ignored?

The bottom line is that you have to agree with the panel that there was a vacuum. But it was not in Syria. The vacuum was actually in the Dateline Studio. It's unfortunate that we have to suffer 'this sort of thing'.
____________________________________________
Kurdish blood for Arab lands?: Prospects for Raqqa
by Memed Aksoy
The 'Operation Wrath of Euphrates' to liberate Raqqa from the Islamic State (IS) was announced by the YPG-led Syrian Democratic Forces (SDF) on 6 November 2016. The first phase to isolate and seize areas around Raqqa was followed by another three phases in which areas such as Tabqa, the Raqqa-Deir Ezzor highway and important villages to all four sides of the city were taken. The final phase of the operation to liberate the city itself began on 6 June 2017 and is now in its 73rd day. Although an official figure hasn't been announced, some 200 Arab, Kurdish, Syriac and foreign fighters have already died in the final phase. The SDF is in control of about 60% of the city, with a reported 1,500 IS fighters out of 5,000 still holding out. Thousands of civilians have been evacuated from Raqqa by SDF fighters and more than 1,000 have joined SDF ranks to contribute to liberating the city.
The Raqqa campaign and approaches of various actors
When talk began of a People's Defense Units (YPG)-led operation to liberate Raqqa from the Islamic State [IS] in 2016, some circles – almost entirely made up of short-sighted and what we might call 'primitive' nationalist Kurds, as well as pan-Arabists or anti-Kurdish individuals, groups and states, such as Turkey and Syria – said, "Why is the YPG going to Raqqa? It's not Kurdish land." Their reasons and rationale were different, but the sentiment and root of their approach was the same; nationalism and statism.
'Primitive' nationalist Kurds, not limited to one party or ideological grouping, argued over social media that they did not want 'Kurdish blood' to be 'spilled for Arab lands,' and that the YPG should concentrate on defending the predominantly Kurdish Rojava-Democratic Federation of Northern Syria (DFNS). Meanwhile all anti-Kurdish individuals and state actors, primarily Turkey and Syria, chimed in that the YPG were going to 'cleanse' the area of Arabs and install Kurdish rule. Turkey also didn't forget to employ its most oft-used argument that the YPG was nothing more than an extension of the Kurdistan Workers' Party (PKK) and therefore a "terrorist group."
What they forgot to mention was that the local and tribal leaders of Raqqa had made open calls and held meetings with the SDF and officials from its civil sister organisation, the Syrian Democratic Council (SDC), for them to liberate the city. They also forgot to add that although predominantly Arab, Raqqa also had a 20% Kurdish and 10% Armenian Christian population amongst its 220,000 inhabitants (2004 census). Also almost all of the Kurdish and Christian population were persecuted and forced to flee when in 2013 the Islamist jihadist Al-Nusra Front (Al-Qaeda in Syria) took control of the city. In early 2014, IS, which had built presence in Raqqa with the toppling of the regime, took complete control of the city. Later in the year, after it had stormed Mosul over the border in Iraq and carried out a genocide against the Kurdish Yazidis in Sinjar, IS militants brought thousands of women and children they had enslaved to their self-declared capital and operation base in Syria, many of whom are still thought to be there.
These would have been sufficient reasons for the YPG-led SDF, which was formed in 2015 under the leadership of the YPG, and is the only multi-ethnic, multi-religious fighting force in Syria – predominantly comprised of Arab and Kurdish but also Syriac, Turkmen and Armenian militias – to launch an operation on Raqqa. But what the analysis and accusations at the time also lacked or tried to cover-up, was the historically strategic importance of the city for the Islamist jihadists (we'll come back to this) but also for the future security and success of Rojava-DFNS. Furthermore, it was also an 'ideological duty' of the YPG and SDF to liberate Raqqa due to their project of creating a decentralised and federal Syria not limited by ethnicity/religious categorisation or to predominantly Kurdish areas in the north. If the operation hadn't been launched, then IS would have continued being an immediate threat to the relative peace and stability achieved in the Rojava-DFNS and also an obstacle in the way of a solution to the Syrian crisis.
In turn, this would have further emboldened Turkey in its 'Operation Euphrates Shield', which it launched in August 2016 to sabotage the gains made by Kurds in northern Syria. Ankara wanted Islamist Free Syrian Army militias it is supporting to lead the charge on Raqqa and unsuccessfully pressured the US-led coalition until the last moment to end support for the YPG-led SDF's advance on the city. Turkey's main gripe was that the SDF was formed mainly of Kurdish fighters and that Arab forces were non-existent or negligible. This allegation was rebutted by the SDF and Pentagon, who said some 60% of the force was comprised of Arab fighters. Ankara, as a last resort and a little contradictorily, tried to divide the SDF by saying it could carry out the Raqqa operation with the Arab fighters in SDF ranks. These anti-Kurdish moves by Turkey mostly played a positive role in the speedy recruitment of Arab youths to the SDF, who flocked to the force ahead of the operation as a response to Ankara's meddling in Manbij and other predominately Arab areas.
The void – without a YPG-SDF operation – could also have resulted in the Syrian regime, which is currently at the gates of another IS stronghold Deir-Ezzor (to the southeast of Raqqa), launching an offensive on the city, thus again weakening the federal project for a resolution of the Syrian conflict. Furthermore, the regional and global repercussions of either a Turkish or regime advance on Raqqa would have been manifold and likely further complicated negatively an already chaotic war.
Raqqa's rich cultural and economic history
Located on the northeast bank of the Euphrates River, and with important roads leading to Damascus, Palmyra and Iraq, Raqqa is an oil-rich city with a history that spans back to the Hellenistic period (244BC). The city played an important role as a trading post between the Byzantines and Sassanid Persia and was also the site for clashes between the two hegemonic powers well into the 6th century. Shortly after the rise of Islam, Raqqa was conquered by one of Mohammad's companions, General Iyad Ibn Ghanm in 1639 or 1640, and given its current name. Upon surrendering the city, the Christians signed a treaty with Ibn Ghanm that allowed them to continue living and worshipping in the city, but forbade them from building any new churches. Many indigenous Christian groups and Jews also aided the incoming Muslims to evade heavy taxing by the Byzantines and Persians. The minority groups continued using their own laws and courts in the city even after the Muslim conquest.
Raqqa's immediate surroundings also bore witness to some of the most important developments in Islamic history, hence why it is important for organisations like IS. The Battle of Siffin, which would sow the seeds for the sectarian Shia-Sunni divide within Islam, happened just 28km west of the city. In 769 the caliph Harun al-Rashid chose it as his imperial residence, making Raqqa the capital of the Abbasid Empire. In the following centuries Bedouins, Kurds, Turkmens and Chechens also made Raqqa their home; the city experienced declines and booms, most recently in the 1950s with the cotton trade, but has remained an important hub for trade and culture in the country.
The Raqqa Civilian Council and post-IS hopes
This brief overview of the city's history is enough to highlight the strategic importance of Raqqa geographically, but also its rich cultural and economic past and present. It is also important in comprehending Raqqa's sociology but also the positive example and prototype – with the right type of administration – the city can become for a democratic federal Syria. This was highlighted by Ilham Ehmed, the female co-chair of the Syrian Democratic Council (SDC), just after the Raqqa campaign was launched.
"Such an administration could provide a good example for democratic change in Raqqa, especially that the city has been for years a de facto capital for the IS terrorist group. This accomplishment would be a major change in the overall situation in Syria, and would help the country move towards stability, democratic change. Raqqa will be an example for the whole country," Ehmed said.
The Raqqa Civilian Council is comprised of some 120 people, including a feminist Kurdish female co-chair and male Arab counterpart, and was formed by the SDC in April 2017. It is representative of Raqqa's local population and has the participation of all the ethnic and religious groups present in the city, as well as members from local tribes. It has already been working tirelessly to assist civilians rescued from IS and been making plans to rebuild life in post-IS Raqqa. In a meeting with officials from the U.S.-led coalition in July, delegations discussed 'demining, reconstruction, rehabilitation, relief and humanitarian work,' with the coalition showing political recognition and support it has previously withheld from the Rojava-DFNS. The appointed council has also committed to holding an election as early as May 2018 so that Raqqa's citizens can democratically elect their representatives. A decision on whether Raqqa will join the DFNS or remain an autonomous area will also be taken around the same time. It is expected that the decision will be in favour of joining the democratic federal project, officials say, but much of the hard work lies ahead.
In conclusion, the liberation of Raqqa will be just as important and strategic as that of Manbij, another culturally diverse and historically rich area the groups mentioned at the beginning of article tried to block from being liberated from IS in mid 2016. So far, the federal project and implementation of local democracy there has been reported as an important success. With its history, geography, resources and sociological reality, Raqqa can become another of the pillars of a federal, secular and democratic Syria. Provided that the diverse peoples of Syria can work together around the framework that was first formulated and drawn up by Rojava's Kurdish revolutionaries and then shared with the other peoples of the country to become the DFNS, Raqqa can enjoy security and build the foundations for a communal, gender-equal and ecological society. Just as the liberation of Rojava from the Assad regime and reactionary groups is now leading to the liberation of Raqqa and ultimate defeat of IS in Syria, the freedom and democratisation of Raqqa will safeguard the Kurds and Rojava from future attacks and divide-and-rule policies, while also strengthening the possibility of a solution to the Syrian war. This will be the biggest blow to IS and the reactionary, nationalist mentalities of the other states and groups in the region, which constantly feed instability, war and destruction.
I
NTERNATIONAL FREEDOM BATALLION
"Rojava Revolution also makes a global revolution possible"
BÖG fighter İmera Fereya Yeşilgöz: "We do not consider the Raqqa Operation as disconnected from the AKP's fascism. Every blow we deliver here, and every single gang member we kill here, is at heart a blow to the ISIS gangs nested in Turkey and the world."
The Operation to liberate Raqqa led by the People's Defense Units (YPG), Women's Defense Units (YPJ) and Syrian Democratic Forces (SDF) continues. Many different forces embedded within the SDF are taking part in the operation. One of these forces is the International Freedom Battalion, which harbours many revolutionary and socialist organisations. Among those is also the BÖG (United Freedom Forces).
BÖG fighter İmera Fereya Yeşilgöz answered ANF's questions regarding their mission in Raqqa and The Raqqa Operation as a whole.
Yeşilgöz stated that the Rojava Revolution at the same time enables a world revolution, having led to a revival also among Turkey's leftist groups. Regarding the Operation to liberate Raqqa Yeşilgöz said: "We do not consider the Raqqa Operation as disconnected from the AKP's fascism. In fact, every blow we deliver here, and every single gang member we kill here, is at heart a blow to the ISIS gangs nested in Turkey and the entire world", calling on all oppressed people and workers to join their ranks.
"WE HAVE FIGHTERS FROM CHINA TO DENMARK"
Since when is the International Freedom Battalion taking part in the struggle in Rojava?
The United Freedom Forces (BÖG) has been founded three years ago. In those years it took part in the struggle in many areas like Southern and Northern Kurdistan, as well as in Rojava. As for Rojava, it is part of the International Freedom Battalion.
The International Freedom Battalion itself has been founded two years ago, and since then is participating actively in the operations against ISIS in Rojava.
The International Freedom Battalion describes itself as part of the struggle in Rojava and the Middle East, on the other side it characterizes itself as being internationalist, what has led to some dispute. If it is a part of this struggle, then why calling itself 'internationalist'?
If we do not deem parts of these lands the very sphere of our own struggle, or let's say if a cross over from Efrîn will lead to a bomb attack in Antakya or the gangs here are provided with by logistic trucks coming from Turkey, then the struggle we have joined here is also tackling and combating the backward mentality of the country we originate from, and we can not content ourselves with limiting it merely to the concept of internationalism. This is what we can say about our stance at least.
Also among ourselves have we opened the concept of internationalism up for dicsussion. If we do deem parts of these lands the very sphere of our own struggle, or let's say if a cross over from Efrîn will lead to a bomb attack in Antakya or the gangs here are provided with by logistic trucks coming from Turkey, then the struggle we have joined here is also tackling and combating the backward mentality of the country we originate from, and we can not content ourselves with limiting it merely to the concept of internationalism. This is what we can say about our stance at least.
This concept of internationalist freedom shelters in fact the notion of a global concept. That all revolutionist forces in this world and various organisations come together is truly a partnership of liberation forces, paving the way for the brotherhood of different peoples. The International Freedom Battalion has taken on such a mission. The mere fact that revolutionaries from other countries are joining the battle, evokes sympathy. Additionally, as we live in the Middle East, any progress developing here or revisionism taking hold will leave immediately an impact on Turkey or any other country of the Middle East. Yet this situation can also have influence on America, Spain and Europe. Because the International Freedom Battalion is regarded by the people and countries around the world as a legitimate movement, it faciliates the participation in the struggle a bit more.
The latest example is a Chinese comrade who recently joined us. They are coming from China, Denmark, England and lots of different places. And they all are members of the International Freedom Battalion. We have here also different structures and some independent, anarchist friends. We have friends who are not involved in broader groups. They are in fact very important in terms of being able to preserve their distinct originality and differences.
HOW HAS THE ROJAVA REVOLUTION AFFECTED TURKEY'S LEFT?
You are part of the Rojava Revolution since the very beginning. What mission have you shouldered in this revolution?
As much as the Rojava Revolution is a revolution of the oppressed people, we do not deem it disconnected from our socialist revolution. Because we even consider it a part of our own struggle, we are going into battle with such understanding. We do not regard ourselves to be merely a backup troop, but to be indeed a main military force. Yes, we are fighting within the YPG, however we do not see us only as a unit supporting the YPG but on the contrary directly as a force of the revolution engaged in a strategic consensus, and as such have we positioned ourselves.
Can one say that thanks to the Rojava Revolution Turkey's revolutionist movement and the Turkey's left has gained new momentum?
The Revolution of Rojava and the Middle East have taught us here at the same time that a global revolution is indeed possible. The quantitative layers of this revolution have become very much clear with the qualitative upswing of the Rojava Revolution. In this structuring within Turkey's revolutionary movement that exists for so many years already, people were well aware of the fact that if they still do not find an answer for themselves during this process of actual revolution, fall once again apart and are not able to launch a re-formatting and do not take part in the revolution, it would have meant their demise once and for all. As the Rojava Revolution led to a re-organizing of all the peoples, also the Turkey's left has found and organized itself anew.
Many organisations that stationed in Rojava with this new formation have treated the struggles of the oppressed peoples, women, youth, children as their very own struggle. We can basically put it this way: We are giving here a struggle for our own freedom. We are in fact a part of this great struggle. Being indifferent to the revolution on these grounds while sustaining a life nurtured by revolutionary concepts, will be nothing else than holding your distance to the revolutionary idea and consciousness itself. We are now in these lands of a factual living revolution, since we are in the clearest manner revolutionaries and soldiers of the revolution."
THE OPERATION TO LIBERATE RAQQA
You are now taking part in the Operation to liberate Raqqa. Can you give us a short account of this operation's importance?
After our founding, we partook in many different operations. Our objective is to export the experience we gather here first and foremost to Turkey and also to the rest of the world. Because we indeed managed to spread this revolution. We proceed very attentively and are fighting with the consciousness that we have the capability to add to this new formation taking place here, also unify it with other peoples, other oppressed peoples and other lands to the same degree as we can make it permanent here.
For this reason, we do not view the current Raqqa Operation as distinguished from the AKP fascism. With every blow we deliver to the gangs here, with every gang member we kill, the very substructure of the ISIS gangs in Turkey and the whole world suffer backlashes. The blow they suffer here is a blow delivered to the AKP in Turkey, -the biggest supporter of ISIS- and to the bombings carried out around the world.
To be precise, more than only backing them, the AKP has even founded them, as we are dealing with the exact same fascism. The massacres in Suruç and in Turkey have been perpetrated by ISIS. Also the massacre in Ankara was carried out again by ISIS. ISIS is actually threatening the whole world. And for that reason all the revolutionaries worldwide who head to Rojava are very proud to contribute to what is their own struggle and act according to this understanding. There is no such a thing like saying in the end that 'Rojava is now completed' or 'Raqqa is over, we can now return to our own cause' . Because there is in fact nothing like our own cause. There is a communist cause, we are communists and therefore it is the task of all communists and ours to struggle at any place where oppression and persecution exists. For that reason the war and struggle here is our war, and we continue our endeavors with this notion.
Since the start of the operation you have taken the lead in the fighting. You have also suffered losses. What kind of impact have you left on the Arabic community?
Since the start of the Operation to liberate Raqqa until now four of our comrades within the International Freedom Battalion have fallen martyrs. Doğan Kurefe, Mehmet Kurnaz, Ulaş Bayraktaroglu, Destan Temmuz and comrade Hasan Ali. The most recent losses were Destan Temmuz and Hasan Ali. We also have two gravely wounded comrades. For us the meaning of this operation is in plain view. We knew perfectly that the Raqqa Operation would be all but easy and that also we would pay with martyrs. Ulaş Bayraktaroglu was the founder and chief commander of the Revolutionary Communar Party (DKP) movement and also the other fallen comrades had leading positions in their fields, as did comrades Hasan Ali and Destan Temmuz, and this fact has strenghtened our struggle even more, while this struggle of ours has proven that leading forces are standing on the frontline at all times during the struggle. They became symbols in this aspect.
If we were in the cities, these losses might have demoralized us. But here an opposite situation is evolving. When receiving the news of their martyrdom, we can only keep them alive by materializing the energy and will of their struggle as much again. This is why the arms of the martyred comrades are still here, now taken up by other comrades. The martyrdom of our comrades can only be a source of strength for us.
We do not say these things out of emotion or agitation. In the face of all these martyrdoms, we want to stand at the frontlines of this war and partake in all operations, because there is also another significant point: our martyrs here have a profound impact on the Arab community. After the success of this operation or these lands get liberated, the names of our martyrs who fell here will be given to the next generation. We know that this people get to know us and our motivation. Some persons come and hand us over their keys, telling us to go and use their houses whenever we need. Some others show their discontent, saying 'you are staying in our houses and we stay in tents'. One has to understand both these cases.
As we use the people's homes here, it is important to make sure that they are staying somewhere else. This is not so easy. On the other hand we know that the women are kept like captives -so to speak- in those houses. Their homes are actually their prisons. We are actually fighting to turn these prisons of theirs into a true home. Once the campaign is over, we trust that the Arab community will also understand this struggle because while women can not even set a foot outside their homes and their laughter is banned to be heard by men -in line with the ISIS mentality- there are forces that are prepared to liberate them from such a life. We are sure that the people will one day understand these forces and with this in our minds we go into battle. Our comrades who fall martyrs are neither Kurds nor Arabs, they are all Turks. They sacrifice their lives for other peoples and we do know well that this fact will be recognized in the end.
Our struggle does not aim for seeking an identity, but we lead this struggle for the oppressed peoples. The freedom of the peoples living here is tantamount to the freedom of our own identity as well. Comrade Destan Temmuz has fought on behalf of the martyred comrades of Suruç, comrade Hasan Ali decided to join after the bombing in Ankara. And we know that also in Raqqa many others will join us as well.
We know that this fight will succeed and that there are other people who will share this belief and will and fight eagerly, too. For that reason we invite all oppressed peoples, workers, women and men alike to come and join our ranks.
__________________________________________
'Turkey will not be able to occupy Afrin', says YPG Commander Hemo
"In all ways the Turkish state is an occupying force. Nobody can close their eyes to this reality. The fact that its goal is the defeat of the Rojava Revolution does not change that fact."
Hemo added that all the Rojava and Syrian people were expecting the US to explain the limits of the agreement and cooperation with the Turks.
YPG Commander Sipan Hemo answered questions about the attempted occupation of Afrin and Shehba, which the Turkish state has recently clearly expressed, and its quest for an agreement with Russia to achieve this.
The Turkish state and the gangs within it occupied the Jarablus-Bab-Azaz triangle, but after being blocked in Manbij and kept away from the Raqqa assault, it was not enough to intensify attacks on the lines of Shehba and Afrin. Can you tell us precisely what the Turkey is trying to do?
The Turkish state officially invaded the region from Jarablus to Exterin, from Exterin to Bab, and left the "Euphrates Shield" groups there. These groups were from the Turkish National Intelligence Organization (MIT) since the beginning of the Syrian war and they were 'warriors' against Syria first. Then they changed direction and began a war against the Rojava Revolution and Kurds. For this reason, they have concentrated on the Azaz and Shehba lines since then. Now they are sending in reinforcements here every day.
The Turkish state's aims are complex and run deep; They are trying to launch an operation that starts from the Jarablus line to Shehba and Bab, from there an operation on Rojava to join all of it with Idlib. They want to establish an authority in this region that is officially run by the gangs but is actually the Turkish state. So, after strengthening sovereignty here, the Turkish state will continue its aim of liquidating the Rojava Revolution from Afrin line. At the same time, it will try to weigh in on Syria's future and have a say in its restructuring. In other words, the desire, the target of the Turkish state and the plans accordingly depend on what it is doing now. It does not hide this. [Turkish officials] have clearly expressed the desire to join the region between Jarablus and Manbij to Idlib. Aleppo was also among these plans before, but after they agreed with Russia, Aleppo was left out. Now, there are plans to build a corridor towards Rojava from the Shehba line to Idlib.
We are expecting attacks on both Shehba and Afrin from Azaz and Idlib in order to weaken our powers in the coming period and to create a corridor and control from Jarablus to Idlib. They are sending in reinforcements and stacking munitions to achieve this. From time to time we are being attacked, and are responding instantly. All their attacks were repelled. There is no change in the field dominance until now.
Afrin has been under a kind of siege for a long time, nevertheless it has gone a long way in terms of both organising legitimate defence and society. How prepared is the whole social structure of Afrin; military and political institutions, relations and alliances for such an attack. What can you say about the composition and deployment of your military forces? 
Afrin, as you have mentioned, has long been under siege and experienced different levels of war. It's been fighting like this almost since 2012. In this long term, our forces have both developed a serious defence and achieved valuable things. That such a power is careful, prepared and well placed for war is already an essential task. The people of Afrin are also very brave and not afraid of making sacrifices. Despite all the hardships, bother, siege and embargo, Afrin has displayed an honourable stance. There is also a determination to show a stance beyond even this. Our belief is that if the Turkish state attempts to invade Afrin today or intensifies its attacks the people of Afrin will stand beside the defence forces and support it. Turkey's attempt will open the gates of a new era of success, contrary to the anticipation of our enemies. The Rojava Revolution will complete an important phase of the process. I want to emphasise this and nobody should forget it: Afrin will play a major role in both its own defence and the liberation of the Shehba. I will not go into details, but all our forces are ready at the highest level against any possibility.
The Baath regime and its allies have also shown discomfort regarding the offensive of the YPG-led SDF on Raqqa, which is being carried out with the support of the US-led International Coalition, and the slander turned into an attack. There are claims that this common discomfort with the Turks is also shared with Russia and Iran and that the Turkish army has been given tacit support for the occupation. How do you read this, what is the attitude of Russia-Iran-Baath?
This approach is correct and we see it the same way. The progression and successes of the SDF under the leadership of the YPG and support provided by the US-led International Coalition is naturally disturbing the other bloc. This is evident. Of course they are uncomfortable and this discomfort will continue. So it is possible for the Turkish state to lay the groundwork for new attacks and occupation attempts. Our alliances and accomplishments are disturbing the bloc formed around Russia. They are not happy with this.
This crisis will manifest itself more clearly in the forthcoming period.
Our problem or issue is not how these forces view each other or their approach to one another. Our project and actions for the democratisation of Rojava and Syria is open for all to see. We are working towards our own goals and in line with our own agenda. Therefore rather than focus on the agenda or projects of the US, Russia and other forces we focus on our own projects and actions. Because this is what is essential for us: our plans and goals. Our relationship with international powers is based on this. Our framework is Rojava's freedom and Syria's democratisation. Naturally, we have the right to expect respect and understanding from powerful states like the USA and Russia.
How much does the US, which is leading the International Coalition, know about Turkey's maneouvers and what is it planning on doing in the event it is carried out?
The US, which is leading the International Coalition must answer this question openly and clearly. They are the ones who need to explain the boundaries of the relationship with the Turks, the preparations, the agreements and the cooperation, the frame, and the extent it is against us. Therefore, it is the expectation of all the peoples of Rojava and Syria that the respondent of this question answer it satisfactorily.
If we assume that all this is being done to prevent victory in Raqqa, how do you view this victory from Afrin and what will its effects be?
The success in Raqqa and ultimate victory there will not be local. It will begin a new and blessed process for all of Syria. It will play the role of forming the base for the democratisation of Syria. We have been thinking this since the liberation of Manbij. Our struggle against terrorism will continue everywhere. Our goal is not a secret, it is very clear: we are not doing what we are doing because we want to be just a part of Syria, on the contrary, it is to become the main / founding element of the democratisation of Syria.
Due to this stance, we don't have much to say on scenarios based on covert, dirty cooperation between the international forces and the Turks. Our goals and methods, and the alliance based on these are highly transparent.
During Ramadan the Turkish President repeated that the Kurds would never be allowed recognition and a status. What other evils can be expected, where can your reaction against these evils evolve?
Our goal in this region is very clear and transparent. We do not accept any form of occupation of the Turkish state in this region. They may have acquired some facilities and formed international alliances. I underline that; We do not care for these alliances and do not recognise them. The liberation of the Azaz-Jarablus line will always be our goal and we will continue to struggle for this. From the beginning, the Turkish state took an illegitimate position against Rojava and Syria; their presence is against the peoples. The Turkish state is an occupying force. Nobody can close their eyes to this reality. The fact that its goal is the defeat of the Rojava Revolution does not change this fact.
---
_________________________________________________________________________
A trip to liberated Minbic in Northern Syria: from hell to paradise
The city of Minbic (Manbij) and its surroundings are among the most contested regions in the Syrian war. Ercan Ayboga interviewed representatives of the new Democratic Administration in Minbic.
A square in the liberated city of Minbic. Picture by Ercan Ayboga.It is getting more and more complicated here. Almost all parties at war are located in close proximity to this region in Northern Syria. Most notably the Turkish army, acting as an occupant, wants to take Minbic – an endeavour which, although announced by Turkish president Erdoğan, has so far failed due to the resistance of the local population, as well as the US and Russia.
The city of Minbic was liberated on August 12, 2016 by the Syrian Democratic Forces (SDF, arabic: QSD), thus ending the "Islamic State's" (ISIS) rule of more than two and half years. Shortly before the liberation offensive started, the Minbic Military Council had been set up on May 31, 2016 by the QSD under the leadership of the Kurdish People's and Women's Defense Units (YPG/YPJ). It exercises military control over the Minbic region, located about 100 kilometres southwest of Kobanê, which became known worldwide for its resistance. In autumn 2016, the Military Council handed over the region's administration to the provisional Minbic Civic Council. Consisting of Arabs, Kurds, Turkmens and Circassians, the Civic Council has renamed itself the Minbic Democratic Civilian Administration Council on March 12, 2017 and expanded in size in order to heighten its democratic legitimation.
The significance of Minbic derives not only from its geostrategic location in the Syrian context, but also from the political system which has been established there from August 2016, namely with the Minbic Democratic Civilian Administration Council which holds a very high democratic standard and is supposed to serve as a model for a new democratic Syria. This will be the focus of this interview which was conducted with the key representatives of the Democratic Administration's legislative, among them the co-chairs Sozdar Xalit (Kurd) und Faruk Maschi (Arab), as well as Emel Bozgeyik (Turkmen), Muhamed Dolmusch (Turkmen), Muhamed Tarik (Circassian) und Abdo Mustafa (Kurd).
What kind of a city was Minbic before the war in Syria?
All: Until 2011, about eighty percent of Minbic's population of roughly 100,000 were Arabs. However, more than ninety years ago the majority of the population had been Circassian. Shortly before the ongoing war, Kurds made up close to 15 percent, while Circassians and Turkmens together accounted for only about five percent of the overall population in Minbic. Several decades ago a small Armenian community had existed as well, which emigrated to Aleppo though.
Both commerce and agriculture have always been well developed in Minbic. Economically the city was in quite a good shape. The level of education is quite high as compared to the surrounding areas.
Maschi: The region's 63 Arabic tribes convened regularly for many years and came to terms with the state, but in general did not actively support it. The two biggest tribes sent one deputy respectively to the Syrian parliament.
What was the period between the beginning of the Syrian uprising and war until shortly before ISIS' rule like in Minbic?
All: The city of Minbic and its surroundings positioned themselves quickly against the Baath regime from spring 2011 onwards. But there were heated discussions on whether resistance should be peaceful or armed.
Members of the Democratic Self Government. Picture by Ercan Ayboga.
Dolmusch: This discussion was held among Arabs as well as Turkmens. While the latter organised themselves peacefully initially, a lot of them quickly changed their mind when weapons, money and military training was pressed on by Turkey. Thus the Turkmen society was of two opinions.
Maschi: I, together with my tribe positioned myself against the regime, but rejected armed aggression. But many were in favour of them and the Arabs were of divided opinions. Hardly anyone was on the side of the regime.
All: From 2011, up to 76 oppositional military brigades formed quickly, all convening under the label of the Free Syrian Army (FSA). Politically, the Kurds got organised mostly in the Movement for a Democratic Society (TEV-DEM), an alliance of several Kurdish parties including the Democratic Union Party (PYD), which quickly rose to be the major force of Kurds throughout Syria. On the military level, they assembled mostly under the Al-Akrad group, which belonged to the more progressive parts of the FSA and was on friendly terms with the YPG/YPJ.
FSA rule in Minbic from July 2012 at first led to more political freedom but it was a very chaotic period. Most FSA fighters on the one hand could not cope with basic administrative tasks and on the other they began to enrich themselves. Having plundered state institutions, they robbed civilians. After a few months the FSA turned more repressive and started to fight among each other. The population became dissatisfied. It was quite easy for the Al-Nusra Front, the Syrian Al-Qaida which was growing in strength, to seize power in spring 2013.
Right at the beginning, Al-Nusra introduced sharia law and exerted greater political pressure. Many people who were accused of criminal acts got their hand chopped off. Theft, too, was part of Al-Nusra fighters methods. While the FSA curtailed TEV-DEM's political work in the villages, Al-Nusra began to oppress TEV-DEM in the city as well. In short, Al-Nusra's short rule was far from social justice and freedom and was heading speedily towards dictatorship and chaos. Thus, ISIS with it's assertion of absolute Islam and a just system encountered no difficulties in grabbing the power in Minbic.
Hotel where ISIS tortured people. Picture by Ercan Ayboga.
How can we imagine ISIS' rule in Minbic, which lasted about three years, to be like in practise?
All: When the regime was ousted in 2012 the population of Minbic rose in number at first. But with ISIS, it shrank to less than half of the original number. Notably almost all Kurds and Circassians left the city because they were seen as potential enemies.
Dolmusch: When ISIS ruled in Minbic, they were not so much after Turkmens, but in particular after Kurds. Because they feared them a lot.
All: In the first months, ISIS conducted themselves quite cautiously in the city. They even offered sweets to children on the streets. But right at the beginning they underlined what is "halal" (permitted) and "haram" (prohibited). The population watched ISIS rule passively at first. But a few months later ISIS showed its true face and started to control political, social, cultural and economic life in a formerly unknown way. Any kind of objection to or infringement of the rules imposed by them were met in the most brutal way. The most extreme form of terror perpetrated by ISIS in Minbic was to lock up people – 545 persons in the course of about 3 years – in cages put up on public places for days, not allowing relatives to come to them, and behead them in public days later, with many people being made to attend by force. This was recorded on video in order to spread even more fear of ISIS.
Bozgeyik and Xalit: Women and also girls were subjected to special laws. They had to wear the strictest type of chador in public and were only allowed to go out on the street when accompanied by a male relative, having to walk 15 metres behind him. In order to receive a punishment it was enough for a part of the woman's face to be seen outside. It sometimes happened that men lost sight of their wives or sisters and were not able to find them again. Many women simply stayed at home all the time because of this regulation.
Some women had to continue working in the vegetable fields around the city due to the difficult economic situation, a job greatly obstructed by the chador, especially during summer. Certain products such as tomatoes, tinned food or other things especially favoured by women, were banned. In order to enforce restrictions more efficiently, even a women's militia was formed. Arrested women were tortured – shortly after liberation traces of blood were seen in the women's jail – and in many cases stoned to death in three public places. We are particularly pleased that a tree has grown in exactly one of these places.
Women going to attend a demonstration. Picture by Ercan Ayboga.
All: Under ISIS the economic situation in Minbic grew even more difficult and life exceptionally expensive. They sold bread and one litre of Diesel for 350 Syrian lira respectively (the price of which was only about 40-50 lira in YPG-/YPJ-/QSD-controlled area at that time) [equivalent to roughly 1,50 and 0,20 EUR]. Often, long queues formed at the distribution points, although petroleum and crop were available in sufficient quantity in ISIS territory. Sugar was very expensive, too, although it was produced in close-by Maskanah. Horrendous taxes were randomly exacted from shop owners and merchants. ISIS financed their war this way. The foodstuffs available were rationed, with ISIS fighters withholding the best parts for themselves, justifying this with their alleged status as "God's warriors". Most people survived on money which came from relatives living outside. The poorest, who asked for financial support, generally were told to join ISIS as fighters.
All schools in Minbic were closed by ISIS, our children could only attend Islamic schools. When ISIS had enlarged their capacity of own schools after some time they started to force all children into these schools. There they were subjected to ideological brainwashing and pressure to join ISIS from a young age.
There were so many more crazy bans as for example, eating in parks. Using a mobile phone was prohibited in general. If someone was caught for the first time, they had to pay a high fine. In case of repetition jail and torture loomed.
Not everything which ISIS did can be linked to Islam. They instrumentalised it for their regime of terror.
According to your account ISIS was not supported by the population. But were there not many people who actively supported them?
This was the case only for a small part of the population, most of those who remained adjusted themselves. We have to keep in mind that more than half of the population fled from Minbic when ISIS ruled. But sadly so we have to say: Some families positively sold their daughters to ISIS, partly for ideological and partly for financial reasons. If you were close to ISIS and acted as an agent you were for example allowed to work in one of the many small Diesel refineries. Some became agents, we were scared not only on the street but also in our staircase. The majority of the population positioned themselves more and more explicitly against ISIS from 2015. All in all three demonstrations against ISIS' methods took place in Minbic, once even shops were closed. But all attempts were suppressed in the most brutal ways. Minbic is one of the few cities controlled by ISIS where demonstrations against their methods took place at all.
Support for ISIS was bigger among the armed groups than the civilians. Unfortunately, an important part of the former FSA joined ISIS militarily from 2014.
Shortly before the liberation operation started on May 31, the Minbic Civic and Military Council were proclaimed. How did this come to be?
Xalit: The liberation of the Tishrin dam on the Euphrates through the QSD in December 2015 slowly raised hopes that ISIS could lose its sovereignty over the Minbic region. ISIS slowly lost its confidence and rightly so. Because in the beginning of 2016, people and groups who had fled Minbic convened with YPG/YPJ/QSD and representatives of the three Rojava cantons and the newly founded Syrian Democratic Council to prepare the liberation of Minbic. The former TEV-DEM activists from Minbic were the motor of this enterprise. Since we both had fled from Minbic before, we contributed a lot from the start. First, the Minbic Military Council was founded in the beginning of 2016, and then the Minbic Civic Council on April 5, 2016. The representation of all parts of society was so important to us that we reserved the seats for Circassians in the 43 members strong Civic Council. Because almost all of them had been forced to leave Minbic. The Civic Council used all the languages spoken in minbic right from the start, the banners were in four languages. The Military Council had women as members from the start, we made this a point. However, they were hardly present in the media at the time of the liberation operation.
Maschi: It was possible to proclaim both so swiftly because of the terror perpetrated by ISIS which was of utmost brutality and the hate against it on the one hand, and the active support of both structures by the QSD and the Syrian Democratic Council on the other. I myself have had a good relationship with the Kurds in Minbic and close-by Kobanê for a long time. I have always valued having actual deeper relations with them as an important goal, only then can we prevent other forces from playing us off against each other. I also convinced many people in my Al-Buberne-Clan, which is one of the biggest clans in the Minbic region, of that. The Minbic Civic Council and the Military Council which possesses an autonomous structure within the QSD, and the civil council have collaborated closely right from the start, the task sharing was quite good. This became apparent during the liberation operation which lasted about three months. The Military Council grew quickly during this operation and reached several thousand members when Minbic was liberated.
One of the partly destroyed neighborhoods in Minbic. Picture by Ercan Ayboga.
What did you do as Civic Council, when the Minbic Military Council had started the liberation operation?
Xalit and Maschi: Before and during the liberation operation we made great efforts to get in touch with people in Minbic and refugees from Minbic in various places and win them over for the liberation. The acceptance of the Civic Council grew fast through this, which was of importance for the time after liberation – we were confident of the success of the operation. We had formed groups which, starting from June 2016, immediately visited the liberated villages and informed about our goals and intentions. The vast majority received us with joy and relief. Apart from that we, together with volunteers, tended to the many hundreds wounded in the course of the hard fights in Minbic. But most of all we led discussions on how the administration of the city and surrounding regions of Minbic should work. Every step during and shortly after the liberation was important to gain the support of the broad population. In fact we were all in all quite successful, and were given charge of leading Minbic for the transitional period without being questioned. From then on the population turned to us.
Can you give us examples and impressions of how the population received the liberation? What was especially important for you?
All: You can compare the liberation from ISIS by the Minbic Military Council and the Syrian Democratic Forces to the passage from hell to paradise! Accordingly, spirits were particularly euphoric during the first weeks. ISIS brutality had been so immense that many could rejoice only then when they could meet the Military Council and Democratic Forces fighters in person and not in combat position in front of their houses. Then came cries of joy. This great joy could be seen especially on women's faces. Many danced on the streets in the first days. It was important for us that no attempt at lynching took place. Tens of thousands returned to their houses within a few weeks, among them many thousands from Turkey. A lot of people approached us offering their help, or rather wanted to carry out tasks in reconstruction. The population had seen that we bring freedom and equality and do not want to exclude anyone or take advantage of differences in favour of a small circle. The population senses exactly this. Minbic has never lived through so much freedom in its history. The joy is still huge, everyone can see this for themselves walking through the streets of Minbic. People's faces are full of positive energy.
Which were the first steps you undertook in Minbic? How has life developed in more than half a year?
All: During the liberation process several dozens of buildings were destroyed completely, and hundreds of them partly. This is very little compared to many other Syrian cities which were fought over. One of the first steps was to clear the debris very quickly. Right from the start we made efforts to establish people's councils with broad participation from the population in every city district and every place outside of the city. In some places we quickly managed to build a democratic structure with women's participation. We are confident that we will manage to do the same everywhere within a short period of time.
A second wave of happiness went through the region when schools reopened one month after liberation. They had been closed for three years. We had successfully called on all former teachers for that. The only change we have made to education so far is the abolition of the subject on state and history which used to be taught on the basis of Baath ideology. Kurds and Turkmens started to teach their children in their mother tongue additionally a few weeks after the opening.
Tarik: As of now we are not able to offer our children Circassian language, which is also due to the fact that we do not speak our language very often. But with the new school term we will start. This is a huge challenge for us, because Circassian hasn't been taught neither in Syria nor in Turkey. It is an incredibly wonderful feeling that everybody can go to school in their own language.
All: When the situation in Minbic became more stable in autumn and we as Minbic Civil Council had organised ourselves better, administration was officially transferred to us by the Military Council. From then on, all important decisions regarding Minbic region were made by our council of 43 members. One of the first decisions was to ask the Military Council to build the security structure, called Asayîş.
Economy was freed from the many restrictions imposed on it in the last years. This was important insofar as the merchants of Minbic were thus able to bring necessary goods from other regions. But this does not suffice by far and the traded goods are expensive in parts. But staple foods and other elementary goods and aids for the needy are coming from the cantons Kobanê and Cizîrê. Now bread – the large bread factory was restored immediately – and Diesel in Minbic cost the same as in Kobanê and Cizîrê, and water supply is working again. Electricity is delivered from Tishrin barrage almost all day long free of cost. Mobile company Syriatel was allowed to repair the telecommunication masts, and so people could talk to their relatives in other parts of the country again.
The reconstructed bread factory. Picture by Ercan Ayboga.
Some accused of spying for ISIS were given an open and democratic trial. But only after a people's court, transparent to the Civic Council and the public, had been established.
But the liberation of Minbic has also led to people from regions where ISIS and other antidemocratic forces or regimes are in control coming to us as refugees. They say: "We have heard that there is freedom here, life is better and no one is persecuted. That is why we are here". Of course we take them up but it's a huge technical and financial burden in our current condition to provide for additional tens of thousands of people. After Al-Bab was taken by the Turkish army and the regions south of Minbic by the Syrian army, further tens of thousands have come. Now at least there is a little international support.
Recently, the Minbic Civic Council has restructured and renamed itself the Minbic Democratic Civilian Administration Council. Why, and what is different now?
All: On March 12, 2017, Minbic Civic Council has not only renamed itself as the Minbic Democratic Civilian Administration Council, but also a number of restructuring measures in the entire administration have taken place after months of discussions. In the Civic Council, legislative and executive had been one structure, now they are separated. The number of representatives taking political decisions in the legislative of the Democratic Administration has been raised from 43 to 134. 71 of them are Arabs, 43 Kurds, 10 Turkmens, 8 Circassians, in addition to one Armenian and one Chechen. 15 persons form the executive of the Democratic Administration. All in all, 13 committees were founded – defense, women, society matters, economy, finances, health, culture, education, communal administration, martyrs, services, diplomacy, and youth&sport.
Xalit: The greatest challenge was to win enough women among the non-Kurds for this function in accordance with the gender quota of 40% as agreed. This was due to the fact that among them, so far very few women had been active in the public-political sphere and the question of women's rights had hardly been posed in a serious manner. For several weeks we struggled for a sufficient number of women to be represented in the legislative. Only because 50% of the Kurds in the legislative of the Minbic Democratic Administration were women, was it possible to observe the quota.
All: In the face of the war, the displacements and massacres in Syria, and the exploitation of religion or ethnicity, it is important that all ethnic groups of Minbic are sufficiently represented; from the religious point of view all are Sunni. We also have made efforts to successfully let different professions be represented. Youth, students, intellectuals and artists are also among the 134 delegates.
How can we even understand the developments in Minbic in the Syrian political perspective? How, according to you, should this new system be assessed?
All: These new structures in Minbic were developed on the basis of the idea of the Democratic Nation. According to it, the nation state is rejected and instead all individuals and groups should be enabled to find their place in it. No identity should rule over the other. In practice this means for instance that all languages can be spoken and the free expression of the different cultures are equal to each other. Women's liberation is a central element and pervades all political and social structures; thus we are gradually introducing the co-chair-system of one man and one woman and a gender quota everywhere. Furthermore, life is supposed to be organised ecologically and communally: Private economic gain must not stand over the interests of society and a broad solidarity among each other is important. This concept has been implemented successfully in the three cantons Afrîn, Kobanê and Cizîrê since 2012, but the difference is that here lives a majority of non-Kurds. And this is exactly what is special about Minbic.
Square where ISIS executed 545 people. Today children can play here. Picture by Ercan Ayboga.
Bozgeyik: All that which we are hearing from the Kurds in recent time sounds so very new and exciting to us. The greatest thing is that we are building something new together and in good cooperation. Even more decisive than theory is practice, because this is what the broad population is looking at. Hopefully we will manage to build a model for the whole of Syria in Minbic. In the face of the enormous suffering this is very important. We are aware of the historic and responsible task we are carrying out. That is why we work a lot, discuss and continuously educate ourselves in academies which we have established.
What does Abdullah Öcalan represent in this context, as the one who provided the ideas behind the concept of Democratic Nation? Which role does he play in Minbic?
Tarik: Abdullah Öcalan has voiced essential thoughts which place the coexistence of cultures at the centre. The peoples are coming closer at heart. Today Öcalan is not only a political leader of the Kurds, he has earned himself a very special role for Circassians and all others in our region. We can also see this in the fact that women are becoming active in society.
What do you think of the role of the Turkish government in the war in Syria? For weeks now the Turkish army has been attacking villages in western Minbic.
All: We maintain a good relationship with the population of Turkey. Many of us have lived in Turkey as refugees and a small number of people from Minbic are still there as refugees. Nonetheless, the Turkish government has wronged us for years by supporting ISIS. ISIS is the common enemy of all people and we should focus on them. The attacks of armed groups supported by the Turkish army against villages which were liberated from ISIS taking place now are unacceptable. We invite the Turkish government to come to Minbic and witness themselves what we are establishing here. All parts of society partake, we have established social peace and consensus.
There are repeated reports on the YPG/YPJ respectively QSD allegedly conducting ethnic cleansing of non-Kurds, especially Arabs, in Northern Syria. Has something like this taken place in Minbic?
Maschi: I can answer this very clearly: no. Everyone out there on the streets of Minbic will confirm this, too. If something like that had happened neither me nor the majority of Arabs would have established the new political structures together with the Kurds and the others. In general, the liberated villages were examined for mines for several days, then all inhabitants were allowed to return. This applies to Kurdish villages, too. Whoever alleges something like this does not know the reality or has something bad in mind. Rather, the opposite is the case, in spite of decades of oppression the Kurds have not answered with nationalism and have truly promoted kinship among Syria's peoples. This is especially evident in Minbic. Last month a demonstration for Abdullah Öcalan took place, in which we and many thousands took part in. Arabs, Kurds, Turkmens and Circassians were marching together.
___________________________________________________________
THOUGHTS ON RACISM AND REVOLUTION
Dr. Hawzhin Azeez
A sign of ideological nativity and privilege is the expectation that the oppressed should engage in massive social change and progress in unrealistically short periods of time. An act of racism from an individual YPG fighter, for instance, is enough to cause the collapse of the entire solidarity movement for the Kurds. The idealization, the romanticization, the orientalist perspective in which the Kurds are viewed is deeply problematic and counter-revolutionary. This ideological purity is devoid of awareness and understanding and first hand experience of the reality of the oppressed and what they have had to do to survive daily in a deeply racist society like the one in Syria. A more sophisticated political analysis is required to understand the Revolution here.
No one is immune from the impacts of racist, ethnic and religious based violence when that is all they have ever known. Racial prejudices exist here from Kurds, to Arabs, to Christians, to Armenians, to Muslims. No one is immune because the very conception of the 'Syrian' state has been one based on segregation, violence and domination. One that has attempted to impose one identity, one language, one concept of ideal citizenship. Many groups fell outside the boundaries of this 'ideal' resulting in massacres, torture and imprisonments and worse. This has caused an inward looking approach for minorities and groups as a means of self protection and preservation. Yet what is noteworthy in Rojava is that despite and BECAUSE of that long history of oppression the governing model and social system here is one deeply invested in eradicating racism. From the inclusiveness of Arabic, Kurdish and Assyrian as the official languages and actively implemented across the education system, to extra seats in the councils to minorities like Armenians to ensure they retain influence, to a free media across different languages,to hundreds of thousands of displaced people being housed and fed, to the active encouragement and support for the establishment of non Kurdish military and security forces such as Sotoro, the Khabour Guards, Nathoreh and the Bethahrian Women's Protection Units among others in order for the minorities to be able to defend themselves- even against the YPG if one day the Kurds become authoritarian. All education seminars some over 6 months long address specifically and explicitly racism and the importance of ethno-religious co-existence.
There is also an important distinction in having prejudices and actively trying to eliminate them through not only ideological means and re-educating society, but also through establishing inclusive and pro-minority based laws and institutions. This anti-racist ideology is one of the corner stones of the Revolution here. It is this reason that ensures that Arab dominated cities like Manbij, Tel Abyad and Hasake remain stable and peaceful. Initially Tel Abyad, the first of the three above cities to be liberated, experienced constant bombings and attacks internally and with ISIS coming across the border from Turkey. But so much work was conducted across councils and communes to breach the ethnic gaps. Tribal leaders and people of great social standing were invited for talks and ongoing dialogue, people were included in decision making processes and were voted into councils and communes.
When Iraq, for instance, was 'liberated' by the Americans in 2003 the first thing people did was pick up weapons to seek blood revenge against their Sunni neighbors for decades of Baathist oppression and terror. This issue did not occur in Rojava. Sectarian fights due to long held unaddressed grievances results in dozens dying weekly in Iraq. Look at Baghdada and Basra and Ramadi in Iraq and compare it to Tel Abyad, Hasake and Manbij in north Syria. The distinction speaks volumes.
A revolution is a process, one that is lengthy and rife with progress and regressions. The kind of social and progressive changes being implemented here takes decades if not centuries- just look at the West and its going whitecentric and racist socio-political, economic and anti-refugee issues- and look what has been achieved here in 5 years.
Organic and enduring social change requires time. It cannot be implemented and unlearned in an unexpectedly short time. Don't be shocked by individual acts of racism and see it as a result of long historical impacts, but withdraw support if you see no institutional and collective efforts being made to end that racism here. Unlearning racism cannot be forced. It must be people themselves, Kurds, Arabs, Christians and Muslims alike, who come to the conviction that racism is not a viable solution. Everyone has a responsibility to participate and end that racism if they wish to live peacefully here.
-Dr. Hawzhin Azeez
___________________________________________
Hundreds of us will die in Raqqa': the women fighting Isis
Kimberley Taylor from Blackburn is part of the all-female Kurdish force battling to rout Islamic State. Driving them on is the chance to free women enslaved by the extremists: 'It starts with fighting Daesh, then the mentality of the male'
OBSERVER  Sunday 30 April 2017 08.30 BST
She had heard the stories about how Islamic State fighters could glide like ghosts into Kurdish militia bases during the dead of night, but nothing prepared her for the bedlam when it happened. It was 3.40am on 12 February when Isis attackers scrambled over the perimeter defences of the base north of Raqqa. Kimberley Taylor was convinced it would be overrun. Grabbing her Kalashnikov, she began firing at the shapes. Beyond the corner of the nearest building cowered an enemy fighter. Suddenly he rushed towards her. As their eyes met, he yanked the cord on his suicide belt.
Night-time along the shifting frontline of northern Syria is a fraught affair. Absolute silence, punctured by periods of pandemonium. Isis can strike from anywhere, shadows that melt in and out of the darkness. Taylor's base was six miles behind the front, among the lush floodplains of the Euphrates. Everyone there knew that the Isis fighters' latest tactic was tiptoeing into the huts of sleeping Kurdish fighters and blowing themselves up. Taylor, who survived the suicide attack, counted herself lucky.
"Well, kind of. I was completely covered in human remains, which was pretty horrific," said the 28-year-old in her gentle Lancashire accent. Later, when the sun rose, Taylor admitted to being both disgusted and fascinated by a human exploding, particularly how hair was blown clean from the scalp.
Taylor, born in Blackburn 28 years ago, is a footsoldier for the YPJ – a Northern Kurdish or Kurmanji acronym for the Women's Protection Units – an all-female force that is part of the offensive to liberate Raqqa. Fighting alongside a coalition of Arab and Assyrian Christian militias, the YPJ is steadily encircling the capital of Isis's proto-state, supported by US airpower.
Standing among the ruins of a bombed command post 25 miles north of Raqqa, Taylor looks more like a guerrilla fighter from the Spanish civil war than a combatant at the sharp end of the international coalition to eradicate the world's arguably most feared terrorist organisation. She has no army boots and instead marches to battle in a pair of size five secondhand Chinese-made trainers, bought for £6 in the Kurdish town of Qamishli. She has no body armour or helmet, so wraps an emerald and orange embroidered keffiyeh around her forehead to, she says, help express her femininity. She watches the war through a pair of Specsavers glasses.
Taylor, though, does have military fatigues and a flak jacket that carries four magazines (30 rounds each) and two grenades. She also carries a small bag that contains bandages, a sealable dressing for chest wounds and a tourniquet. Few have a tourniquet and Taylor knows she is fortunate – without one, a wounded soldier could bleed to death in the remote villages where they are fighting. Most crucial is her rifle – made in 1978 in Soviet-era Poland, and which looks like it has been involved in every war since.
Taylor said she was prepared for death. She does not carry any lucky charms, but has the motto "One life" inked in Thai script on her left forearm. Although she had it done in a beach shack on Koh Samui in Thailand 10 years ago, it serves as a reminder that life is fragile, that every day matters.
The pre-op briefings for the Raqqa offensive did not dilute the dangers that lay ahead. Casualties were predicted to be "significant". Already Taylor had noticed how Isis fighters were retreating from the villages that dot the river valley around Raqqa, withdrawing back to the city for the group's final showdown. "They've been preparing for this for so long. Hundreds and hundreds of us will die in Raqqa, I'm going to lose so many friends." She paused and exhaled slowly: "What we'll find inside the city will be unlike anything we've seen."
At first the north-eastern corner of Syria when approached from Iraq seems a peaceful, plentiful land. Fields of wheat stretch to the horizon, towns bustle with hawkers, trading beneath huge portraits of the Turkish-Kurdish leader Abdullah Öcalan, leader of the militant PKK, and whose philosophy of direct democracy and feminism has been adopted wholesale by the neighbouring Syrian Kurds.
Soon other faces appear on billboards –the faces of young martyrs, features blanched by the sun, a reminder that this nascent Kurdish region is fighting for its very existence. The Kurds have proved adroit at forging a homeland – albeit fragile – from the chaos of Syria's war, a conflict in its seventh year that has left the country fractured, destabilised the entire region, left 470,000 dead and forced five million to flee.
Further west along the M4 highway, the grasslands surrender to the advancing desert. Signs of conflict appear. Soon you enter territory formerly ruled by Isis and only recently liberated. Destroyed, deserted villages line the road. Checkpoints become more frequent, the faces of the militia operating them increasingly taut. Enormous earth berms and ditches 10ft deep begin to border the desolate desert highway that cuts across this remote swath of northern Syria. These embankments are to halt Isis's souped-up "bomber cars".
Resembling something from Mad Max, these vehicles terrify everyone. Laden with explosives and encased within welded metal sheets, rockets bounce off them harmlessly, a Kalashnikov is as useful as a child's catapult. They can reach 50mph and deliver the same fury as a 500lb bomb from a coalition jet.
Savage conflict has dramatically altered the north Syrian landscape
The checkpoint searches become more forensic, travel documents triple-checked. We learn that a fresh batch of bomber cars has been dispatched north from Raqqa.
We are headed to the frontline of Isis's de facto capital. It is dug in there, primed for a climactic encounter as its self-proclaimed caliphate implodes after little more than three years. Latest assessments suggest that more than 100,000 civilians remain inside Raqqa, along with 5,000 Isis fighters. Advancing towards them from the north and east are about 3,000 largely Kurdish and Arab fighters from the Syrian Democratic Forces (SDF). Another front of up to 2,500 are pushing from the south-west, picking their way through the town of Tabqa towards the city.
Intelligence assessments and spies inside Raqqa confirm prodigious defences. Speaking at an SDF command post 20 miles north of the city, Arab commander Jihan Shix Ahmad said: "Documents show Daesh [Isis] have planted many, many explosives; barrels containing bombs are all over the city."
Booby-traps are expected in the unlikeliest places: piles of rubbish, parked motorbikes and rigged Pepsi cans. Tripwires are strung behind the doors of innocuous-looking apartments. That Raqqa has been so generously mined does not surprise Taylor. Creeping through the villages alongside the Euphrates, where the land is so lush it reminds her of Lancashire, she has stumbled across numerous bomb factories. Inside, gigantic vats of chemicals, mixing agents and bundles of wires are piled high, the smell so noxious it made her gag. "You can't breathe; if you stay inside too long you get a massive headache."
Susan Kobani is one of the most senior commanders of the Raqqa operation. Photograph: Mark Townsend for the Observer
Complicating the offensive are new reports that Isis has herded huge groups of civilians into pens outside the city gates. Susan Kobani, 38, one of the most senior officers overseeing the Raqqa operation, whose command hierarchy is dominated by women, said: "Daesh put civilians in two camps around the city. They are strategically placed so the SDF cannot attack from certain areas." If the civilians attempt to escape, they are shot.
In Raqqa's centre, Ahmad reveals that people have been shepherded on to the top three floors of the apartment blocks where Isis has located its headquarters to act as human shields against coalition airstrikes. Informants say that beneath Raqqa is alabyrinthine tunnel network from which fighters can move and instigate counterattacks from behind the frontline. Some tunnels, dug by civilians as punishments, are crammed with explosives.
Officially, no one is allowed to leave Raqqa. From the accounts of those who have reached the nearest refugee camp 25 miles away in the desert, it is quickly evident that the city is in lockdown.
Wearing the regulation black burqa of Isis, and obviously elated, Safiya Rashid told how she ignored a recent Isis directive threatening to behead anyone who attempted to cross the Euphrates. Others, too, had dismissed the warning. Two nights earlier Abdul Omar, 29, pulled himself along a rope someone had surreptitiously tied across the river. "The current was strong, but I was dying staying in the city," he said.
Isis sentries patrol the riverbanks and shoot anyone in the water. Some people attempt to swim across and are never heard of again. Engineer assistant Abdul Kardalazi, 31, was another who got lucky. "My family hired a small boat from a smuggler, but it was very dark and all their shots missed."
Ahmed Alogla, 60, from Aleppo, bribed an Isis guard with $200 to turn a blind eye to the dinghy holding his family. "I have nothing, no possessions, but I have my freedom," he beamed.
Those not prepared to risk the river must take their chances traversing the treacherous land to the north. There, Isis has sown a colossal minefield, and only a handful of smugglers know the narrow corridor that leads to safety.
Ama Noor, 28, a builder from Raqqa, paid $300 for his family to be guided. They left Raqqa at 11pm and arrived at their destination after 10am, waiting until dawn to trek the final stage so they wouldn't be shot by friendly forces. Mohammed Neheter, 31, arrived at the refugee camp at midday, his smock still filthy after scrambling along the banks of irrigation ditches to avoid Isis snipers. Sitting down with his family, Neheter couldn't stop hugging his children. "Daesh said, 'We will kill you if you leave', but we had no food, no work, sometimes no water."
The reality of the new economics of survival is that only the poorest are left stranded in Raqqa, unable to afford the smugglers' demands.
Mohammed Neheter and his family hours after escaping Raqqa. Photograph: Mark Townsend for the ObserverSome risk their lives regardless. Three days previously, a boy was found stumbling north, close to the hamlet of Ghazili. According to Kardalazi, he had left Raqqa with two adults who tried to navigate the minefield at night without a guide. One was killed, while the other lost both legs. The boy tried to drag him but eventually the man persuaded him to go on alone. Since his arrival, the child had become mute and had taken to silently following a refugee family who shared their food. No one knows his name.
Others portray a city barely functioning, the only viable livelihoods being trading food or exchanging US dollars on the black market. One woman, Aanisah, suggested Isis was loosening its grip, becoming less pious ahead of the impending battle. "Before, they were very strict about wearing the niqab, but less now because the fighting is nearer."
At night, power failures plunge the city into darkness, its streets deserted except for Isis fighters and those contemplating a bid for liberty.
Already it is evident that Raqqa holds terrible secrets. Ahmad revealed that they had obtained documents detailing that large numbers of women were imprisoned as slaves. "They show that hundreds of women are being held inside Raqqa." So far the YPJ has liberated 137 of them.
For the female warriors like Taylor, the prospect of emancipating such victims is electrifying. Killing Isis was part of the day job, she said, but what really drove her forward was the thought of liberating abused women. Ahmad, almost shouting, added: "We are not fighting to kill, we are fighting for freedom."
For the YPJ fighters, their ambitions for female emancipation are far greater than eliminating Isis. Ultimately they want to annihilate the patriarchal structure that they say oppresses women, and rebuild an equal society. "It's an ideological fight against the patriarchal system, it starts with fighting the mentality of Daesh, then the mentality of the male, the patriarchal mindset," said Kobani.
Taylor had no military experience before joining the YPJ. She had always loathed violence and shudders when recalling fights in British pubs. Born in Darwen, near Blackburn, a market town struggling for identity in the post-industrial economy, Taylor always wanted to make a difference. She wanted to become a professional humanitarian, possibly set up an NGO to help the disenfranchised. In the summer of 2015, she decided to travel to Iraq and witness first-hand the reality of refugee life. The plight of Yazidi women, raped and kept as sex slaves by Isis who had seized their homeland, changed her future. "Mothers were literally trying to give me their babies to take back to Europe. They were totally serious, begging me. I had to do something."
She entered Syria in March last year, joining the Kurdish militia's international brigade of about 100 volunteers, largely a motley bunch of leftists, socialists and anarchists from the US and Europe, of whom a dozen or so are British. Some were lured by the dogma of Öcalan, a former communist who now preaches a similar brand of feminist, anarcho-libertarianism to Noam Chomsky. Some just wanted to kill Isis.
Now Taylor finds herself squaring up against an opposing, larger cohort of foreign fighters, schooled in a strain of nihilistic jihadism. Asayish (security) police officials in northern Syria believe 1,500 foreign fighters have retreated inside Raqqa, dozens of whom are British, some of the 850 UK nationals who have travelled to fight in Syria.
As Taylor's unit advances towards the city, they have met village residents who describe large groups of foreign fighters who cannot speak Arabic and who were heading for Raqqa. "They saw many fighters, they were everywhere. Some had Chinese-looking faces, some spoke English."
Taylor admits it will be "weird" if she comes face to face with a Briton on the opposing side. Even weirder if she meets someone she grew up with. "I bet someone from my school is in there," she said, nodding south along the Euphrates. "What happens if I capture someone from Lancashire? Quite a few people from there have come over. We have to understand why these people are fighting for Daesh."Taylor is anxious about the civilians stranded inside Raqqa, and what Isis might do to them when it realises the game is up. She remains haunted by another night attack, this time when Isis stormed a YPJ command post last month, three miles from the front. Caught up in the chaotic crossfire was a 12-year-old girl, shot through the pelvis. Her mother carried the child over to Taylor, who began trying to patch her up. "But everything had come out of her body, all of her guts, her innards. The doctor and I were trying to fill the massive gap, stuff it with gauze and bandages, but it was impossible."
She remembers that every time she looked up, the mother was staring back expectantly, nodding encouragement. But Taylor couldn't help. The girl turned cold and pale and began throwing up. An ambulance arrived but it was four hours to the nearest hospital. As they left, Taylor recalls the mother still nodding, hoping everything would go back to the way it was.
It was 11am on the hottest day of the year so far and Taylor was in high spirits. Moments earlier she had received notice she was being posted to a new tarbur – platoon – that would spearhead the assault on Raqqa. Later that day she would be driven by minivan to the western front, 12 miles from the city centre. Her chance of becoming one of the first fighters into Raqqa had improved greatly. "Daesh had better be ready," Taylor grinned, cigarette dangling from her mouth.Overhead came the rumble of coalition jets, pounding Isis positions further down the valley. Morning briefings suggested it had been a busy night: Isis had sent a fleet of bomber cars to positions just south. "They killed six friends," Taylor said, looking over the SDF's battle-scarred 93rd Brigade headquarters.
The base occupied the summit of a knoll above the desert crossroads town of Ain Issa and served as a neat microcosm of modern Syria. Once a Syrian regime garrison, jihadis from al-Qaida's al-Nusra Front overran it in 2013, and a year later came Isis, who themselves were driven out by Kurdish forces 12 months later. Most of its structures had been obliterated by airstrikes. Amid the rubble lay the belongings of dead fighters, odd sandals, a pair of smashed sunglasses, a single Berghaus walking boot. A stretcher lay abandoned between piles of bricks.
Life on the frontline begins at 5am with a breakfast of tinned chicken, a curiously colourless substance with the texture of tripe. Occasionally tins of sardines show up, but there is always an inexplicably generous supply of Dairylea cheese triangles. Cigarettes are another constant. Everyone smokes. Arden, carrying a "Made in London" label, is the frontline brand of choice.
Showers are a luxury. Weeks without washing is normal. Dysentery is common, stomach gripes routine. Toilets are a hole in the desert, loo paper a thing of memory. Taylor remembers exploring a palatial Arab home south of the town of Tal Saman that had been commandeered by Isis fighters but now stood abandoned. Upstairs she found a sit-on toilet – her first in a year – and told her unit she would catch them up.
Much of the war against Isis is spent waiting for Land Cruisers to take them to the next battle. They spend the time singing and dancing. Taylor's favourite Kurdish song is Freedom Fighter – Servanê Azadiyê – a paean to fallen friends. Her unit once made her sing an English song – she chose Bob Marley's One Love but could only remember the chorus. Taylor loves life on the frontline, making a difference, being equal. She relishes the thought of killing men who have abused women, and loves that there is no sexism or objectification. "For the first time in my life I feel men respect me for who I am. Back home, men feel they have the right to beep their horn purely because I have a vagina." She loves the fact that it is women who tell the United States where and when to carry out coalition airstrikes and that overnight commander Kobani had directed 16 airborne bombing raids, vapourising at least one prominent Isis position.
Her achievements made Taylor wish that western feminism was more potent. "There's an obsession with minor issues like terminology, rather than realising the whole system is patriarchal. Sure, women have personal freedoms, but western society is not free." She said she felt safer in northern Syria than in Britain.
Shortly before dusk, Jac Holmes, a bearded IT specialist from Bournemouth, appeared at the base. Taylor and Holmes embraced: they hadn't seen each other for months. The 24-year-old had arrived from Tabqa, the scene of ferocious battles a dozen miles south-west of Raqqa. During his time in Syria, Holmes had been fired at more than 40 times, hospitalised once when a bullet burst through his right arm.
Holmes spoke softly. As a sniper, he said, it was important to stay calm. But even for him, a non-smoker upon his arrival in Syria, a stressful day can now entail consumption of 45 Ardens. "It can get pretty real out there," he laughed. A union jack patch was fixed on the right shoulder of his militia uniform, his blood type (A-) scrawled on a spare magazine pouch. A toothbrush dangled out of his back pocket. Holmes had been away from England's south coast for nearly eight months and figured the Raqqa op might keep him busy for many more. During that period he had become increasingly impressed with his adversaries. "They're very good, extremely motivated, well trained and very experienced," he said, fiddling with his lucky charm, a set of white prayer beads he found in a home near Qaltah, Raqqa province.As with Taylor, talk of Raqqa brought thoughts of mortality. He had lost more friends than he could count, Kurdish and foreign. "At one point I had a list but … "One was 20-year-old Ryan Lock, from Chichester, who shot himself before Christmas when cornered by Isis at the onset of the Raqqa offensive. Holmes said he would do the same if surrounded, but "preferred to die fighting". Taylor didn't miss a beat: "Of course."
A group of young YPJ fighters turned up. Among them was Mahabad Kobani, 18, who had requested to be forwarded to the Raqqa front and was waiting to hear back. That she had a chance was itself a minor miracle. One night before Christmas 2014 she was ambushed in an olive grove outside the town of Kobani by Isis fighters and shot seven times. She was pronounced dead, a martyr. "When they found I was alive everybody was totally shocked." After a year recovering in hospital, she felt desperate to fight again.
"I am not worried about dying, I'll jump in the way of bullets if my friends are in danger," she said. Her best friend, Amara Rojhilat, 21, fought in Aleppo defending the Kurdish district of Ashrafiya from jihadis in 2013. Burdened with inferior weaponry, they forced back al-Nusra rebels in savage street-to-street fighting. "Eventually we made them accept peace," she smiled, and reached for Kobani's hand. Together they sang Servanê Azadiyê.
Even before the black flag of Isis is removed from Raqqa's central square, thoughts are turning to what happens next. Politicians for Rojava, the Kurdish-controlled region of northern Syria, hope a deal with the White House can be struck as a reward for eliminating Isis from its headquarters. One persistent rumour suggests Donald Trump will visit Raqqa to congratulate SDF fighters once liberation is complete. But his military backing has yet to evolve into political collateral and the expanding Kurdish-led enclave, currently about the size of Wales, is generating tension on all borders.
Directly south lies more Isis territory. To the west is the Free Syrian Army, a rabble of Islamist factions, including the al-Nusra Front. North is Turkey, the nemesis of Syrian Kurds, whose president's increasingly autocratic rule is likely to spell further military action against them. On Tuesday, Turkish airstrikes destroyed Kurdish command centres, killing about two dozen fighters in Syria and Iraq. Finally, to the east lies the Kurdistan regional government of Iraq (KRG), which accuses its Syrian neighbours of presiding over an oppressive regime that has forcefully displaced Arab settlers, razed villages and recruited child soldiers. A year ago the KRG shut the one bridge over the Tigris to Rojava. Entry to the region for the world's media has been near impossible since. During the eight months preceding the border closure, 260 journalists gained entry. During the last 12 months only the Observer has secured official permission.
The anxiety that US commitment to the campaign against Isis may ultimately prove illusory extends to those on its frontline. Footage showing convoys of US armoured vehicles entering Rojava to help liberate Raqqa mystify Taylor. "But it's all for them, they don't give it to us. They are announcing support, but come on! Give us some proper weapons!" Speaking in the town of Tal Tamr, Kurdish commander Azad Garyae, 29, in charge of logistics for a brigade of 2,500 men that has lost 500 fighting the Syrian regime, al-Nusra and Isis, also pleaded for more equipment. "If we are to match Daesh, we need heavy weaponry, anti-tank missiles, otherwise many more will die."More immediately, security concerns dominate daily life in Rojava. Tightening the noose on Raqqa has caused its own security conundrum. Isis suicide bombers are starting to move north masquerading as refugees, says the YPJ. Men clad in burqas have been intercepted, confirms Ahmad.
At a rapidly growing refugee camp outside the former Isis stronghold of Mabrouka, local police chief Haj Hassan Abed Khalil, 55, confirmed Isis was on the march. "We have intelligence from Raqqa that many people related to Daesh are moving towards here."
Spies inside the city, he said, were forwarding tip-offs that trucks laden with explosives had left and were heading north. Details of the manufacturer and colour of one truck had been radioed ahead. Checkpoint soldiers were ordered to shoot the driver if it failed to stop 15 yards from them.
Large crowds of refugees were particularly suspicious, added Abed Khalil. Isis members, beards shaved and black garb discarded, forced groups to migrate, allowing them to blend in more effectively.
On 17 April the mood inside the refugee camp at Mabrouka was brittle: a group of men became agitated and we were advised to leave. An hour later a senior intelligence officer from the Asayish police in the nearby town of Sari Kani flagged down our car and said: "There are many, many Daesh inside Mabrouka and we are carrying out investigations to stop them leaving. But we must also help with the humanitarian issue. What can we do?" The previous day a suicide bomber had targeted refugees outside Aleppo, killing at least 100.
The fear of infiltration frazzled nerves. At the start of our journey, my driver had drawn attention to a loaded pistol in the passenger door panel in case of an Isis ambush. During the days that followed, Kurdish intelligence repeatedly warned that Isis was attempting to disseminate suicide bombers throughout the region. Checkpoint security became increasingly meticulous. Commander Rosel Amanus, 25, who has lost 40 friends in the war, explained why. "I was at a checkpoint near Shadadi and a man approached in a car. I was worried, so I shouted, 'Go back. Now!' The driver didn't move. He didn't look up. Then I knew." Amanus began running, seconds later the car exploded. Taylor has seen a car bomb flatten buildings two-thirds of a mile away.She knows such destructiveness means she might not make it home. It was her 28th birthday on Friday, another day on the frontline eating tinned chicken and thinking of the things she misses: family, Tetley tea in a proper mug, Maltesers, the pub, cheddar cheese and Game of Thrones.
"If I return to Europe I'll be bored sick straight away," she said. "Here I am fighting for a revolution, for freedom, equality. I can die and know that I've lived."
Forces in the battle for Raqqa
Syrian Democratic Forces A coalition of Kurdish, Arab and Assyrian Christian militia together spearheading the offensive to liberate Raqqa.
YPJ
The Kurdish militia that forms the lead component in the SDF. Thousands of its soldiers are currently involved in the Raqqa operation.
Islamic State
The extremist militants of Isis have held Raqqa since 2014 and have proclaimed it as the de facto capital of their besieged caliphate.
International coalition
Led by the United States, whose warplanes have repeatedly bombed the city. A cohort of 400 US marines is also deployed roughly 15 miles north of the city.
US special forces
Have been involved in Raqqa province for several months, carrying out separate operations to conventional forces.
Topics
_____________________________________________
Structure of the Syrian Democratic Forces (SDF)
by Shawrash Khane
From 'Kurdish Question'
In a vast geographic area of north and northeast Syria wave the banners of the SDF, those forces composed of various sectarian and ethnic military groups.  All of these different structures pose a unique state within the Syrian conflict, because they are composed of different religious, national, and sectarian military groups of Kurdish Arabs, Turkmen, Assyrians, and Chechens included within the SDF umbrella, all of which united with the objective of combating the ISIS terrorist organization in Syria.
The harmony and capability of the SDF in the fight against ISIS on the ground have imposed the SDF as a firm number in the military and political equation in Syria, and despite the complexities of this equation with regard to political interests, the international coalition forces, which are led by the United States, have provided continuous air support to the SDF against this terrorist organization.  And the coalition's support has not been limited to air strikes, but also included sending military reinforcements into Syrian territory in order to support these troops throughout their deployed areas, a step which angered – politically and militarily – the other armed Syrian opposition groups and certain regional countries.
Composition of the SDF
The SDF are composed of a group of military combat brigades and factions that include all segments of Syrian society where the SDF are deployed.  These factions include:
First:  People's Protection Units (YPG):  These are large military units composed mostly of Kurdish fighters along with many other Syrian components (i.e. – Arabs, Turkmen, Assyrians, and Chechens).
Second:  Women's Protection Units:  Female Kurdish fighters as well as female Arabs.
Third:  al-Sanadid (Courageous) Forces:  Arab military forces most of which belong to the Shammar tribe, which is led by Sheikh Hamidi Dahham al-Hadi al-Jurba, ruler (var: governor) of the al-Jazirah sector in the democratic administratively-autonomous regions of Syria.
Fourth:  Jaysh al-Thuwwar (Army of Revolutionaries):  The fighters in this military faction belong to the areas of Aleppo, Idlib, Homs, Hamah, A'zaz, and al-Bab.  Most of these forces are Arabs.
Fifth:  Al-Jazirah Brigades Assembly:  Composed of a group of military factions that belong to the Arab tribes, such as the Shammar, al-Sharabiyah, al-Jabur, and al-Bakkarah (var: al-Baggarah) tribes, along with a percentage of Chechen Syrian fighters descendant from the Syrian city of Ra's al-'Ayn.
Sixth:  Al-Furat Brigades Assembly:  Arab fighters that belong to the tribes of the Tal Abyad area and Raqqah countryside.  These tribes include the al-Badu, al-'Assaf, al-'Afadilah, and al-Waldah tribes.
Seventh:  Shams al-Shamal (Northern Sun) Battalions:  These battalions operated with the Free Army before separating from them.  They are composed mostly of Arab fighters and they currently represent the primary element of the Manbij Military Council.
Eighth:  Thuwwar Manbij (Manbij Revolutionaries):  Composed of Arab fighters formerly with the Free Army.  They currently operate under the leadership of the Manbij Military Council.
Jund al-Haramayn:  Arab fighters from the city of Manbij.
Tahrir al-Furat (Euphrates Liberation) Brigade:  Most of the fighters are Arabs from Manbij City and the surrounding countryside.
Shuhada' al-Furat (Euphrates Martyrs) Battalion of Jarablus:  Most of the fighters are Arabs from the city of Jarablus.
Ahrar (Freedom Fighters of) Jarablus:  These groups are comprised of Kurds and Arabs from the city of Jarablus.
Ahrar al-Bab:  Arab fighters from al-Bab City.
Ahrar 'Arimah:  Arab fighters who announced that they joined the al-Bab Military Council.
Shuhada' Qabasin (Qabasin Martyrs) Battalions:  Most of their fighters are from the northern countryside of Aleppo.  They joined the al-Bab Military Council.
Jabhat Thuwwar al-Raqqah (Raqqah Revolutionaries Front):  Arab fighters who belong to the city of al-Raqqah.
Dayr al-Zur Military Council:  Most of their fighters are Arab tribesmen from Dayr al-Zur.
Al-Bab Military Council:  A mixture of Arab, Kurdish, and Turkmen fighters from the city and countryside of al-Bab.
Jarablus Military Council:  Mixture of Arab and Kurdish fighters from the city and countryside of Jarablus.
SDF Counter-Terrorism Military Activity
Since their establishment on 10 October 2015 the SDF have participated in numerous military campaigns against the ISIS terrorist organization, according to the following timeframe:
Liberation of al-Hul and the southern countryside of al-Hasakah Province.
Liberation of the strategic Tishrin Dam.
"Wrath of al-Khabur" campaign during which the city of al-Shadadi was liberated.
"Avenging the children, Alan and Judi" campaign.
Liberation of the strategic city of Manbij.
"Euphrates Wrath" campaign to liberate the countryside of al-Raqqah (ongoing).
As of the date of this study the total area controlled by the SDF, which includes the Kurdish neighborhoods of Aleppo, is estimated to be 34.800 square kilometers, which equals 18.79 percent of the total territory of Syria.
As of the date of this study, the total area liberated from ISIS by the SDF since their inception is estimated to be 15.400 square kilometers.  These areas include large cities such as Manbij, Tal Abyad, al-Hul, dozens of sub-districts and towns, and hundreds of villages and farms.
Regarding the length of the battlefront, as of the date of this study the SDF are engaged against ISIS along 450 kilometers of front lines.
The SDF control vast areas of north and northeast Syria, and day by day they are turning into the largest military group in Syria – with regard to personnel and the capabilities that distinguish their fighters.  Most of the SDF's military factions received military training provided by the People's Protection Units, which are known for their military tactics and capabilities, and the bravery of their fighters.  These units have proven their ability to achieve victory, be that against a regular army such as the Syrian Army, or in guerilla warfare against the Nusrah Front and ISIS.
By tracking the deployment of the SDF throughout vast geographic areas of Syria, one will observe an increase in the number of personnel in their ranks, particularly with an influx of Arab tribesmen in the countryside of al-Raqqah, Manbij, Dayr al-Zur, and Jarablus.
This increase in the number of fighters is due to multiple factors from which the SDF have benefited, the most important of which are as follows:
One of those significant factors is the structure of the SDF and their reliance on the military councils in each region or city.  These military councils are formed by their own people and they fight under a special flag representing the city or region.  This is a strong motivation for the residents of these areas and cities to join the SDF.  The Manbij Military Council, which was formed on 2 April 2016, is an example of these military councils.
There are also public relations offices that report directly to the SDF's command council in the cities and towns liberated by the SDF.  The public relations personnel mingle with local residents and listen to their opinions and complaints.  They also hold SDF personnel accountable for any violations committed against the local residents.  The public relations offices are usually staffed by tribal Sheikhs or prominent figures in the areas.
I add to that the operational and field comparison as revealed by the local residents in areas where SDF are deployed.  Most of the cities liberated by the SDF, such as al-Hul, Manbij, and al-Shadadi, were occupied by other armed groups, beginning with the Free Army and the Nusrah Front, and ending with ISIS.  These groups gave the local residents a taste of all types of oppression and bondage, which is quite the opposite under SDF control.
Part of the SDF's strategy includes turning the cities over to local civilian councils after each city is liberated from ISIS.  The local councils, in turn, form autonomous administrations comprised of residents of their own cities.  The SDF turned the city of Manbij over to the Manbij civilian council currently running the city.  The Manbij civilian council announced a democratic civilian administration for Manbij and the surrounding countryside on 20 February 2017.  In addition to that, the support provided by the US-led international coalition to the SDF provides an additional incentive for local residents to join the SDF.
The SDF rely on ideological training for their fighters before they participate in military action.  Academies exist throughout the areas of al-Hasakah, Manbij, and the al-Raqqah countryside, and the ideological lessons focus on denouncing extremism and espousing the concept of "brotherhood of the peoples," which is based on justice, tolerance, and equality.
The leadership role of women in the SDF
The Women's Protection Units are a primary component of the SDF.  Most of the women are Kurdish, but there is also a mixture of Arab, Syriac, and Assyrian women.  The foundations upon which these female units were established are based on denouncing the mentality of extremism and emphasizing the right of women to live freely and honorably, and to defend themselves against the masculine mentality hostile to women's freedom.  The Kurdish women have proven very capable in their awareness and strength in confronting the terrorist organizations, and they provided an example to be followed throughout the world.  With the establishment and expansion of the SDF in majority-Arab areas such as al-Shadadi and the countryside of al-Raqqah, it was natural that the women's pioneering experiment would also expand within the Arab regions.  This was evidenced by the increase in the number of Arab women within the ranks of the SDF.  Female fighter and official spokeswoman for the "Euphrates Wrath" campaign to liberate al-Raqqah, Jihan Shaykh Ahmad, provided the following statement for our study:
"The composition of the SDF's Women's Protection Units is not limited to Kurdish women alone, but also includes other female components, particularly Arab women.  They join our units with extreme enthusiasm and at numbers that continue to grow as the SDF advance toward al-Raqqah.  Our SDF military campaigns are accompanied by large awareness campaigns among the local residents, especially among the Arab women who have been suppressed by obsolete customs and traditions that oppose women's freedom, as well as the suffering endured by Arab women at the hands of extremist organizations.  We have special women's awareness academies that explain women's rights, equality between man and woman, and the right of women to organize and defend themselves.  One of the main reasons Arab women join the SDF is the oppression, assault, and rape suffered by Yazidi women, which encouraged a great amount of free will in the Arab woman.  The Arab tribes are very supportive of these ideas."
The ethnic composition of the SDF is related in all aspects to the liberation operations carried out by these forces. This important point completely refutes the lies propagated by factions or regional countries hostile to the SDF, which claim that the SDF are majority-Kurdish forces aspiring to occupy Arab regions or change their demographics.  In this context Brigadier General Husam al-'Awak, Chief of Public Relations in the SDF's Command Council, provided the following statement for our study:  "The SDF were founded on 10 October 2015.  Their primary structure relied on a coalition of all components found within the Syrian al-Jazirah region – Kurds, Arabs, Syriacs, Turkmen, and Assyrians.  The Kurdish component comprised the largest percentage of the SDF due to the fact that the areas liberated from the ISIS terrorist organization are majority-Kurdish areas, particularly the areas of Kobani.  However, with the advance of the SDF, and with support from the US-led international coalition, the forces were able to liberate a large number of Arab areas, which led to a large number of Arabs joining the ranks of the SDF.  The political cover (the Syria Democratic Council) for these forces was formed and they presented their political, social, and humanitarian ideas within the vision of a future in which all of the components participate in an inclusive social contract of the theory of a democratic nation, brotherhood of the people, and coexistence to achieve freedom and democracy for the people of the region, without ethnic, sectarian, or tribal discrimination.  After the council was formed and the people learned about the vision for the future, prominent figures and Arab tribal Sheikhs of the areas went to the headquarters of the Syria Democratic Council and they asked to have their sons and daughters join the council just as they were doing with the SDF by participating in the fight to eliminate ISIS.  Training camps were opened and anyone with military experience worked as a trainer, and anyone with no military experience was trained by Kurdish and Arab trainers.  Arab tribes based in ISIS-controlled areas were contacted, and during this communication secret cells were formed to provide the SDF with information and to work covertly with them.  We in the SDF Command Council believe that the size of the Arab component, specifically the sons of the Arab tribes, will reach 50 percent of the SDF within the next two months.  And from here everyone must know that our forces have become a primary pillar and center of the Syrian National Army, and that high-profile support to these forces will provide the time and blood to eliminate terrorism and build an excellent relationship with all nations, based on achieving shared interests for the peoples of the region."
In a statement made on 8 December 2016, Colonel John Dorian, the official spokesman for the US-led international coalition, confirmed that approximately 13,000 of the 45,000 SDF fighters make up the Arab component.
Based on the above information, it may be said that the cohesive organizational structure of the SDF, the competence of their fighters on the ground, the democratic concepts espoused within the organization, and their denouncement of hate and revenge when they turned liberated areas over to the civilian councils, have made the SDF a leading force when measured against all of the other armed groups fighting in Syria, most of which are dominated by Islamic or chauvinistic extremism.  All of this has made the SDF a target for many of the foreign and domestic parties opposed to, or supportive of the Syrian regime, particularly the political and military groups and countries linked to Turkey and Iran, which fear any democratic model based on historical community diversity and the right of the people to decide their own fate; a model with complex internal community issues that refuses to resolve them through suppression of its people.  The Kurdish cause is one of the biggest suppressed causes historically subjected to all types of ethnic and political cleansing in Iran and Turkey, especially since the Kurdish fighters are among the most established and effective groups within the SDF.
Turkey and the SDF
Turkey does not hide its hostility toward the SDF.  On the contrary, it openly declares its hostility as it engages in the Syrian crisis.  Since the beginning of the Syrian conflict Turkey has stymied the Kurdish military and political developments in Syria (Rojava, Kurdistan), because if the Kurds in Syria get their national rights, then the more than 25,000,000 Kurds in Turkey will be stirred up.  From early on in the Syrian revolution Turkey has taken preemptive steps by supporting Syrian Arab armed groups for the purpose of engaging in battles against the Kurdish forces.  This is clearly evidenced by Turkey's support for the Ahrar al-Sham and Nusrah Front groups in the battles of Ra's al-'Ayn on the Syria-Turkey border.  That support was obvious when photos of those groups crossing the Syria-Turkey border were posted on social media.  It was no secret to anyone.  After failing to control the city of Ra's al-'Ayn (Sarikani), Turkish intelligence resorted to gathering young men from Dayr al-Zur, al-Raqqah, and al-Hasakah, into refugee camps in Turkey, and they worked on winning over the tribes and prominent Arab figures from the aforementioned areas, with the goal of forming parallel military forces hostile to the Kurds in Rojava.  These parallel forces would be a future alternative to international coalition forces in possible upcoming battles against ISIS in cities such as al-Raqqah and Dayr al-Zur.  This coincided with the decreased influence of ISIS and increased influence of the People's Protection Units.
The announcement made by the SDF regarding its efforts in the countryside of al-Hasakah and al-Raqqah, to form armed brigades comprised of tribesmen from al-Hasakah and the countryside of al-Raqqah, delivered a decisive blow to Turkey's plan to utilize the tribesmen in those areas, especially after the United States of America, Turkey's NATO ally and leader of the international coalition, supported the project.
It goes without saying that the progress made on the SDF's project, and support for this project from the international coalition, will reduce Turkey's chances of realizing their aspirations in SDF-controlled areas, and will gradually weaken Turkey's hopes for gaining field control – through the use of subordinate groups – over areas in the countryside of al-Hasakah, Dayr al-Zur, and al-Raqqah.  All of that pushed Turkey to make a decision to intervene directly in Jarablus to stop the advance of the Kurds toward 'Afrin, especially after these forces liberated the city of Manbij.  This is in addition to Turkey's ongoing undeclared war against those forces, as Turkey continues to fight the SDF and seeks to eliminate the SDF through a number of methods:
Turkey does not recognize the SDF, nor do they recognize the name "Syria Democratic Forces," in their official correspondence or their media.  They link the SDF to the People's Protection Units which, in turn (according to Turkey), are a product of the Kurdistan Worker's Party which, according to NATO and the EU, is designated as a terrorist organization.  This subject may be the primary subject of Turkish diplomacy, linking the SDF to the Kurdistan Worker's Party and demanding that the international coalition, particularly the United States of America, cut off the support and thwart the SDF project.
Turkey intentionally misconstrues the SDF project, labeling the SDF as separatist forces aiming to displace Arabs and change the demographics in areas where they are deployed.  Turkey also relies on the Syrian opposition, which is loyal to Turkey, to portray the SDF as forces loyal to the Assad regime within the Syrian society, which would cut the SDF out of any negotiations in which the armed factions participate to determine the future of Syria, or any ceasefire negotiations.
Turkey may resort to a policy of breaking up the brigades and armed factions under the umbrella of the SDF, by planting agents and exploiting financial motivations to persuade SDF members to defect.
Turkey also resorted to assassination operations targeting prominent SDF leadership.  The SDF accused Turkish agents of assassinating the commander of the Jarablus Military Council, 'Abd-al-Sattar al-Jadir, on 22 August 2016.
In addition, there is the possibility of an assault on Manbij City by factions supported by Turkey (Euphrates Shield factions), to create sufficient space for any future safe areas.
Position of Iran and the Syrian Regime regarding the SDF
It is not hidden from anyone following the Syrian matter the extent of Iranian power and influence over the decisions made on the strategy in Syria, specifically with relation to the Kurds in Syria. Iran's situation is the same as in Turkey. The Iranians are afraid of the Kurdish expectations and their impact on the internal situation in Iran.  Kurdish nationals represent one of the largest groups in Iran.  Their expectations and hopes will increase and it will impact Iran (eastern Kurdistan).
With the Kurds' role in Syria growing and their community efforts to form political and military organizations by announcing autonomous administration in the areas of Rojava, Iran realized the danger of the situation and immediately made a decision to limit the Kurdish growth in Syria by starting to create tribal Arab militias, especially in al-Hasakah Province (al-Jazirah).
However, Shia Iran will have difficulties organizing the Arabs tribes, which are Sunni. These tribes have connections to tribes in Iraq that have complained of poor treatment at the hands of the Iran-backed Popular Mobilization Forces (PMF).
For Iran to establish these militias in Syria, specifically in areas under the influence of Kurdish forces, and to overcome the sectarian obstacles, the Iranian Revolutionary Guard began plucking the strings of Arab nationalism by forming these militias as an option to overcome the classic obstacles that they have (i.e, religious / Shia). In fact, in 2013 Iran began to form these militias by relying on the Syrian Security Service and Lebanese Hizballah officers. Iran took advantage of the presence of the Syrian regime in certain security quadrants of al-Hasakah and al-Qamishli, to be used as a foundation to form these militias.
Iran provided these groups and the military factions with resources, Hizballah members trained them, and Syrian Intelligence (National Defense and the commando militia) monitored them. The groups then faced strong opposition from Kurdish forces until the situation escalated to confrontation and street fighting in al-Hasakah and al-Qamishli. The "Kurdish units" crushed them until there was nothing was left but a semblance of a presence in the security quadrants.
After the liberation of Tal Hamis and Tal Barak by the People's Protection Units, the issues began to flow in a direction contrary to that which Tehran and their tools wanted. The young Arab men from the tribes in those areas began to join the People's Protection Units and the recruitment increased with the announcement of the establishment of the SDF. That pushed Iran to coordinate with the Syrian regime, with support from Hizballah officers, to engage in new efforts by gathering tribal leaders and Arab tribal figures, and using the phrase "liberation of the Arab Rif" (Arab countryside) to refer to areas of the al-Hasakah countryside. These calls did not receive widespread Arab tribal support, for a number of reasons, primarily due to the fact that the Kurdish units worked well with locals, and because most Arab Sheikhs in the area were opposed to this project.  This pushed the Syrian regime services to impose the draft on young men and employees of government institutions. Even this initiative was rejected by democratically autonomous security services, specifically the internal security service (Asayish), leading to some skirmishes with the Syrian regime in al-Hasakah and al-Qamishli.
Despite the complete failure of the Iranian Revolutionary Guard in establishing these militias in the countryside of al-Hasakah, they are still doing everything they can to establish a Sunni tribal military force in agreement with the Syrian Regime, which is expected to seek to enforce its authority on the Kurdish areas once the internal fronts in Syria have calmed down.  For the past two years, the Iranian Revolutionary Guard worked on forming militias comprised of young men from Dayr al-Zur Province with direct assistance from the Syrian regime. The purpose of these militias is to liberate Dayr al-Zur and Tadmur (Palmyra) with cooperation from the Iraqi PMF, which announced on more than one occasion its willingness to enter Syrian territory. On 16 November 2016 the Secretary General of the Iraqi Badr Organization, Mr. Hadi al-'Amiri, said on that the Iraqi PMF had received a request from the Syrian president to enter Syrian territory after liberating Mosul from ISIS.
On the other hand, the formation of the SDF, and its advance deep into Arab tribal areas in the countryside of al-Hasakah, al-Raqqah, and Dayr al-Zur, along with wide-scale acceptance of these forces from the tribal members, posed a direct threat to the Iranian project.  The area into which the SDF is advancing, and militarily and organizationally controlling, is land where, presumably, the Iraqi PMF and the militias formed by Iran in the countryside of al-Raqqah and Dayr al-Zur will meet.  We refer here to areas on the Iraq-Syria border.  This will mean that the Iranian scheme as we outlined above will fail.
The SDF recently announced the formation of the Dayr al-Zur Military Council, which falls under the umbrella of the SDF.  On 17 February 2017, this new military council liberated the first villages in Dayr al-Zur Province beginning at the administrative borders of al-Hasakah Province.  This military council gained thousands of young tribesmen from Dayr al-Zur in record time due to the good reputation of the SDF among the local residents.  This is due to the fact that the local military councils in each province are led by their own people and they fight under their own flag, with support from the US-led international coalition.  These are all incentives for the local (Sunni) community in Dayr al-Zur Province to join the ranks of the SDF and reject the Iran-backed Shia militias.  In this manner, the SDF will be located on the ground at the land bridge which Iran wants to build between Iraq and Syria through Dayr al-Zur, Tadmur (Palmyra), and the Homs regions bordering Lebanon, where Lebanese Hizballah is located.
___________________________________________
Muslim: 'No written agreements, just kept promises' between US, Russia and Kurds
In an interview with ANF news agency, Democratic Union Party (PYD) Co-leader Salih Muslim said that a victory in Raqqa was important for the safety of Rojava as the war would be pushed away from the borders of the autonomous region and the people of Raqqa will be free from the Islamic State (IS).
"Our democratic federal system will encompass an even greater area and the people of Raqqa are welcome to become a part of it, if they wish to do so," the co-leader said, adding that about 75% of the forces participating in the Raqqa operation were composed of people from the area.
The Syrian-Kurdish politician did not believe that the Islamic State would end after the capture of Raqqa but that they would spread out in small groups into the countryside. He also said that other groups, such as some of those backed by Turkey, have the same mentality. "So it does not end with Mosul and Raqqa but the struggle will take on a new form," Muslim said.
Muslim also said Turkey posed the greatest threat to the region and as Turkey's government is becoming all the more lonely it is also becoming more aggressive.
"Turkey is an occupying force in Shahba", the region under control by the Euphrates Shield Operation. Turkey came there under the pretext to fight Daesh [IS] but they are not there anymore, nor is the Syrian regime. This makes Turkey an invader. Syrians should rule Syria, not Turkey. Turkey's role in Syria is not met with any support on the international arena so there is a good chance that Russia and the US will oppose their presence and eventually ask them to leave."
Muslim added that Turkey and its allies were constantly shelling the Kurdish-majority north-eastern city of Afrin. "The Cilvegoz border gate close to Afrin is the place where they cross from. The Etme camp where al-Nusra is being trained is located nearby. Many different groups are in the area and sometimes they fight amongst each other. The Russians want to fight these groups and are in Afrin for this reason. We want to clear the area of these groups too, so we agree on this point."
Salih Muslim said there were no written agreements with neither the US nor with Russia but that all parts had kept promises so far.
"Moscow has mediated between us and the regime. Our issue is not the remaining or removal of the regime, our issue is democracy. If we will have democracy and a federal system, there won't be any regime anyway," Muslim said. "We aim for a democratic federal Syria. We don't want Syria to be divided and neither do they [the other powers we work with]. We want to remain a part of Syria and on this point we are in agreement with the international powers."
The co-leader said that the mentality of the regime had not changed. "It is still the same as that of Turkey and Iran," he said. "They don't accept the Kurds so it's impossible to live under a regime with such a mentality."
In and around Manbij there are regime troops and Russian troops as well as the Manbij Military Council that is working with the US, Muslim explained. "No one is interfering with the other so it seems as if they understand each other."
Regarding the US, he stressed the importance of NATO saying that the Kurds are aware that the US might terminate their relations with them due to interests with Turkey.
_____________________________
Open letter from British YPG fighters on London attacks
Here is an interesting an vivid account by a free-lance Russian journalist which highlights some of the problems in Rojava as well as presenting a vivid account of life there.
_______________________________________________________________
Published: 12/03/2017 – Category: Co-operative Economy in Rojava