The Most Feminist Revolution the World Has Ever Witnessed
In Rojava, a Kurdish anarchist collective led by women is at the heart of the fight with ISIS, and behind a political upheaval putting equality front and centre.
Something extraordinary has happened in a corner of north-east Syria. It is a little-known story that defies the usual narratives about Syria or Assad, civil war or ISIS. It is nothing less than a political revolution, which bears important lessons for the rest of the world. In this revolution, women are in the vanguard, both politically and militarily, often leading the fight on the frontline and sacrificing their lives against the most atavistic and anti-woman enemy there is: the so-called Islamic State – or Daesh, as it is more derogatorily known.
This place is called Rojava, the Kurdish name for western Kurdistan, located in north-eastern Syria. After the collapse of the Assad regime in 2012, Kurdish parties began an extraordinary project of self-government and equality for all races, religions and women and men. I visited Rojava, in a personal capacity, in the summer of 2015 to try to understand what's going on there for a documentary film about anarchism, which you can watch on iPlayer.
Few journalists visit this swath of land along the Turkish border, which is about half the size of Belgium. It's difficult to reach and thus expensive, requiring a long journey from northern Iraq and a crossing of the Tigris by small boat onto Syrian soil. The Kurdish Regional Government of northern Iraq (KRG) is not sympathetic to the Kurds of Rojava, and makes access very difficult and sometimes impossible.
The few journalists who make it there tend to focus on the fight with ISIS, assuming that this is what most concerns western audiences. Rojava is safer than the main combat zones of Syria, but still suffers horrific suicide bombings, and western visitors would of course make a fine catch for Daesh kidnappers.
As a result, very little has been reported about the remarkable political experiment of Rojava.
What little commentary appears is often secondhand. It therefore frequently repeats earlier misconceptions or hostile propaganda put about, above all, by Turkey, which opposes the leading political party of the Rojava Kurds – the PYD – and the armed forces of Rojava, the People's Self-Defence Units, which comprise the mostly male YPG and all-female YPJ. Nor does the political character of the Rojava revolution fit familiar pigeonholes; it is neither a nationalist Kurdish project for an independent state, nor is it Marxist or communist, nor driven by religious or ethnic motives.
Perhaps most remarkably – and, sadly, uniquely – this is perhaps the most explicitly feminist revolution the world has witnessed, at least in recent history. Previously, this area was home to traditional peasant norms, including child marriage and keeping women at home. These traditions have been overturned: child marriage, for instance, is now illegal. There are parallel women's organisations in every field, ranging from the separate women's militia, the YPJ, to parallel women's communes and cooperatives. Self-defence is a principle of the Rojava revolution, which is why women are so active in the armed struggle – but the concept extends towards the right of self-defence against all anti-woman practices and ideas, including those of traditional society, not just the extreme violence of Daesh.
"From what I saw, this political transformation enjoyed widespread support from all: Kurds, Arabs, women and men, young and old. Why wouldn't it? The whole point is to give everyone a say in their own government."
In addition to ensuring complete equal rights for women, the feminist politics of Rojava aims to break down domination and hierarchy in every aspect of life, recasting social relations between all people regardless of age, ethnicity or gender, with the aim of achieving an ecologically and socially harmonious society. In terms of historical comparison, this project resembles most closely the short period of anarchism witnessed by George Orwell in Republican Spain during the Spanish civil war in the late 1930s. But the representatives of Rojava also reject the label of anarchism, even if much of the inspiration for this revolution came originally from an anarchist thinker from New York City, Murray Bookchin.
The political heart of the Rojava project is in the local communal assemblies, in which local people take decisions for themselves about everything that concerns them: healthcare, jobs, pollution… boys riding their bikes too fast around the village, as one woman complained about at an assembly I visited. Women and men are scrupulously given an equal voice. Women co-chair every meeting and every assembly. Non-Kurdish minorities, mostly Arabs but also Syriacs, Turkmen and Assyrians, are also given priority on the speaking list; at meetings I witnessed, interpreters were provided. This is self-government, where decisions for the village are taken by the village or region. If decisions cannot be made solely at the local level, representatives attend town or regional assemblies, but these representatives remain accountable to the communal level and may only offer views that are approved locally. It is a very deliberate attempt to keep decision-making as local as possible – a rejection of the top-down authority of the state.
Ironically, however, the inspiration for the revolution was very much top-down. Abdullah Öcalan, the leader of the PKK (the Kurdish guerrilla movement in Turkey), read Murray Bookchin's works while in a Turkish jail on an island in the Sea of Marmara (where he remains). Once a Marxist-Leninist and a ruthless military leader, Öcalan became convinced that self-government without the state was the way forward for the Kurdish people. He moulded Bookchin's philosophy for the Kurdish context, calling it "democratic confederalism". The Syrian Kurdish PYD is closely associated with the PKK. Following Öcalan, its cadres adopted democratic confederalism and implemented it in Syria.
Some have accused the PYD of domineering tactics, particularly at the start of this democratic revolution. Such conduct has given room for critics unreasonably to dismiss the whole project. From what I saw, this political transformation enjoyed widespread support from all: Kurds, Arabs, women and men, young and old. Why wouldn't it? The whole point is to give everyone a say in their own government – a radical innovation anywhere, let alone in Syria, a country long accustomed to dictatorship and repression. I spoke to many people at random. They were uniformly positive, and many argued that the Rojava model, of highly decentralised government, should be adopted in the whole of Syria and indeed beyond. But it's also a work in progress. In some of the assemblies I attended, women and men sat separately, a mark of the journey from traditional practice that this revolution is still navigating.
The revolution has suffered considerable assault. Turkey opposes Rojava and has prevented all supplies, trade and humanitarian aid from crossing its border into the region. Today, Turkish forces are attacking the predominantly Kurdish Syrian Democratic Forces (SDF), which subsumes the YPG/YPJ and Arab militias into a common anti-ISIS front. The SDF has been the most effective force in fighting ISIS and has driven it back across hundreds of miles of territory, at the cost of thousands of lives. Now, the SDF – led by a woman commander, Rojda Felat – has started the attack on ISIS's "capital", Raqqa. The SDF currently enjoys US and allied military support, primarily from the air but also from American and allied special forces on the ground.
Therefore, US and indeed western governments are involved in a grotesque contradiction in which they permit NATO "partner" Turkey to attack the SDF – their most important ally in the fight against ISIS – while also proclaiming unyielding commitment to defeating ISIS. Thanks to an almost total absence of press coverage, this absurdity attracts no controversy in western capitals. Kurds worry, with reason, that once Raqqa falls the US will abandon the Kurds to Turkish aggression. Indeed, with Turkish attacks against the SDF intensifying in northern Syria in a canton called Afrin, some argue that this betrayal has already begun.
The hypocrisies of international geopolitical manoeuvring, however, should not obscure the importance of the Rojava democratic revolution. Thanks to its horrific tactics, ISIS attracts the attention, but in fact it is Rojava that carries the more important message for those who care about democracy. Rojava offers an alternative and practical example where the people are in charge, and it works. Rather than replicate the disastrous centralised governments of Iraq and Assad's Syria, Rojava's self-governing institutions have proposed their model for the whole of Syria once the Assad dictatorship comes to an end – and indeed, Rojava has renamed itself the Democratic Federation of Northern Syria in order to emphasise its multi-ethnic character and its acceptance of Syria's existing borders, another divergence from the lazy western presumption that "the Kurds" want their own separate state.
But thanks to Turkish hostility, representatives of the Democratic Federation are excluded from the UN talks about the future of Syria – an injustice in which the US, UK and others acquiesce. The UN continues to pretend that "the Kurds" are represented by a party that is in fact a proxy of the KRG in Iraq. It is telling that international officials – mostly men who have never visited the area – still prefer outdated ethnic stereotypes to the more accurate cosmopolitan and feminist character of this project.
Meanwhile, the Rojava model is no less relevant in the west, where few can claim that democracy is in good health, with disillusionment and right-wing reactionary extremism – and, indeed, overt hostility to women (expressed not only by Donald Trump) – both ascendant. There are scores of westerners who, like the International Brigade of the Republican forces in Spain, have gone to join YPG and YPJ ranks. Several have lost their lives, including in recent days a former Occupy Wall Street activist from New York City. Some of these brave men and women have been prosecuted on their return home, punished for their commitment to democracy and equality. All suffer from the misrepresentation of their struggle in much of the international press. In reporting the death of the young Occupy activist, the Washington Post described the Rojava revolution as "pseudo-Marxist", when it is the very opposite. In this democracy, there is no place for the state, at all. The people govern, the antithesis of state communism.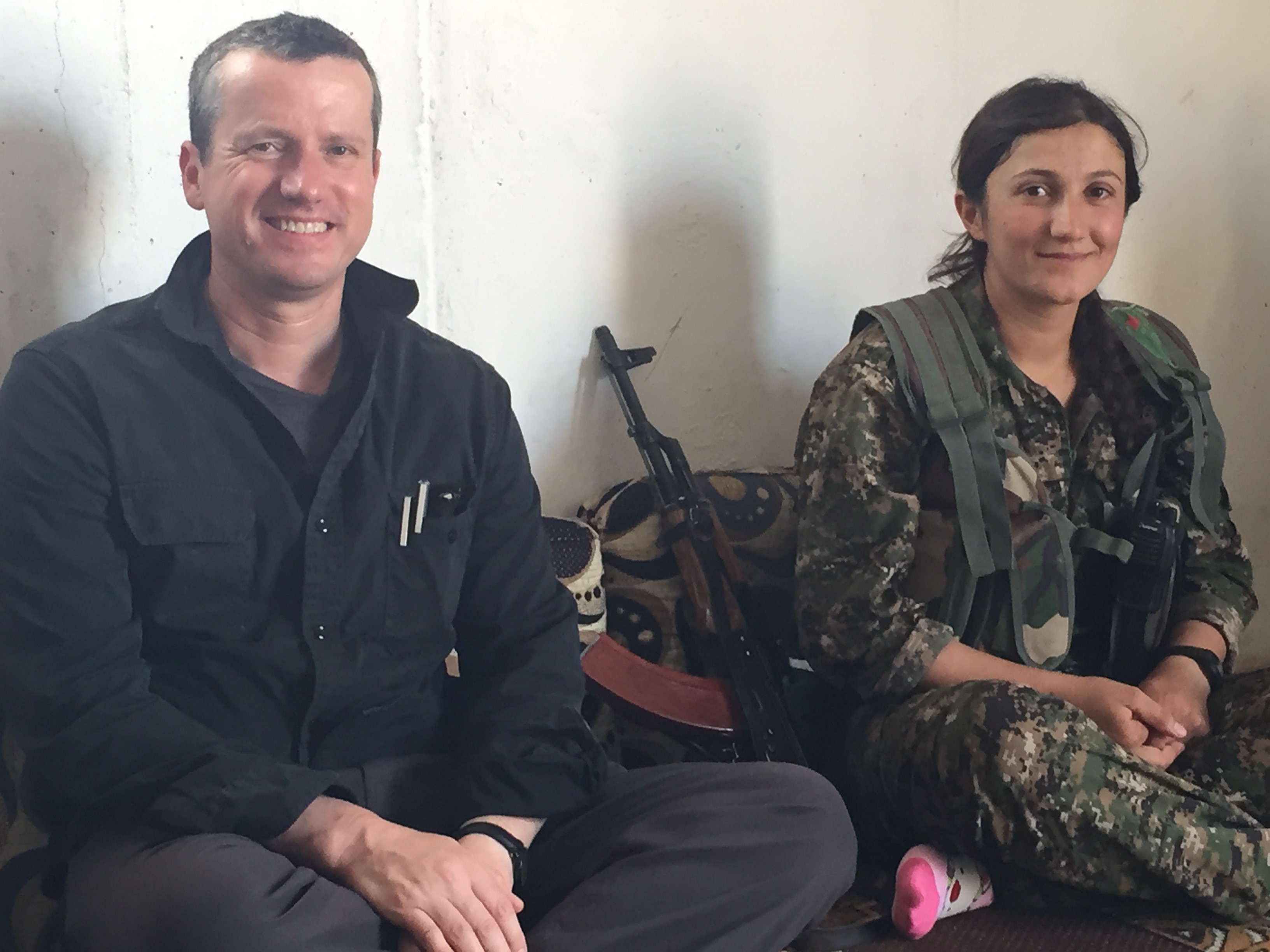 Thousands of YPG and YPJ fighters have died for this cause. During my visit, I met Viyan, a young woman YPJ soldier, on the front line – a huge gravel berm that stretched from horizon to horizon across a barren plain in southern Syria. ISIS positions were a few hundred metres away. A rifle over her shoulder, she told me that never before in her country, or the region, had women been equal to men. Without equality for women, there could be no justice in society. She was prepared to die to defend this dispensation. Tragically, Viyan was killed several months after our interview, fighting ISIS in the town of Al-Shaddadi.
Our film about the search for a better democracy is dedicated to her.
Carne Ross's documentary film, Accidental Anarchist, is available to watch on iPlayer. This article represents his personal views only.
++++++++++++++++++++++++++++++++++++++++++++++++++
Do not abandon us now, Kurdish leader tells the West as Isil battle draws to a close
Unrepentant parents, such as Shamima Begum, could radicalise their children in sprawling Syrian desert camps, where security forces could lose track of them.
Ilham Ahmed, co chair of the Syrian Democratic Council, the political wing of the Syrian Democratic Forces, said Britain must repatriate citizens who traveled to Syria or be prepared to commit "significant" resources to trying and detaining them in Syria.
"Them remaining in our area is a huge liability," she told the Telegraph.
"We have fulfilled our duties. We have captured them and we have held them. We are now making sure they don't escape," said Ms Ahmed.
"Here in the West you have all the opportunities to try them. You have courts, you have the laws, you have prisons. All the means to give these people a trial and convict them… on behalf of these governments that these people are citizens of, " said Ms Ahmed.
About 4,000 women and children from Isil families are currently being held in camps by the SDF, including Ms Begum, the 19-year-old from Bethnal Green who has said she has no regrets about joining the terror group. 
Ms Ahmad said Ms Begum's attitude was typical of many detainees.
"The majority of them say that – that they don't have any regrets. And you can see that in the way they raise their children: they raise them in the ideology of Isil, and they still think that ideology is correct," she said in an interview in London.
"That's why it is not just enough to take these people back. They also need to be treated. The children, they need special care. So do the mothers."
"The alternative would be that we receive a lot of support and assistance in trying these people in our region, in terms of courts, in turns of legal procedures and so on."
Donald Trump, the US president, last week called on European governments to repatriate an estimated 800 foreign members of Isil who have been taken prisoner in Syria.
But Theresa May's spokesman rebuffed the American suggestion on Monday, saying the fighters should be put on trial in places where they committed their crimes.
"Foreign fighters should be brought to justice in accordance with due legal process in the most appropriate jurisdiction," Downing Street said. "Where possible, this should be in the region where the crimes had been committed."
France and Germany have also rejected the idea, citing the difficulty of securing sufficient evidence and witness testimony to guarantee prosecutions.
Isil's last redoubt in the eastern Syrian village of Baguz is expected to fall to the SDF and coalition forces imminently. Ms Ahmed is one of a number of senior Kurdish leaders taking part in a diplomatic blitz to convince Western governments not to abandon the SDF when it does.
They fear Mr Trump's announcement in December that he will withdraw US forces from Syria will open space for a resurgence of Isil sleeper cells and allow Turkey to launch an attack on Kurdish forces. 
"We do not even want to talk about the prospect of withdrawal without security guarantees," she said. "We want aerial protection so there are no airstrikes. And we'd like to see observation on the border. We are concerned about a Turkish military attack."
"We are now experiencing the last days before the announcement of the end of the operation. But after that we expect to begin a new process of getting rid of these sleeper cells and getting rid of other elements of Isil, and for that we will continue to need support," she went on.
"In Raqqa there are daily explosions, kidnappings, and violence. Likewise in Deir Ezzor. So these things are still happening."
Turkey considers the YPG, the Kurdish armed group that forms the core of the SDF, a terrorist organisation.
In December, Recep Tayyip Erdogan, the president of Turkey, threatened to launch a military operation to "wipe out terror groups east of the Euphrates."
Ms Ahmed said Mr Trump had been supportive about the idea of a security zone when she met him in January, but that he had not mentioned any details. Kurdish leaders have rejected a proposal for a Turkish-controlled 30 kilometre "security area" inside Syria.
Turkey is a key Nato member and regional power, putting the United States and other coalition members, including Britain, in the uncomfortable position of choosing between two allies.
Ms Ahmed said the SDF could seek accommodation with Bashar al-Assad's government and his Russian allies if Western coalition partners fail to guarantee security against potential Turkish attack.
"One solution could be regional protection forces in the north could become part of a new Syrian army – and note that I said 'new' Syrian army. It could not be under the current status quo, but if there is a new structure within the framework of a political solution.
"In the light of sudden announcements of withdrawals, without guarantees, without leaving us any kind of means to do things another way, this could be a solution," she said.
Such an arrangement could be part of a proposed post-war constitutional settlement that Kurdish groups have drawn up as the fighting in Syria draws to a close.
Under the plan, powers would be devolved to the regions, and local parliaments would have representatives in Damascus. The rights of minorities and gender equality would be written into the constitution and Assad's fate would be decided by an election.
*****************************************************
Syrian Kurdish leader: border force needed to protect us from Turkey
Ilham Ahmed says Kurds want allies from anti-Isis coalition on border to ensure Turkey does not attack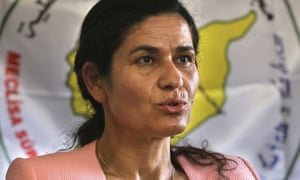 The leader of the Syrian Kurds has called for a small international observer force to be stationed on the Turkey-Syria border to protect Kurds from what she says is the threat of crimes against humanity committed by Turkish forces.
Ilham Ahmed is co-chair of the Syrian Democratic Council – the political arm of the US-backed and Kurdish-led Syrian Democratic Forces (SDF), which have been responsible for liberating much of north-eastern Syria from Islamic State.
Described as one of the most powerful women in Syria, Ahmed is leading a Kurdish delegation touring Washington, Paris and London to persuade western countries not to betray the Kurds by leaving them exposed to the threat of a Turkish attack.
Ahmed said a final SDF assault on the last Isis redoubt would finish within days. Plans requiring "time and patience" were being drawn up to eradicate sleeper cells, she said.
She was speaking in the wake of the shock announcement by Donald Trump that 2,000 US troops will leave north-west Syria on the basis that Isis had been defeated.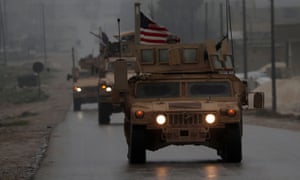 Ankara views the Kurdish forces in Syria as a terrorist threat and an extension of the Kurdish separatist movement within Turkey's own borders.
The Turkish president, Recep Tayyip Erdoğan, has repeatedly warned America that a Turkish military operation against the US-backed Kurdish People's Protection Units (YPG) in Manbij is near. "Our patience is not limitless, he said over the weekend. "If the terrorists are not removed from Manbij within a few weeks, our waiting period will end."
Ahmed said: "After all that has happened, if there is an attack, we will regard those that remain silent in the face of those threats as guilty of crimes against humanity.
"It is not just there will no longer be any trust in the coalition forces who we have fought alongside, and that their credibility will have been lost forever. It will mean the emergence of very big wars in this area.
"Any attempt by the Turkish state to establish a safe zone in the north of Syria will be an occupation, and no matter that the Turkish state wants to convince others that it will be a force for calm in the region, this is not what will happen.
"We saw this in Afrin last year as they tried to erase our culture and remove people from their homes. Huge massacres have been committed by the Turks. A further attack will only bring more war, displacement, occupation and an attempt to destroy our culture."
An international protection force would provide aerial defence, she said, but "we would like to see an international power on the border as observers to ensure that Turkey does not attack".
The force would be composed of "states that have actively participated in the war against IS, and the UN should also play a role", she said. She added discussions were continuing now on the size and composition of the force, but it could be a symbolic number.
She also said Kurds were willing to put foreign fighters on trial in Kurdish Syria if they were given major international support on the legal procedures. "It would be better if they were tried in their own countries," she added.
She said 800 to 900 Isis foreign fighters were currently held in prison by the Kurds and about 4,000 wives and children in refugee camps. She said: "We have not said we will let the fighters go, but if the Turks attack then it is true we will be fighting for our own existence and it is possible we may not be able to keep them under control and they may return to Europe. That is also at stake when we talk about an attack by the Turkish state."
Ahmed denied the Kurds were actively discussing forming a security alliance of convenience with the Syrian president, Bashar al-Assad, if the West decided it could not protect the Kurds from a Turkish assault.
"The regime has shown no signs of interest in a meaningful dialogue with us about Syria's future," she said.
Any such dialogue would require a change by the regime, including agreement to a political solution about the future of a federated and unified Syria.
+++++++++++++++++++++++++++++++++++++++++++++
America's Kurdish allies risk being wiped out – by Nato
Turkey is seen as the Kurds' mortal enemy but it uses German tanks and British helicopters: this is an international outrage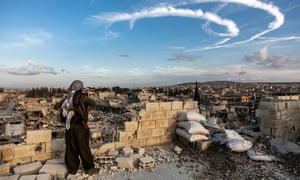 Remember those plucky Kurdish forces who so heroically defended the Syrian city of Kobane from Isis? They risk being wiped out by Nato.
The autonomous Kurdish region of Rojava in Northeast Syria, which includes Kobane, faces invasion. A Nato army is amassing on the border, marshaling all the overwhelming firepower and high-tech equipment that only the most advanced military forces can deploy. The commander in chief of those forces says he wants to return Rojava to its "rightful owners" who, he believes, are Arabs, not Kurds.
Last spring, this leader made similar declarations about the westernmost Syrian Kurdish district of Afrin. Following that, the very same Nato army, using German tanks and British helicopter gunships, and backed by thousands of hardcore Islamist auxiliaries, overran the district. According to Kurdish news agencies, the invasion led to over a 100,000 Kurdish civilians being driven out of Afrin entirely. They reportedly employed rape, torture and murder as systematic means of terror. That reign of terror continues to this day. And the commander and chief of this Nato army has suggested that he intends to do to the rest of North Syria what he did to Afrin.
I am speaking, of course, of president Recep Tayyip Erdoğan, who is, increasingly, Turkey's effective dictator. But it's crucial to emphasize that these are Nato forces. This not only means they are supplied with state-of-the-art weaponry; it also means those weapons are being maintained by other Nato members.
Fighter jets, helicopter gunships, even Turkey's German-supplied Panzer forces – they all degrade extremely quickly under combat conditions. The people who continually inspect, maintain, repair, replace, and provide them with spare parts tend to be contractors working for American, British, German or Italian firms. Their presence is critical because the Turkish military advantage over Northern Syria's "People's Defense Forces" (YPG) and "Women's Defense Forces" (YPJ), those defenders of Kobane that Turkey has pledged to destroy, is entirely dependent on them.
That's because, aside from its technological advantage, the Turkish army is a mess. Most of its best officers and even pilots have been in prison since the failed coup attempt in 2016, and it's now being run by commanders chosen by political loyalty instead of competence. Rojava's defenders, in contrast, are seasoned veterans. In a fair fight, they would have no more problem fending off a Turkish incursion than they had driving back Turkish-backed Jihadis in the past.
A "fair fight" in this case would mean having access to anti-tank and anti-air weapons. But this is precisely what the Trump administration promised Turkey it would not let the Kurds have. Even those forces directly working with the US and British troops to defeat Islamic State were never to receive the defensive weapons needed to fend off the Turkish air and armored assault that would inevitably follow – which, if Afrin is anything to go by, may be backed by napalm and cluster bombs.
The moment those forces are withdrawn, however, their former allies will be sitting ducks, unable to defend themselves against the advanced weaponry that Britain and the US themselves help provide to Turkey and maintain.
Typically, the western media treats Turkey as some kind of peculiar rogue state whose periodic outbursts of violence directed at Kurdish civilians – the bombing and destruction of its own south-eastern cities in 2015, the reported ethnic cleansing of Afrin, and the ongoing attacks on villages in Iraq – must be tolerated lest it aligns with enemies like Iran or Russia. Similarly, pundits and politicians seem to whistle and look the other way as Erdoğan arrests or jails tens of thousands of people, including teachers, journalists and elected parliamentarians for saying things he doesn't like – or even when or even when he publicly declares that "no European in any part of the world can walk safely on the streets" if they defy him.
But Turkey is not a rogue state. Turkey is Nato. Its army guards Europe's eastern flank. Its police and security forces are charged with halting the flow of refugees from Middle Eastern wars to Europe – which increasingly involves opening fire with machine guns on refugees at the border – a service for which it is paid millions of euros in direct compensation.
It is only because Turkey is a member of Nato that its government managed to have the Kurdish guerrillas of the PKK (the Kurdish Worker's Party), the guerrilla insurgents that have been fighting for autonomy in south-east Turkey since the 1990s, placed on the "international terror list" in 2004, at precisely the moment the PKK renounced demands for a separate state and offensive operations and attempted to enter into peace negotiations. It should be noted that this "terror" designation applies almost exclusively among Nato countries; the PKK is certainly not listed as a "terror" organization by the United Nations, India, China or even Switzerland.
It is because Turkey is Nato that the western press has to take seriously its bizarre claims that the experiment in feminist democracy underway in Rojava is itself a form of "terrorism".
It is because Turkey is Nato, and guards Europe's borders, that the US and European powers looked the other way or even expressed support when its army descended on the hitherto peaceful enclave of Afrin, in violation of all international law. As the Turkish army did so, it suggested it would not just to ethnically cleanse the Kurdish population and put an end to their own experiment with feminist democracy, but also to use the district to resettle the families of the most avid Islamist rebels who might otherwise have migrated to Europe.
It is because Turkey is Nato that the western press feels obliged to play along with the charade that it is an enemy of Isis, despite endless evidence of active Turkish collaboration with Isis, and the fact, known to everyone in the region, that Turkish "offensives" against Isis in Syria have largely consisted of bribing Isis commanders to switch sides.
As a result, we are left with the bizarre spectacle of "former" al-Qaida and Isis Jihadis working with Erdogan to fight the YPG as part of a 100,000-strong mercenary force. In addition, men like Seyf Ebu Bekir, who was an Isis commander when it was carrying out its notorious Paris nightclub massacres, are now commanders in the Turkey-backed Free Syrian Army. For his part, Ebu Bekir has warned France not to interfere with Turkish plans to unleash Nato forces to destroy Isis's old Kurdish arch-enemies.
If all this is difficult to comprehend, it's partly because so many of us – including many who fancy themselves "anti-imperialists" – seem to have forgotten how empires actually work. The British empire didn't send British troops into combat very often either. Nato powers are arming and maintaining the security forces of their official ally, Turkey, to fly its Nato planes and drive its Nato tanks and shoot at refugees, in the same way Turkey is reportedly employing al-Qaida and Isis legions to do its dirty work of human wave attacks and ethnic cleansing. We have defanged the terrorists by, effectively, putting them on retainer, in much the same way Rome once employed Alaric the Goth, or the US, Osama bin Laden. And we know how well that worked out.
There are alternatives. International powers could lift the de facto Nato embargo that prevents the forces that defeated Isis from defending themselves. There are calls for an international no-fly zone, preferably on the authority of the UN security council, enforced by a country other than America – possibly France, or even Russia. This too would allow the YPG/J to fight on equal terms. Rojava's defenders are perfectly capable of fending off the Turkish army if that army's high tech advantage is neutralized.
In the long run, the Turkish government needs to stop reacting to those who have a different vision of how life could be lived by trying to murder them, and return to the peace table. The same could be said for Syria, where Rojava's decentralized model could be key to resolving the conflict.
But for now, we need an urgent response to the risk faced by Kurds in Rojava. The situation is growing more dire by the day – and it is quite possible that Nato will soon conduct one of the worst genocidal massacres of the 21st century.
*******************************************************
*************************************************************************************
US-backed forces ready to form international safe zone to protect all ethnic groups
Wladimir van Wilgenburg
|
January 16-2019     05:56 PM
---
ERBIL (Kurdistan 24) – The US-backed, Syrian Kurdish-led forces say they are ready to help form an international-backed safe zone in northern Syria as long as there is no "foreign intervention," in reference to a possible Turkish incursion.
In a statement on Wednesday, the General Command of the Syrian Democratic Forces (SDF) said they would "offer all the support and necessary aid to form the safe zone that is being circulated regarding the north and east of Syria."
The statement said the safe zone would "ensure the protection of all ethnic groups and [protect] them from dangers of extermination through an international guarantee."
It added that the safe zone would prevent foreign intervention by Turkey through "the protection of the components of the region and… factors of security and stability."
According to the SDF, it has never posted "an external threat factor against any of the neighboring countries, especially Turkey, with which we hope to reach mutual understandings and solutions which would ensure the continued stability and security in the border regions (with it)."
The SDF statement added that since its establishment they had exerted all efforts to combat terrorism, including against the Islamic State and other radical organizations.
"We have achieved great successes in these difficult and painstaking missions, through work and coordination with our partners in the international coalition led by the United States."
Different ethnic groups such as Kurds, Arabs, Turkmen, and Assyrians inhabit Syria's northeast. Moreover, there are also Muslims, Christians, Yezidi's, and other religious minorities living in the area.
According to the SDF, their primary task is to protect all ethnic components in northeast Syria. "We could almost say that our region is the only region in which all components of Syria coexist," it stated.
On Monday, US President Donald Trump suggested in a tweet that a 20-mile "safe zone" would be created in northeastern Syria. A day later, his Turkish counterpart, President Recep Tayyip Erdogan, said Ankara would set up a security zone some 30-kilometers (18 miles) deep into northeastern Syria in coordination with Washington.
However, top Syrian Kurdish official Aldar Xelil told ANHA news agency that the Kurdish self-administration would not accept a Turkish-controlled safe zone.
"We would not accept that. We can accept a security area under the auspices of the UN," but not Ankara, Xelil emphasized.
On Jan. 2, the chair of the German Parliament's Foreign Affairs Committee argued that the UN should create a buffer zone to protect Syria's Kurdish population.
Roderich Kiesewetter, a member of the ruling Christian Democratic Union (CDU) party, told German media outlet Deutschlandfunk in an interview that France and Germany could propose this idea in a UN Security Council meeting.
Meanwhile, Ibrahim Murad, the representative of the self-administration of North and East Syria in Germany, told Kurdistan 24 in early January that the international community should establish a no-fly zone.
"We hope the international states like the US, France, Germany, and the UK will prevent [a Turkish attack] and create a no-fly zone area for the people," Murad said. "This would help us eradicate ISIS and find a solution to the Syrian conflict."
Editing by Karzan Sulaivany
+++++++++++++++++++++++++++++++++++++++++++++++++
Turkey rejects Trump adviser John Bolton's Syria plan, insisting it will fight Kurdish militia
'John Bolton made a serious mistake on this issue. Whoever thinks like that is making a mistake,' says Recep Tayyip Erdogan
Hardline White House national security adviser John Bolton's last-ditch attempt to secure his faction's goals for a planned US withdrawal from Syria appeared to go down in flames on Tuesday as Turkey's president rejected any protection for the Washington-allied Kurdish militia, and even refused to meet with the firebrand conservative.
Instead, President Recep Tayyip Erdogan took to the floor of parliament in Ankara, announcing that Turkish armed forces had "mostly completed our preparations for a military offensive against" Isis elements in Syria as per an agreement with US president Donald Trump forged last month.
"Likewise, we are determined to take our steps against terror organisations such as the PYD/YPG [Kurdish People's Democratic Union and its allied militia and political organisation in Syria] along with Daesh [Isis]," he said. "We will act to neutralise those terror organisations in Syria very soon."
Mr Bolton, a Washington fixture known for his hawkish foreign policy positions, arrived in Ankara with his own travelling press in an apparent attempt to convince Turkey to avoid attacking Syrian Kurds. He has also demanded that any US withdrawal be conditioned on Iranian-backed forces leaving Syria, and steps put in place for the political change in Damascus.
Instead, Mr Bolton left Ankara without even meeting Mr Erdogan, who was cited by the pro-government Daily Sabah newspaper as insisting "his busy schedule prevented him from meeting" Mr Bolton, whose public positions have contradicted those of his boss and US secretary of state Mike Pompeo, who is also visiting the Middle East.
Mr Bolton and anti-Isis envoy Jim Jeffrey, arriving after a visit to Israel, met privately with Mr Erdogan's senior adviser Ibrahim Kalin, who helped organise a 14 December phone call in which Mr Trump agreed to withdraw 2,000 or more US troops from Syria and hand control of anti-Isis efforts to Turkey.
Meanwhile, Mr Erdogan publicly hammered Mr Bolton.
"It is not possible for us to accept and swallow the message that Bolton gave from Israel," he told lawmakers. Turkey, along with most independent analysts and US intelligence agencies, considers the YPG inseparable from the Kurdistan Workers Party, or PKK, an outlawed separatist organisation deemed a terrorist group by Ankara, the US and Europe.
"If the US evaluates them as 'Kurdish brothers' then they are in a serious delusion," Mr Erdogan said, in a televised speech interrupted by chants of "allahu akbar", or God is great, by supporters. "John Bolton made a serious mistake on this issue. Whoever thinks like that is making a mistake."
Many have voiced doubt over Turkey's ability to fight Isis in Syria without continuing US air and intelligence support. But in a New York Times opinion piece published on Monday, Mr Erdogan spelt out Turkey's plans for Isis-controlled Syria, noting that Turkish troops and allied local fighters left northern Syrian towns they liberated from extremists in far better shape than the US aerial bombardments that destroyed Raqqa and Mosul in their efforts to dislodge the jihadi group in 2017 and 2018.
__________________________________________________________________________________________________
YPG: 2422 Turkish soldiers and mercenaries killed in 2018
YPG Press Office announced that 2422 members of the occupant Turkish army and allied mercenaries were killed during 2018 while 544 YPG fighters were martyred.
The Press Office of People's Defense Units (YPG) released the balance sheet of resistance for 2018.
Full text of the YPG statement is as follows;
"People of Kurdistan, who have been fighting the good fight to protect basic values of humanity and particularly of the peoples of middle east, have again spearheaded the fight against evil in form of ISIS recently. Our people and fighters have fought have been fighting against ISIS barbarism and Turkish invasion and putting up a legendary resistance.
Our struggle today has turned into a legendary resistance which includes hundreds of internationalist fighters from all over the world and is ensuring co-existence of peoples in North Syria and Rojava Kurdistan. 2018 has become a year in which our struggle made a great progress and came to a prominence in region. At a time ISIS is on the brink of collapse, our people had to fight against invasion attempts by Turkey. The outcome of the battles and resistance by our fighters throughout the year is s follows;
1- Outcome of the resistance of Afrin which began on July 20 and ended in March 18
Airstrikes: 1098
Heavy weapons attacks: between 3577 and 4000
Engagement: 900
Operations with unclear results: 176
Destroyed military vehicles and aircrafts: 2 combat helicopters, 2 unmanned aerial vehicles, 122 military vehicles, 2 car bombs, 1 motorcycle
Damaged military vehicles: 32 (tanks, APCs, armoured vehicles)
Civilians killed: 224 (51 children, 42 women)
Civilians injured: 650 (87 children, 93 women)
Killed Turkish soldiers and mercenaries: 2422
544 fighters were martyred during the resistance as result of intense airstrikes and engagements with the occupying forces.
2- Outcome of the second phase of resistance of Afrin, which began on March 18, is as follows
Our units in Afrin have carried out 147 operations against Turkish invasion army and its jihadist proxies. As result of assassination, raid, ambush and bombing actions;
– 350 terrorists have been killed (65 Turkish soldiers and 258 mercenaries)
– 18 AK-47, 1 MG-3 machine gun, 2 pistols along with a large amount of ammunition have been captured
– The results of 5 operations couldn't be clarified
– 36 military vehicles, 1 APC, 1 pick-up, 3 motorcycles, 1 HQ and T55 tank were destroyed; 4 military vehicles have been damaged
– Turkish invasion army has carried out large scale combing operations with the participation of hundreds of its mercenaries and under protection of air cover in Afrin 13 times. All of the operations have been retreated without achieving any results.
– Since March 18, 56 fighters, including 16 fighters of YPJ, were martyred in airstrikes. 1 of our fighters was injured and another fighter was captured in a state of being heavily injured.
3- During 2018, occupying Turkish army attacked the bases and positions of our fighters and civilian settlements, violating the borders.
– Turkish invasion army has attacked positions of our fighters and civilian settlements 53 times
– 13 civilians (3 children) were injured, 2 civilians (1 child) were killed in the attacks.
– 2 Sanadid forces fighters, 2 Self Defense forces fighters and 2 journalists were injured.
– An UAV of Turkish army was captured by our fighters in Kobani.
– Our forces retaliated to all the attacks according to engagement rules and legitimate self defense. 2 soldiers were killed in operations by our forces.
4- During 2018, counter-terrorism units (YAT) have carried out 45 operations against ISIS and other sleeper cells across Rojava and northern Syria. Special Operation Teams have also conducted 590 operations.
– 107 ISIS terrorists including 5 foreigners were captured in the operations
– 204 ISIS members, including 2 leaders and 31 terrorists of other sleeper cells that were preparing for attacks were killed.
– 161 ISIS members were injured
– 55 attacks were foiled
– 6 Yazidi women and a child were rescued from ISIS
– 25 vehicles and a motorcycle were destroyed, 8 vehicles were damaged
– Our units have confiscated a large amount of explosive, 1345 mines, 2 car bombs, 35 missiles, 3 tank shells, 11 mortars and their shells, 126 SPG-9 shells, 575 AK-47, 3 LAV weapons and 2 rockets, 3 12.7mm DShK machine guns, 6 14.5mm ZPU machine guns, M2 Browning ammunition, 6 A4, 40 BKC, 12 Dragunov sbiper rifles, 15 G3 rifles, 17 M16 rifles, 27 RPG and 267 warheads, 1004 grenades, 121 suicide vests, 7 binoculars, 11 pistols and their ammunition, 4 radio devices, 19 cell phones.
5- 2018 has been a long year with resistance and fierce battles across Rojava and northern Syria. 894 fighters were martyred during 2018; 600 in Afrin, 201 during operation Jazeera Storm, 61 as result of traffic and other accidents, 20 as result of illness, 7 during mine clearing operations in Raqqa and due to attacks by Turkish invasion army on borders 5 of our comrades were martyred."
__________________________________________________________________________________________________
"Stand Together Outside the State": Int. Commune of Rojava Interview
The Rojavan Revolution has inspired us over the years; from the fierce resistance to ISIS and Turkish fascism, to its rejection of patriarchy and statism. But with the US saying that it will soon be pulling out of the region, many are left wondering what the future holds for the autonomous territories. Wanting to know more, we spoke with someone from Internationalist Commune, the authors of the Resistance is Life column here on IGD, to learn more.
IGD: What are your thoughts on the US withdrawing from Syria? 
IC: When the news of Trump's decision broke, many of us internationalists in Rojava were frantically checking the news, scrambling to prepare new work, calling one another up and discussing what this would mean for the millions of civilians here, for the future of the revolution – for our lives.
I noticed that our Kurdish comrades reacted differently. They felt angry and betrayed, of course. But to them it was also something expected. The Kurdish freedom movement has 40 years' experience of armed struggle against a ruthlessly self-serving capitalist state under the NATO banner, and the Kurdish people have known nothing but betrayal for centuries.
They never relied on anything but the strength and resilience of the Kurdish movement. This decision which shocked the world was met with a new surge of pride in what has been won here at such enormous cost. This is the attitude we must take forward into the coming struggle.
IGD: Is the US actively working with the Turkish State? 
IC: A lot of media effort has been expended on which imperial powers are the 'winners' and 'losers' in the situation here though it changes every day, what the 'Kurds' ridiculously taken as a homogenous mass stand to gain, above all what Putin stands to gain from it all.
Some such analyses – like this from Lower Class Magazine – give an excellent picture of how the Kurdish movement has exploited the faultlines opened by the global power struggle between imperial powers, and how it now faces a severe test of its strength as these interests realign against the democratic-confederalist project.
But I have no special insight into what has been said behind closed doors in the last days and years between the various imperialist forces vying to suck the life out of this land. The Americans did what they did. Now our task is clear: to resist the massacre Turkey is threatening by any means necessary.
IGD: Many people are afraid that ISIS will join with Turkish forces and attack Rojavan territories, as it did in the invasion of Afrin. How has the YPG/YPJ responded to this reality? 
A couple of days ago, false news was once again released by world news agencies, spreading the propaganda statements of imperialist forces as though they were objective fact – this time, that the Syrian state army had entered into the center of the city of Manbij. When this news arrived in Manbij, the response of the local population was not to panic or flee but to flood en mass into the city center, singing the songs of the Kurdish resistance.
This is the crucial point. Not only the Kurdish-led YPG and YPJ, but also Arab, Turkmen and Assyrian Christian militias united with YPG/J under the banner of the Syrian Democratic Forces are ready to fight Turkey every inch of the way. Turkey talks of making a so-called "security belt" which would obliterate all of the major cities in Rojava, where millions of people have been making a free and democratic life together under constant threat of Turkey's cowardly carpet-bombing war. YPG/J is a people's army and the people will never accept the destruction of their homes, their communes, all that has been created here.
If the Turkish state really does launch a full-scale assault, it will take nothing short of genocide to drive the people from these lands. But as we have seen time and again, the Turkish state is quite capable of such atrocities. Tens of thousands of martyrs have given their lives for this revolution. Whether tens of thousands more must also die remains to be seen.
IGD: Many people in the US and beyond have wondered what to do in light of the current situation. Should we be calling on the US not to leave or should we be finding material ways to support?
IC: It is right that the American people, in particular, rise up against this cowardly decision by their leader. But as internationalists we must stand together outside these lines of state force, with the tireless conviction of our Kurdish comrades.
To be precise: we need serious anti-fascist mobilization against entities linked to Turkish power and interests at home in the West. We need that 3.5 billion dollar Patriot missile sale to Turkey, made in the days before Trump told Erdogan he was pulling out, to be taken down as a message to the Turkish state. We need comrades and journalists to travel here and put their lives on the line.
This revolution's survival will not be ensured by begging western governments for favors. But the burden on the shoulders of the Kurdish liberation movement will be lightened when Turkey is made accountable for its atrocities, when it is made impossible for other capitalist states to make their dirty deals with this war-criminal state.
IGD: What things are Internationalist Commune working on in the midst of this reality? 
IC: Our main focus now is on spreading the news of what is happening and may happen here, seizing back the narrative from our enemies. So much of what is written and said about here, even by our supporters, is framed as though Rojava is a black box about whose people and material reality nothing can be known, just another pawn on the chessboard middle-east.
"we are working together with Kurdish and other local comrades in the media structures here to counter Turkish propaganda and spread the truth of the revolution as best we can."
As the internationalist commune, we feel a responsibility to combat this, and to make what is happening here and how it will affect millions of real, struggling people if Turkey does invade. We want to bring their voices and the message of the Kurdish liberation movement into the west.
The Turkish state employs a cyber-army of 6,000 social media trolls disseminating their propaganda, and spends millions on lobbying foreign governments each year. Sometimes it can feel like all we have to counter this is a handful of comrades with limited media experience and a few busted-up laptops. But we are working together with Kurdish and other local comrades in the media structures here to counter Turkish propaganda and spread the truth of the revolution as best we can.
IGD: What are some key news sources/website people can follow to get news  on the unfolding situation? 
IC: We will share as much as we can from our facebook at Internationalist Commune, twitter @communeint and website internationalistcommune.com.
For in-depth analyses in touch with the thought of the Kurdish movement, the Komun Academy website is great. The Region is another site whose reports are generally in touch with what's going on here and can put them in a larger political perspective.
If you follow the Kurdish academic Dilar Derik (DilAr on Facebook), you will see a lot of well-selected articles and analyses. Dr. Hawzhin Azeez on Twitter here is another example of this.
If you're looking for a journalist external for the movement who has up-to-date and accurate information and understands what's going on here better than most, Wladimir Van Wilgenburg (@vvanwilgenburg) is a prolific and useful source.
A few other accounts on the ground in Rojava who are in touch with what's going on here: @zana_med (especially good and will debunk incorrect information when it's spread), @HosengHesen, @riseupforafrin, @starcongress.
IGD: Anything else you'd like to add or touch on?

IC: We think it is vital that Turkey's coming assault is not understood as 'just another part of the Syrian Civil War', as it is currently being discussed in our voyeuristic yet ultimately weary and disinterested mainstream press. The death of any civilian anywhere in Syria is a tragedy, of course. But what is happening here is far larger than that.
"The choice between socialism and barbarism was never more stark than here and now."
Total war against Rojava would not just be the crushing of the revolution here, but of forty years' ceaseless toil under circumstances of brutal repression across all four parts of Kurdistan. This is a war against the woman, against the right of all peoples to self-determination, against one of the world's only flames of resistance against state-capitalist might. The choice between socialism and barbarism was never more stark than here and now.
Comrades, with pride in our own strength and knowledge that we are stronger still together, knowing that our enemies are strong but knowing too that they can never grasp the strength and beauty of solidarity forged in resistance, we ask for your support.