America's Kurdish allies risk being wiped out – by Nato
Turkey is seen as the Kurds' mortal enemy but it uses German tanks and British helicopters: this is an international outrage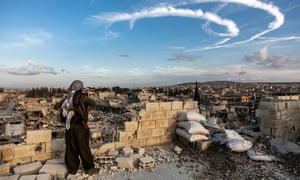 Remember those plucky Kurdish forces who so heroically defended the Syrian city of Kobane from Isis? They risk being wiped out by Nato.
The autonomous Kurdish region of Rojava in Northeast Syria, which includes Kobane, faces invasion. A Nato army is amassing on the border, marshaling all the overwhelming firepower and high-tech equipment that only the most advanced military forces can deploy. The commander in chief of those forces says he wants to return Rojava to its "rightful owners" who, he believes, are Arabs, not Kurds.
Last spring, this leader made similar declarations about the westernmost Syrian Kurdish district of Afrin. Following that, the very same Nato army, using German tanks and British helicopter gunships, and backed by thousands of hardcore Islamist auxiliaries, overran the district. According to Kurdish news agencies, the invasion led to over a 100,000 Kurdish civilians being driven out of Afrin entirely. They reportedly employed rape, torture and murder as systematic means of terror. That reign of terror continues to this day. And the commander and chief of this Nato army has suggested that he intends to do to the rest of North Syria what he did to Afrin.
I am speaking, of course, of president Recep Tayyip Erdoğan, who is, increasingly, Turkey's effective dictator. But it's crucial to emphasize that these are Nato forces. This not only means they are supplied with state-of-the-art weaponry; it also means those weapons are being maintained by other Nato members.
Fighter jets, helicopter gunships, even Turkey's German-supplied Panzer forces – they all degrade extremely quickly under combat conditions. The people who continually inspect, maintain, repair, replace, and provide them with spare parts tend to be contractors working for American, British, German or Italian firms. Their presence is critical because the Turkish military advantage over Northern Syria's "People's Defense Forces" (YPG) and "Women's Defense Forces" (YPJ), those defenders of Kobane that Turkey has pledged to destroy, is entirely dependent on them.
That's because, aside from its technological advantage, the Turkish army is a mess. Most of its best officers and even pilots have been in prison since the failed coup attempt in 2016, and it's now being run by commanders chosen by political loyalty instead of competence. Rojava's defenders, in contrast, are seasoned veterans. In a fair fight, they would have no more problem fending off a Turkish incursion than they had driving back Turkish-backed Jihadis in the past.
A "fair fight" in this case would mean having access to anti-tank and anti-air weapons. But this is precisely what the Trump administration promised Turkey it would not let the Kurds have. Even those forces directly working with the US and British troops to defeat Islamic State were never to receive the defensive weapons needed to fend off the Turkish air and armored assault that would inevitably follow – which, if Afrin is anything to go by, may be backed by napalm and cluster bombs.
The moment those forces are withdrawn, however, their former allies will be sitting ducks, unable to defend themselves against the advanced weaponry that Britain and the US themselves help provide to Turkey and maintain.
Typically, the western media treats Turkey as some kind of peculiar rogue state whose periodic outbursts of violence directed at Kurdish civilians – the bombing and destruction of its own south-eastern cities in 2015, the reported ethnic cleansing of Afrin, and the ongoing attacks on villages in Iraq – must be tolerated lest it aligns with enemies like Iran or Russia. Similarly, pundits and politicians seem to whistle and look the other way as Erdoğan arrests or jails tens of thousands of people, including teachers, journalists and elected parliamentarians for saying things he doesn't like – or even when or even when he publicly declares that "no European in any part of the world can walk safely on the streets" if they defy him.
But Turkey is not a rogue state. Turkey is Nato. Its army guards Europe's eastern flank. Its police and security forces are charged with halting the flow of refugees from Middle Eastern wars to Europe – which increasingly involves opening fire with machine guns on refugees at the border – a service for which it is paid millions of euros in direct compensation.
It is only because Turkey is a member of Nato that its government managed to have the Kurdish guerrillas of the PKK (the Kurdish Worker's Party), the guerrilla insurgents that have been fighting for autonomy in south-east Turkey since the 1990s, placed on the "international terror list" in 2004, at precisely the moment the PKK renounced demands for a separate state and offensive operations and attempted to enter into peace negotiations. It should be noted that this "terror" designation applies almost exclusively among Nato countries; the PKK is certainly not listed as a "terror" organization by the United Nations, India, China or even Switzerland.
It is because Turkey is Nato that the western press has to take seriously its bizarre claims that the experiment in feminist democracy underway in Rojava is itself a form of "terrorism".
It is because Turkey is Nato, and guards Europe's borders, that the US and European powers looked the other way or even expressed support when its army descended on the hitherto peaceful enclave of Afrin, in violation of all international law. As the Turkish army did so, it suggested it would not just to ethnically cleanse the Kurdish population and put an end to their own experiment with feminist democracy, but also to use the district to resettle the families of the most avid Islamist rebels who might otherwise have migrated to Europe.
It is because Turkey is Nato that the western press feels obliged to play along with the charade that it is an enemy of Isis, despite endless evidence of active Turkish collaboration with Isis, and the fact, known to everyone in the region, that Turkish "offensives" against Isis in Syria have largely consisted of bribing Isis commanders to switch sides.
As a result, we are left with the bizarre spectacle of "former" al-Qaida and Isis Jihadis working with Erdogan to fight the YPG as part of a 100,000-strong mercenary force. In addition, men like Seyf Ebu Bekir, who was an Isis commander when it was carrying out its notorious Paris nightclub massacres, are now commanders in the Turkey-backed Free Syrian Army. For his part, Ebu Bekir has warned France not to interfere with Turkish plans to unleash Nato forces to destroy Isis's old Kurdish arch-enemies.
If all this is difficult to comprehend, it's partly because so many of us – including many who fancy themselves "anti-imperialists" – seem to have forgotten how empires actually work. The British empire didn't send British troops into combat very often either. Nato powers are arming and maintaining the security forces of their official ally, Turkey, to fly its Nato planes and drive its Nato tanks and shoot at refugees, in the same way Turkey is reportedly employing al-Qaida and Isis legions to do its dirty work of human wave attacks and ethnic cleansing. We have defanged the terrorists by, effectively, putting them on retainer, in much the same way Rome once employed Alaric the Goth, or the US, Osama bin Laden. And we know how well that worked out.
There are alternatives. International powers could lift the de facto Nato embargo that prevents the forces that defeated Isis from defending themselves. There are calls for an international no-fly zone, preferably on the authority of the UN security council, enforced by a country other than America – possibly France, or even Russia. This too would allow the YPG/J to fight on equal terms. Rojava's defenders are perfectly capable of fending off the Turkish army if that army's high tech advantage is neutralized.
In the long run, the Turkish government needs to stop reacting to those who have a different vision of how life could be lived by trying to murder them, and return to the peace table. The same could be said for Syria, where Rojava's decentralized model could be key to resolving the conflict.
But for now, we need an urgent response to the risk faced by Kurds in Rojava. The situation is growing more dire by the day – and it is quite possible that Nato will soon conduct one of the worst genocidal massacres of the 21st century.
*******************************************************
*************************************************************************************
US-backed forces ready to form international safe zone to protect all ethnic groups
Wladimir van Wilgenburg
|
January 16-2019     05:56 PM
---
ERBIL (Kurdistan 24) – The US-backed, Syrian Kurdish-led forces say they are ready to help form an international-backed safe zone in northern Syria as long as there is no "foreign intervention," in reference to a possible Turkish incursion.
In a statement on Wednesday, the General Command of the Syrian Democratic Forces (SDF) said they would "offer all the support and necessary aid to form the safe zone that is being circulated regarding the north and east of Syria."
The statement said the safe zone would "ensure the protection of all ethnic groups and [protect] them from dangers of extermination through an international guarantee."
It added that the safe zone would prevent foreign intervention by Turkey through "the protection of the components of the region and… factors of security and stability."
According to the SDF, it has never posted "an external threat factor against any of the neighboring countries, especially Turkey, with which we hope to reach mutual understandings and solutions which would ensure the continued stability and security in the border regions (with it)."
The SDF statement added that since its establishment they had exerted all efforts to combat terrorism, including against the Islamic State and other radical organizations.
"We have achieved great successes in these difficult and painstaking missions, through work and coordination with our partners in the international coalition led by the United States."
Different ethnic groups such as Kurds, Arabs, Turkmen, and Assyrians inhabit Syria's northeast. Moreover, there are also Muslims, Christians, Yezidi's, and other religious minorities living in the area.
According to the SDF, their primary task is to protect all ethnic components in northeast Syria. "We could almost say that our region is the only region in which all components of Syria coexist," it stated.
On Monday, US President Donald Trump suggested in a tweet that a 20-mile "safe zone" would be created in northeastern Syria. A day later, his Turkish counterpart, President Recep Tayyip Erdogan, said Ankara would set up a security zone some 30-kilometers (18 miles) deep into northeastern Syria in coordination with Washington.
However, top Syrian Kurdish official Aldar Xelil told ANHA news agency that the Kurdish self-administration would not accept a Turkish-controlled safe zone.
"We would not accept that. We can accept a security area under the auspices of the UN," but not Ankara, Xelil emphasized.
On Jan. 2, the chair of the German Parliament's Foreign Affairs Committee argued that the UN should create a buffer zone to protect Syria's Kurdish population.
Roderich Kiesewetter, a member of the ruling Christian Democratic Union (CDU) party, told German media outlet Deutschlandfunk in an interview that France and Germany could propose this idea in a UN Security Council meeting.
Meanwhile, Ibrahim Murad, the representative of the self-administration of North and East Syria in Germany, told Kurdistan 24 in early January that the international community should establish a no-fly zone.
"We hope the international states like the US, France, Germany, and the UK will prevent [a Turkish attack] and create a no-fly zone area for the people," Murad said. "This would help us eradicate ISIS and find a solution to the Syrian conflict."
Editing by Karzan Sulaivany
+++++++++++++++++++++++++++++++++++++++++++++++++
Turkey rejects Trump adviser John Bolton's Syria plan, insisting it will fight Kurdish militia
'John Bolton made a serious mistake on this issue. Whoever thinks like that is making a mistake,' says Recep Tayyip Erdogan
Hardline White House national security adviser John Bolton's last-ditch attempt to secure his faction's goals for a planned US withdrawal from Syria appeared to go down in flames on Tuesday as Turkey's president rejected any protection for the Washington-allied Kurdish militia, and even refused to meet with the firebrand conservative.
Instead, President Recep Tayyip Erdogan took to the floor of parliament in Ankara, announcing that Turkish armed forces had "mostly completed our preparations for a military offensive against" Isis elements in Syria as per an agreement with US president Donald Trump forged last month.
"Likewise, we are determined to take our steps against terror organisations such as the PYD/YPG [Kurdish People's Democratic Union and its allied militia and political organisation in Syria] along with Daesh [Isis]," he said. "We will act to neutralise those terror organisations in Syria very soon."
Mr Bolton, a Washington fixture known for his hawkish foreign policy positions, arrived in Ankara with his own travelling press in an apparent attempt to convince Turkey to avoid attacking Syrian Kurds. He has also demanded that any US withdrawal be conditioned on Iranian-backed forces leaving Syria, and steps put in place for the political change in Damascus.
Instead, Mr Bolton left Ankara without even meeting Mr Erdogan, who was cited by the pro-government Daily Sabah newspaper as insisting "his busy schedule prevented him from meeting" Mr Bolton, whose public positions have contradicted those of his boss and US secretary of state Mike Pompeo, who is also visiting the Middle East.
Mr Bolton and anti-Isis envoy Jim Jeffrey, arriving after a visit to Israel, met privately with Mr Erdogan's senior adviser Ibrahim Kalin, who helped organise a 14 December phone call in which Mr Trump agreed to withdraw 2,000 or more US troops from Syria and hand control of anti-Isis efforts to Turkey.
Meanwhile, Mr Erdogan publicly hammered Mr Bolton.
"It is not possible for us to accept and swallow the message that Bolton gave from Israel," he told lawmakers. Turkey, along with most independent analysts and US intelligence agencies, considers the YPG inseparable from the Kurdistan Workers Party, or PKK, an outlawed separatist organisation deemed a terrorist group by Ankara, the US and Europe.
"If the US evaluates them as 'Kurdish brothers' then they are in a serious delusion," Mr Erdogan said, in a televised speech interrupted by chants of "allahu akbar", or God is great, by supporters. "John Bolton made a serious mistake on this issue. Whoever thinks like that is making a mistake."
Many have voiced doubt over Turkey's ability to fight Isis in Syria without continuing US air and intelligence support. But in a New York Times opinion piece published on Monday, Mr Erdogan spelt out Turkey's plans for Isis-controlled Syria, noting that Turkish troops and allied local fighters left northern Syrian towns they liberated from extremists in far better shape than the US aerial bombardments that destroyed Raqqa and Mosul in their efforts to dislodge the jihadi group in 2017 and 2018.
__________________________________________________________________________________________________
YPG: 2422 Turkish soldiers and mercenaries killed in 2018
YPG Press Office announced that 2422 members of the occupant Turkish army and allied mercenaries were killed during 2018 while 544 YPG fighters were martyred.
The Press Office of People's Defense Units (YPG) released the balance sheet of resistance for 2018.
Full text of the YPG statement is as follows;
"People of Kurdistan, who have been fighting the good fight to protect basic values of humanity and particularly of the peoples of middle east, have again spearheaded the fight against evil in form of ISIS recently. Our people and fighters have fought have been fighting against ISIS barbarism and Turkish invasion and putting up a legendary resistance.
Our struggle today has turned into a legendary resistance which includes hundreds of internationalist fighters from all over the world and is ensuring co-existence of peoples in North Syria and Rojava Kurdistan. 2018 has become a year in which our struggle made a great progress and came to a prominence in region. At a time ISIS is on the brink of collapse, our people had to fight against invasion attempts by Turkey. The outcome of the battles and resistance by our fighters throughout the year is s follows;
1- Outcome of the resistance of Afrin which began on July 20 and ended in March 18
Airstrikes: 1098
Heavy weapons attacks: between 3577 and 4000
Engagement: 900
Operations with unclear results: 176
Destroyed military vehicles and aircrafts: 2 combat helicopters, 2 unmanned aerial vehicles, 122 military vehicles, 2 car bombs, 1 motorcycle
Damaged military vehicles: 32 (tanks, APCs, armoured vehicles)
Civilians killed: 224 (51 children, 42 women)
Civilians injured: 650 (87 children, 93 women)
Killed Turkish soldiers and mercenaries: 2422
544 fighters were martyred during the resistance as result of intense airstrikes and engagements with the occupying forces.
2- Outcome of the second phase of resistance of Afrin, which began on March 18, is as follows
Our units in Afrin have carried out 147 operations against Turkish invasion army and its jihadist proxies. As result of assassination, raid, ambush and bombing actions;
– 350 terrorists have been killed (65 Turkish soldiers and 258 mercenaries)
– 18 AK-47, 1 MG-3 machine gun, 2 pistols along with a large amount of ammunition have been captured
– The results of 5 operations couldn't be clarified
– 36 military vehicles, 1 APC, 1 pick-up, 3 motorcycles, 1 HQ and T55 tank were destroyed; 4 military vehicles have been damaged
– Turkish invasion army has carried out large scale combing operations with the participation of hundreds of its mercenaries and under protection of air cover in Afrin 13 times. All of the operations have been retreated without achieving any results.
– Since March 18, 56 fighters, including 16 fighters of YPJ, were martyred in airstrikes. 1 of our fighters was injured and another fighter was captured in a state of being heavily injured.
3- During 2018, occupying Turkish army attacked the bases and positions of our fighters and civilian settlements, violating the borders.
– Turkish invasion army has attacked positions of our fighters and civilian settlements 53 times
– 13 civilians (3 children) were injured, 2 civilians (1 child) were killed in the attacks.
– 2 Sanadid forces fighters, 2 Self Defense forces fighters and 2 journalists were injured.
– An UAV of Turkish army was captured by our fighters in Kobani.
– Our forces retaliated to all the attacks according to engagement rules and legitimate self defense. 2 soldiers were killed in operations by our forces.
4- During 2018, counter-terrorism units (YAT) have carried out 45 operations against ISIS and other sleeper cells across Rojava and northern Syria. Special Operation Teams have also conducted 590 operations.
– 107 ISIS terrorists including 5 foreigners were captured in the operations
– 204 ISIS members, including 2 leaders and 31 terrorists of other sleeper cells that were preparing for attacks were killed.
– 161 ISIS members were injured
– 55 attacks were foiled
– 6 Yazidi women and a child were rescued from ISIS
– 25 vehicles and a motorcycle were destroyed, 8 vehicles were damaged
– Our units have confiscated a large amount of explosive, 1345 mines, 2 car bombs, 35 missiles, 3 tank shells, 11 mortars and their shells, 126 SPG-9 shells, 575 AK-47, 3 LAV weapons and 2 rockets, 3 12.7mm DShK machine guns, 6 14.5mm ZPU machine guns, M2 Browning ammunition, 6 A4, 40 BKC, 12 Dragunov sbiper rifles, 15 G3 rifles, 17 M16 rifles, 27 RPG and 267 warheads, 1004 grenades, 121 suicide vests, 7 binoculars, 11 pistols and their ammunition, 4 radio devices, 19 cell phones.
5- 2018 has been a long year with resistance and fierce battles across Rojava and northern Syria. 894 fighters were martyred during 2018; 600 in Afrin, 201 during operation Jazeera Storm, 61 as result of traffic and other accidents, 20 as result of illness, 7 during mine clearing operations in Raqqa and due to attacks by Turkish invasion army on borders 5 of our comrades were martyred."
__________________________________________________________________________________________________
"Stand Together Outside the State": Int. Commune of Rojava Interview
The Rojavan Revolution has inspired us over the years; from the fierce resistance to ISIS and Turkish fascism, to its rejection of patriarchy and statism. But with the US saying that it will soon be pulling out of the region, many are left wondering what the future holds for the autonomous territories. Wanting to know more, we spoke with someone from Internationalist Commune, the authors of the Resistance is Life column here on IGD, to learn more.
IGD: What are your thoughts on the US withdrawing from Syria? 
IC: When the news of Trump's decision broke, many of us internationalists in Rojava were frantically checking the news, scrambling to prepare new work, calling one another up and discussing what this would mean for the millions of civilians here, for the future of the revolution – for our lives.
I noticed that our Kurdish comrades reacted differently. They felt angry and betrayed, of course. But to them it was also something expected. The Kurdish freedom movement has 40 years' experience of armed struggle against a ruthlessly self-serving capitalist state under the NATO banner, and the Kurdish people have known nothing but betrayal for centuries.
They never relied on anything but the strength and resilience of the Kurdish movement. This decision which shocked the world was met with a new surge of pride in what has been won here at such enormous cost. This is the attitude we must take forward into the coming struggle.
IGD: Is the US actively working with the Turkish State? 
IC: A lot of media effort has been expended on which imperial powers are the 'winners' and 'losers' in the situation here though it changes every day, what the 'Kurds' ridiculously taken as a homogenous mass stand to gain, above all what Putin stands to gain from it all.
Some such analyses – like this from Lower Class Magazine – give an excellent picture of how the Kurdish movement has exploited the faultlines opened by the global power struggle between imperial powers, and how it now faces a severe test of its strength as these interests realign against the democratic-confederalist project.
But I have no special insight into what has been said behind closed doors in the last days and years between the various imperialist forces vying to suck the life out of this land. The Americans did what they did. Now our task is clear: to resist the massacre Turkey is threatening by any means necessary.
IGD: Many people are afraid that ISIS will join with Turkish forces and attack Rojavan territories, as it did in the invasion of Afrin. How has the YPG/YPJ responded to this reality? 
A couple of days ago, false news was once again released by world news agencies, spreading the propaganda statements of imperialist forces as though they were objective fact – this time, that the Syrian state army had entered into the center of the city of Manbij. When this news arrived in Manbij, the response of the local population was not to panic or flee but to flood en mass into the city center, singing the songs of the Kurdish resistance.
This is the crucial point. Not only the Kurdish-led YPG and YPJ, but also Arab, Turkmen and Assyrian Christian militias united with YPG/J under the banner of the Syrian Democratic Forces are ready to fight Turkey every inch of the way. Turkey talks of making a so-called "security belt" which would obliterate all of the major cities in Rojava, where millions of people have been making a free and democratic life together under constant threat of Turkey's cowardly carpet-bombing war. YPG/J is a people's army and the people will never accept the destruction of their homes, their communes, all that has been created here.
If the Turkish state really does launch a full-scale assault, it will take nothing short of genocide to drive the people from these lands. But as we have seen time and again, the Turkish state is quite capable of such atrocities. Tens of thousands of martyrs have given their lives for this revolution. Whether tens of thousands more must also die remains to be seen.
IGD: Many people in the US and beyond have wondered what to do in light of the current situation. Should we be calling on the US not to leave or should we be finding material ways to support?
IC: It is right that the American people, in particular, rise up against this cowardly decision by their leader. But as internationalists we must stand together outside these lines of state force, with the tireless conviction of our Kurdish comrades.
To be precise: we need serious anti-fascist mobilization against entities linked to Turkish power and interests at home in the West. We need that 3.5 billion dollar Patriot missile sale to Turkey, made in the days before Trump told Erdogan he was pulling out, to be taken down as a message to the Turkish state. We need comrades and journalists to travel here and put their lives on the line.
This revolution's survival will not be ensured by begging western governments for favors. But the burden on the shoulders of the Kurdish liberation movement will be lightened when Turkey is made accountable for its atrocities, when it is made impossible for other capitalist states to make their dirty deals with this war-criminal state.
IGD: What things are Internationalist Commune working on in the midst of this reality? 
IC: Our main focus now is on spreading the news of what is happening and may happen here, seizing back the narrative from our enemies. So much of what is written and said about here, even by our supporters, is framed as though Rojava is a black box about whose people and material reality nothing can be known, just another pawn on the chessboard middle-east.
"we are working together with Kurdish and other local comrades in the media structures here to counter Turkish propaganda and spread the truth of the revolution as best we can."
As the internationalist commune, we feel a responsibility to combat this, and to make what is happening here and how it will affect millions of real, struggling people if Turkey does invade. We want to bring their voices and the message of the Kurdish liberation movement into the west.
The Turkish state employs a cyber-army of 6,000 social media trolls disseminating their propaganda, and spends millions on lobbying foreign governments each year. Sometimes it can feel like all we have to counter this is a handful of comrades with limited media experience and a few busted-up laptops. But we are working together with Kurdish and other local comrades in the media structures here to counter Turkish propaganda and spread the truth of the revolution as best we can.
IGD: What are some key news sources/website people can follow to get news  on the unfolding situation? 
IC: We will share as much as we can from our facebook at Internationalist Commune, twitter @communeint and website internationalistcommune.com.
For in-depth analyses in touch with the thought of the Kurdish movement, the Komun Academy website is great. The Region is another site whose reports are generally in touch with what's going on here and can put them in a larger political perspective.
If you follow the Kurdish academic Dilar Derik (DilAr on Facebook), you will see a lot of well-selected articles and analyses. Dr. Hawzhin Azeez on Twitter here is another example of this.
If you're looking for a journalist external for the movement who has up-to-date and accurate information and understands what's going on here better than most, Wladimir Van Wilgenburg (@vvanwilgenburg) is a prolific and useful source.
A few other accounts on the ground in Rojava who are in touch with what's going on here: @zana_med (especially good and will debunk incorrect information when it's spread), @HosengHesen, @riseupforafrin, @starcongress.
IGD: Anything else you'd like to add or touch on?

IC: We think it is vital that Turkey's coming assault is not understood as 'just another part of the Syrian Civil War', as it is currently being discussed in our voyeuristic yet ultimately weary and disinterested mainstream press. The death of any civilian anywhere in Syria is a tragedy, of course. But what is happening here is far larger than that.
"The choice between socialism and barbarism was never more stark than here and now."
Total war against Rojava would not just be the crushing of the revolution here, but of forty years' ceaseless toil under circumstances of brutal repression across all four parts of Kurdistan. This is a war against the woman, against the right of all peoples to self-determination, against one of the world's only flames of resistance against state-capitalist might. The choice between socialism and barbarism was never more stark than here and now.
Comrades, with pride in our own strength and knowledge that we are stronger still together, knowing that our enemies are strong but knowing too that they can never grasp the strength and beauty of solidarity forged in resistance, we ask for your support.